I did not kill my wife – MLA Raghupathi Bhat
Mangalore Today News Network
Udupi, May 25, 2012: Udupi MLA Raghupathi Bhat made a public statement on May 25, Friday that he has absolutely nothing to do with the death of his wife Padmapriya, who died under mysterious circumstances in New Delhi, four years back.

He also showed the media copies of the first information report (FIR), the COD report, the post mortem report, the death certificate, forensic report, and video and photo evidences.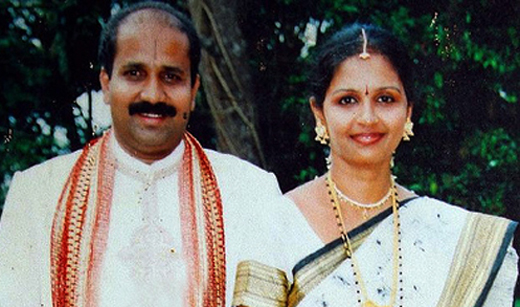 Background
Raghupathi Bhat's wife Padmapriya (32) went missing on June 11, 2008. Two days later, her car was found abandoned on Kunjargiri Temple Road near Katpadi. On June 15, her body was found hanging from the ceiling of a flat in New Delhi.

On June 19, Mr. Bhat lodged a complaint with the Manipal police, accusing Atul Rao, who was closely associated with him at one time, of being responsible for his wife's suicide. He also accused Atul of having an illicit relationship with his wife. The Manipal police registered a case and arrested Atul Rao on June 23. Atul, who was later released on bail, challenged Mr. Bhat in court, and the case is still pending.

Mr. Bhat's Media Statement
Addressing reporters, Mr. Bhat said that he did not murder his wife and is not responsible for her death in any way. Stating that her death is a big loss to his family, particularly to his children, he said that he felt hurt when opposition parties took advantage of his personal tragedy.

Stating that he is giving a public statement about his wife for the first and last time, he said that opposition parties used to publicly question him about it, making derogatory statements against him in public. He said that he felt it was his social responsibility to tell people the truth, owing to which he has produced before the media all the documents related to the case.

He also said that he visited Dharmasthala with his family on May 21, Monday and met Dr. D. Veerendra Hegde, the dharmadhikari of Shri Kshethra Dharmasthala, who advised him to swear his innocence before the deity. He said that they prayed together as a family, after which he gave a written statement that he did not kill his wife and swore his innocence before the deity.

Stating that he cannot do anything more to prove his innocence, he said that he has full faith in COD and in God. He also said that god will take care of anybody who questions him again.

Stating that opposition parties had accused him of not acquiring documents such as the post mortem report and the death certificate, he said that he has all the documents and evidence at present, adding that the COD has already filed a charge sheet against Atul Rao.

Mr. Bhat also said that his children suffered the most after his wife's death. Stating that his two sons were teased and tormented in school to such an extent that they refused to go to school anymore, he said that he has been trying to get them admitted to a new school. He said that he decided to declare his innocence in public mostly because of the sufferings his children had to undergo.

Speaking about Atul Rao, Mr. Bhat said that he had trusted Mr. Rao completely, but he had misused the friendship. He also said that his wife too trusted him and went with him only because he was a close friend.

He also rubbished rumors that the relationship between him and Padmapriya was strained.


Write Comment
|

E-Mail
|
Facebook
|

Twitter
|

Print