High vocal stress ails Yakshagana artistes: Study
Mangalore Today News Network
Mangaluru, Nov 26, 2017: The colourful attire, music and portrayal of various emotions like love, hate, anger and horror, artistes of Yakshagana, the traditional theatre form of coastal Karnataka, contributes to suffering from vocal cord fatigue, voice hoarseness, throat dryness and general vocal exhaustion than any others, reveals a study.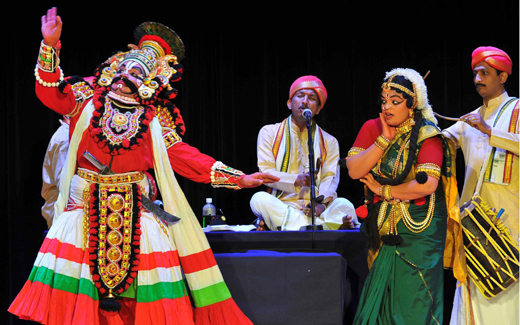 A study by the researchers of the the All India Institute of Speech and Hearing (AIISH), Mysuru and Manipal University revealed increased levels of vocal stress among 91.2 percent of singers and 74 percent of actors from a sample of Yakshagana artistes. Usha Devadas, associate professor in the department of speech and hearing, SOAHS, Manipal University, who was part of the study, said Yakshagana has a powerful influence on people. It consists of singers (Bhagavata) and actors. There are many troupes in and around undivided Dakshina Kannada and other areas. Most Bhagavatas and Yakshagana artistes entirely dependent on this theatre form for their livelihood and their profession bank entirely on their voice. Hence, any voice problems can have a great impact on their quality of life as well as continuing in the profession.

She added a study was conducted recently to understand voice problems in these professionals and the findings were published in the Journal of Voice. The researchers contacted actors during their shows in and around Udupi and Mangaluru and collected data from 34 Bhagavatas and 95 Yakshagana actors using a self-reported voice survey questionnaire about their vocal health.

The study revealed a higher prevalence of self-reported voice problems in Bhagavatas was 91% and Yakshagana actors was 74% experienced during their career when compared to other professional voice users reported in the literature.

Voice ailments: Usha Devadas said Bhagavatas and actors who experienced voice problems reported experiencing multiple vocal symptoms suggesting they had a higher risk of developing laryngeal pathologies. However, very few consulted physicians or speech language pathologists regarding their problems which suggested they don't take medical assistance whenever they experience these problems but rely on home remedies.

"One reason for this is that most of the time Yakshagana artistes travel from one place to another and may find it difficult to consult professionals for their health problems. According to researchers, most voice problems can be prevented if they receive good guidance about their use of voice in singing or acting and how to protect their voice from developing vocal pathologies. Most of the time, Yakshagana singing training is for two years or even lesser. Singers require good balance between respiratory and laryngeal systems as well as how to project their voice effectively. Since Bhagavata is the main attraction of any Yakshagana, it is very essential they pay enough attention to their voice. Similarly, Yakshagana actors don't receive enough training on how to project their voice according to the role. Most often, they speak loudly which leads to vocal abuse," Usha said.

She added that artistes also vary their voice to match it with different characters which leads to misuse of voice. It is also observed that bhagavatas or actors perform even if they experience health problems, especially respiratory infections.

The authors report that if these singers and actors are educated to identify their vocal symptoms and possible causes for it, they can be prevented from developing permanent voice problems and this enables them to continue in their profession more effectively.

Voice modulation : The Yakshagana form uses sharp, high-pitched voices to express various emotions like love, anger, hate, bravery and horror. Several century-old dance-drama is depicted in open spaces with most performances lasting for many hours.

The study throws light on our lives as Yakshagana artistes. We often perform in places which have no potable water, stage with full of dust. What's worse, we have to use our voice while dancing and cannot use collar mikes. In many outdoor shows, the sound and mike systems tend to be poor. However, the scenario has been changing to a certain extent over the past years.

Write Comment
|

E-Mail
|
Facebook
|

Twitter
|

Print