Govt. level quackery: Cheating the citizens in the name of alternative medicine!
mangaloretoday network
Mangaluru, Jan 30, 2020: There is only one medicine, the medicine that works. Rest is quackery. "We strongly condemn this attempt by the government to promote quackery in the name of alternate medicine" said Prof. Nrendra Nayak, president, Federation of Indian Rationalist Associations (FIRA). When all the authorities including WHO state that there is neither any vaccine nor any treatment for coronavirus, India government is promoting these sort of unproven therapies to lull people into false sense of security that they can be safe if they consume such concoctions.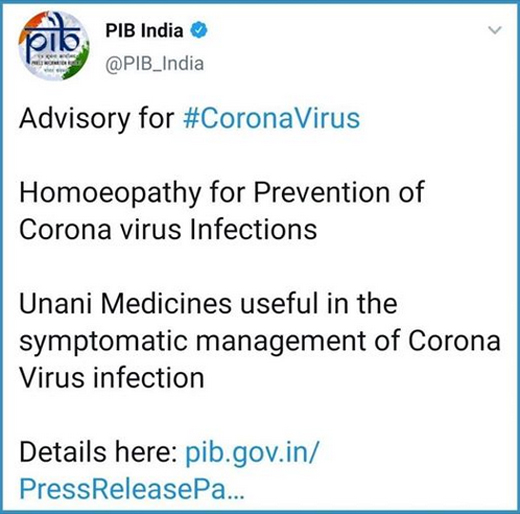 The government advocate - "At the instance of Ministry of AYUSH, Central Council for Research in Homoeopathy(CCRH) discussed the ways and means of prevention of Coronavirus infection through Homoeopathy in 64th meeting of its Scientific Advisory Board on 28th January 2020. The Group of Experts inter-alia has recommended that homoeopathy medicine Arsenicum album30 could betaken as prophylactic medicine against Coronavirus infections, which has also been advised for prevention of ILI.It has recommended one doze of Arsenicum album 30, daily in empty stomach for three days. The dose should be repeated after one month by following the same schedule in case Coronavirus infections prevail in the community.

The Expert Group has further suggested that general hygienic measures for prevention of air-borne infectionssuggested by the Ministry of Health and Family Welfare, Govt. of India, for prevention of the disease should also be followed by the public."

Wonder why the medical bodies are silent on this blatant falsehood.
Narendra Nayak
President, Federation of Indian Rationalist Associations


Write Comment
|

E-Mail
|
Facebook
|

Twitter
|

Print