Goodbye 2015. Welcome 2016
Mangalore Today News Network
Mangaluru, January 01, 2016: Gone are Yesterdays; Tomorrow begins Today. Another New Year has made a grand entry. It's a Welcome 2016 and Good Bye 2015.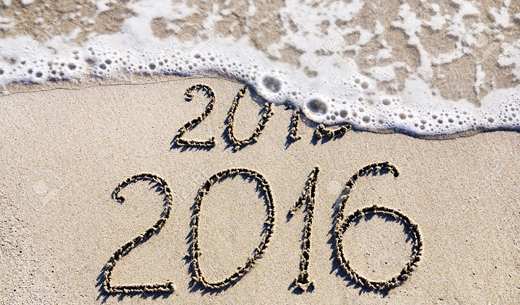 The New Year has brought along with it myriads of hopes and expectations that it would be a good, eventful and a memorable year.

Team Mangalore Today wish all our readers a Very Happy and Prosperous New Year

How to make New Year 2016 unique
With another year 2016 born for all of us there is a lot to think a lot plan to make it better and memorable. Take a look at perhaps the possibilities for a better situation for you and a win-win for all too. Resolutions are a hot topic what are they?

The ancient humans promised their gods that in the New Year, they would pay all their debts and return borrowed objects. It is also a time when you can make New Year Resolutions. New Year resolutions are about self improvement or helping others for a win-win alaround. A popular personal goal could be to enjoy life, to laugh more, use mobiles less, take more holidays. A financial goal may be to save every month, to stop using your credit card. A work goal could be to start a business, volunteer for greater responsibility, or master a new computer skill. A family related goal may be to spend more time with your kids or grandchildren. It could involve a holiday trip with parents. A social goal may be to be in touch with the community through multi facets. It could be volunteering at the local hospitals, organisations. It could be to contribute to a worth while charity regularly and a myriad other ways.


Some ways to ensure that you succeed in keeping the New Year Resolutions:

1 Plan in advance. Those who set goals in advance and create small, measurable, plans are more likely to succeed. Instead of saying 'lose weight', you could say, 'I will lose one kilogram a week, for the next 3 months'.

2. You are more likely to succeed if you make your goal public and get support from your family and friends.

3. Quit an addiction, a bad habit. Get family support and professional help if required.

4. Go back to learning to learn something new, like a new language, baking, a course in something of interest to you.

5. Volunteer to learn first aid and CPR at a local hospital. Get registered with the Red Cross. Serve the underprivileged like old people.

6. Liven up your lifestyle. Focus on being happier and more light hearted, abit more out going.

7. Make your home more beautiful and clean out your cupboards. Get rid of clutter. Be useful to society

8. Be on time and keep up your commitments. Be someone others can trust. Be considerate to those around you.

So get started now. Plan rewards when you achieve sub goals. The journey to the mountain top, starts with a single step. Plan that journey, one step at a time. MAY THE NEW YEAR 2016 BE A BLESSING AND REWARD FOR YOU, MAKING IT A WIN-WIN FOR ALL WITH YOU! So, all the very best from your 'MANGALORE TODAY' web site which you must watch every day of 2016!



Write Comment
|

E-Mail
|
Facebook
|

Twitter
|

Print