Goddess of wealth favours divotees on Varamahalakshmi Vrata - Aug.8 instant
Mangalore Today News Network
Mangalore, Aug 9, 2014 : Varamahalakshmi Vrata is the propitous day to seek blessings of the Goddess in profusion, as it is believed she is at her benevolent best on this day. The day observed on a Friday just before the full moon day of Shravana month as per Hindu calendar, which usually falls during August-September. This year, Varamahalakshmi Vrata was on August 8, 2014.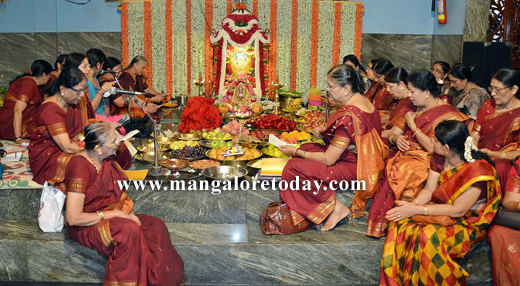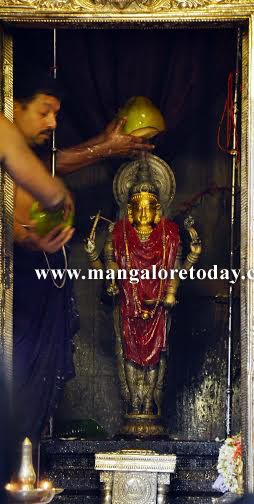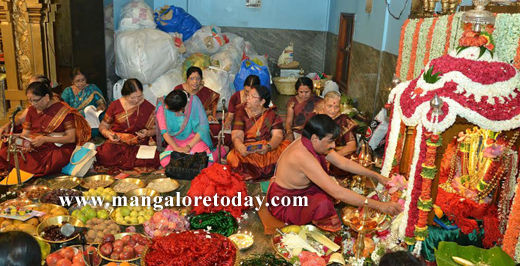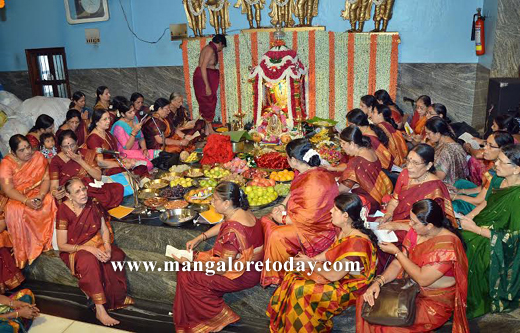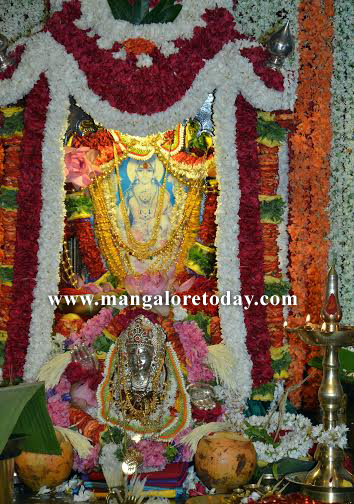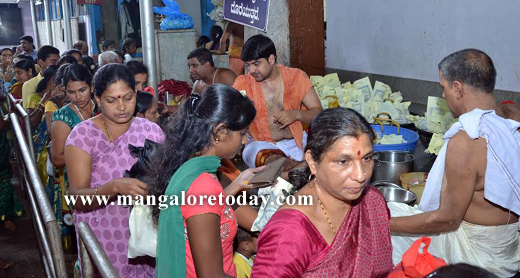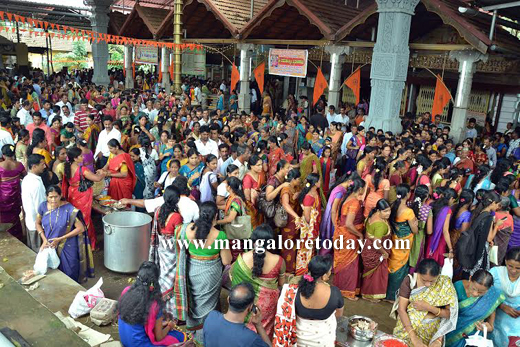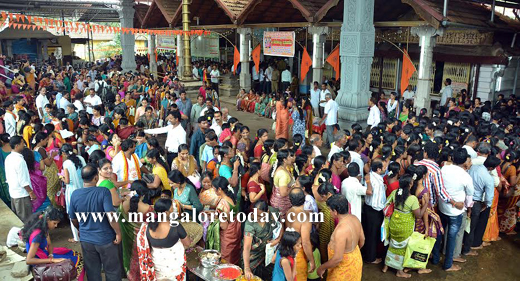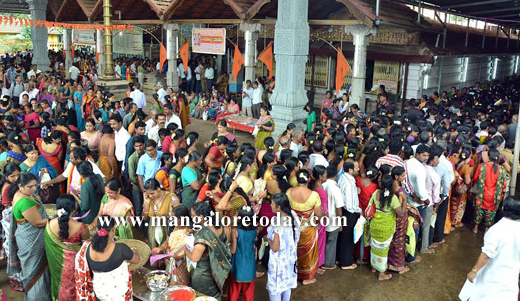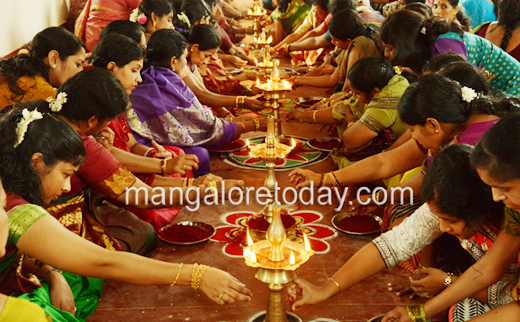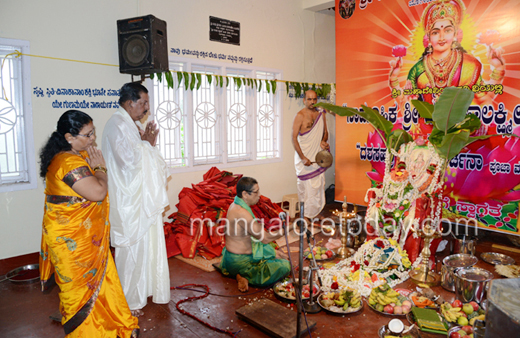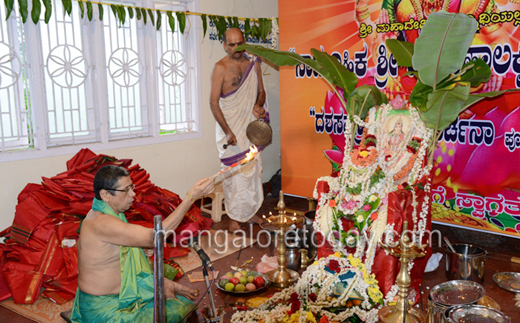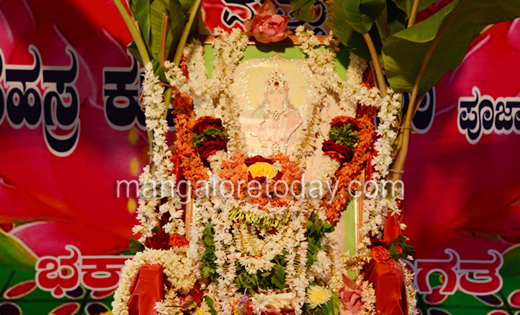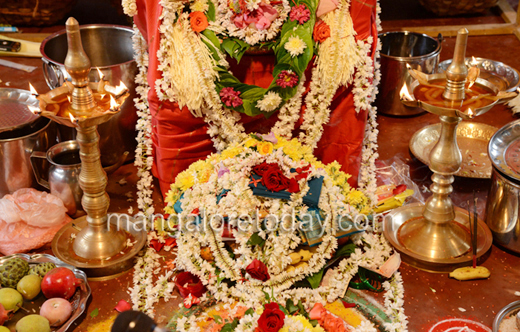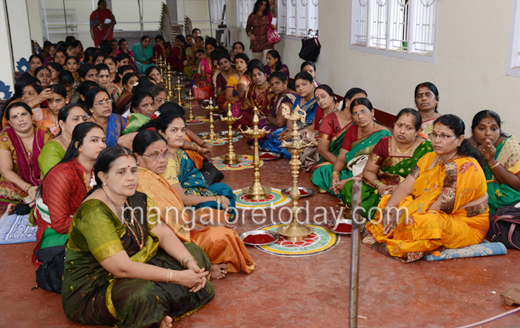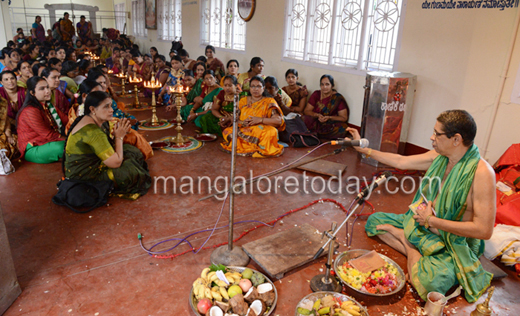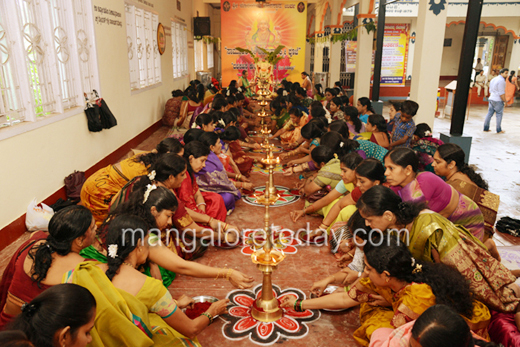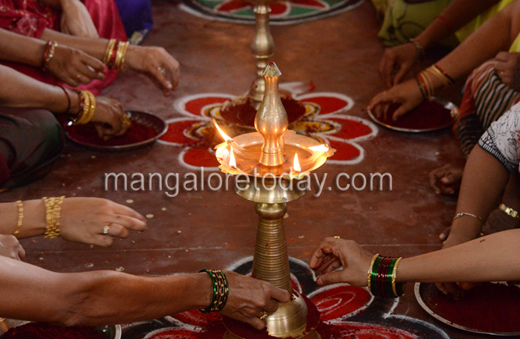 Goddess Mahalakshmi is also worshipped for healthy progeny in addition to good health and prosperity of husband, by married women. Before sun rise, women create a rangoli at the chosen spot usually near the puja room of the house by using either coloured chalks or powder. A pitcher (Kalasha) made of silver, copper, or brass is placed at the centre of this rangoli.
The Kalasha is filled with rice and decorated with mango leaves. A coconut covered with new sari or cloth is then placed on the and prayers are then offered for Goddess Lakshmi to invoke her presence in the form of this pitcher. Also used are idol of the Goddess or a small face of the Goddess Lakshmi carved out of gold or silver for the purpose.


The Kalasha, is also decorated with flowers, jewellery, fruits, dry fruits, fresh grains, etc. Some also put coins or currency notes, or make a garland of currency notes to decorate the pitcher. Worship of the Goddess as always starts after offering prayers to Lord Ganapati. A thread dipped in Haldi or Kumkum water is then tied after offering prayers, to the right hand of the women worshippers. The occasion is also used to honour married women (sumangalis) by presenting fruits,coconuts, betel leaves, areca nut etc, as they too represent Goddess Lakshmi.

Community puja is also organized at halls and temples to help women to come together and exchange good wishes and offerings. In Mangalore city celebrations are normally held at Urwa Marigudi, Radhakrishna Hall Urwa, and Samaj Bhavan, Mannagudda.


Special delicacies like Obbattu, Huliyanna, Payasam and more are made by people of Karnataka. Women usually visit their neighbours and relatives to exchange sweets, flowers, and Prasadam. There are some ardent devotees who organize elaborate oblations, invite hundreds of women, and arrange feasts the day is very auspicious for women.

Write Comment
|

E-Mail
|
Facebook
|

Twitter
|

Print