George Fernandes: Condolence meeting held at T V Ramana Pai Hall, Mangaluru
Mangaloretoday News Network
Mangaluru, Feb 02: The Mangalore Citizens Council organized a condolence meeting at T V Ramana Pai Hall to pay respect to the son of the soil and legend George Fernandes at 5.30 pm on Saturday, February 02, 2019.

Who is who of the city and a large number of public, friends, admirers attended the 'Sradhanjali' program. Mangalore Bishop emeritus, Aloysius Paul D'souza, Nitte University Chancellor, N Vinaya Hegde, Founder and Chairman of Alva's Institutions, Mohan Alva, George Fernandes's brother and labour union leader Michael Fernandes, Dakshina Kannada MP, Nalikumar Kateel, Mangaluru MLA, Vedavyas Kamath and Mangaluru Mayor Bhaskar Moily were important speakers on the occasion.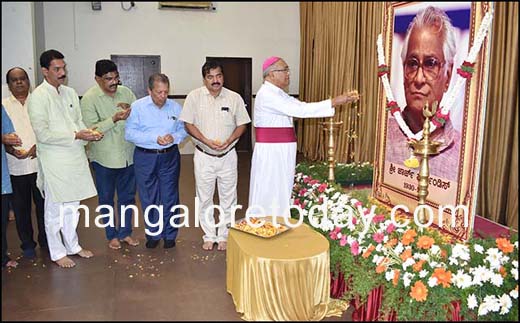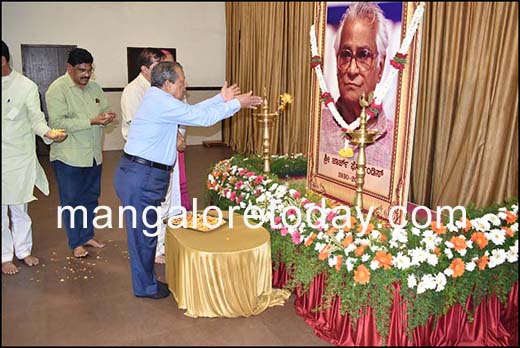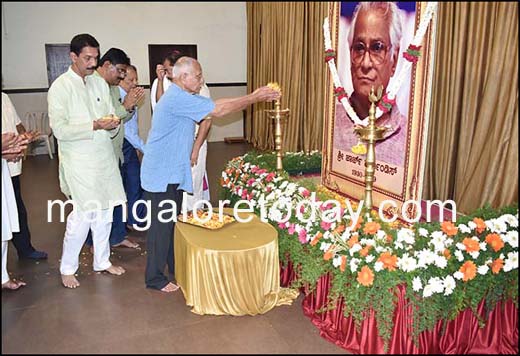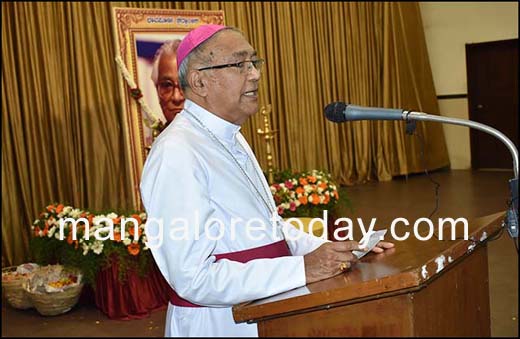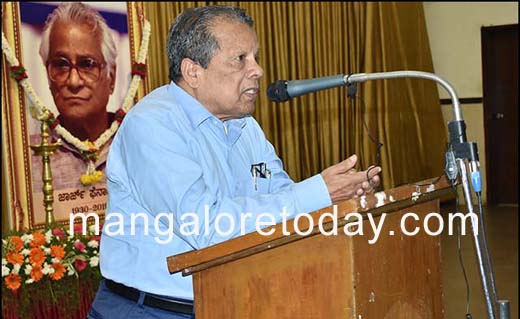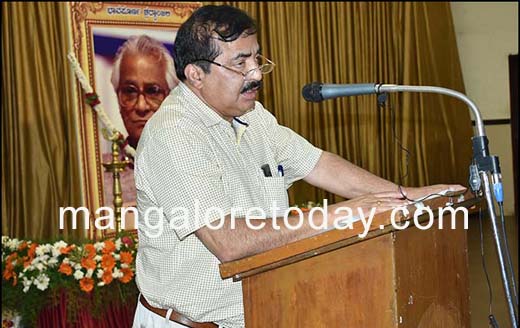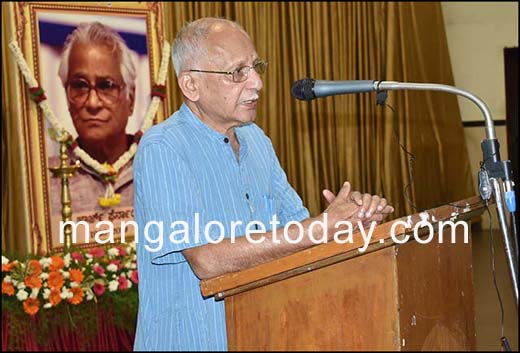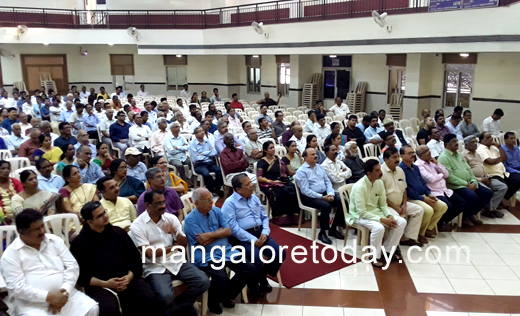 Speeking on the occasion, Bishop Aloysius Paul D'souza who knew George Fernandes and his family closely said George was man of impeccable character and a man of conviction. Though he has joined the Seminary for priesthood, left it because he felt he would not fit into it. He was destined to serve society in a different platform and he has proved his capability in absolute manner. We are proud his achievements. He was a great human being, a great trade union leader, a good politician and a great Minister. His entire life was dedicated to the country. We will remember him always. I pray, let his soul rest in peace.

Nitte Vinaya Hegde was quite emotional speaking about George Fernandes whom he knew from early days of his pollical life. He recalled the days of National Emergency when George had gone underground avoiding arrest. Fernandes was a trade unionist, an anti-Emergency crusader. Fernandes went to prison for his protests against the Indira Gandhi government. George was very close to my father Justice K S Hegde, former Speaker of the Lok Sabha and I have seen his commitment to cause of the people. He was honest to the core. Fearless and straight forward. Able and efficient.

"I admired him greatly because he dedicated himself to what he believed in, no matter how difficult the situation was. George was a great humanitarian and believer in truth. Throughout his life, his was a voice for the millions of poor and needy people of the country. He had a firm conviction in justice and wisdom. He was a fighter for working class, a trade unionist, an upright politician, an able administrator, a great parliamentarian and above all was a good human being". Fernandes was a multi-faceted personality. He was a real heroic leader" Mohan Alva said.

Michael Fernandes said that he was an associate of his brother's activities; let it be trade union, politics or service to the society. I worked as a shadow behind him. He regretted how George was indicted of corruption charges and how badly it hurt the entire family. The whole family suffered in many ways. We have been always against corruption. We had fought many battle against corruption. He hoped that a road in Mangaluru city be named after George Fernandes.

DK- MP, Nalinkumar Kateel remembered George Fernandes as a fire brand leader who fights for the rights of the people and for the nation. He recalled the leadership quality of George Fernandes. The NDA -Vajpe Government was a twenty seven parties coalition and the convener of party had hell of time to keep it going. The convener was none other than George Fernandes." "George Fernandes was a politician with a difference. He had the ability to stand alone, take a position, however extreme, and sustain that position. He was a political worker, an extraordinary leader, a powerful trade unionist, a parliamentarian that many would dread to face and above all a dissenter.

Many eminent persons talked about the great son of the soil and legend George Fernandes. The meeting concluded with a call to youth to follow his ideals and principles and serve the nation to one's best ability like George Fernandes.


Write Comment
|

E-Mail
|
Facebook
|

Twitter
|

Print