GSB meet condemns allegations against Samyamindra Thirtha
Mangaloretoday News Network
Mangalore, May 15, 2019: A 'Dharma Raksha Sabha' (congregation for protection of Dharma) of Gauda Saraswat Brahmin (GSB) community members held today under the auspices of GSB Temples Association strongly condemned what it deemed as 'false allegations' leveled against Kashi Math seer Swami Samyamindra Thirtha. Terming the allegations malicious, the community members alleged that the intension of the move was to humiliate the swamiji and cast aspersions on his character and credibility.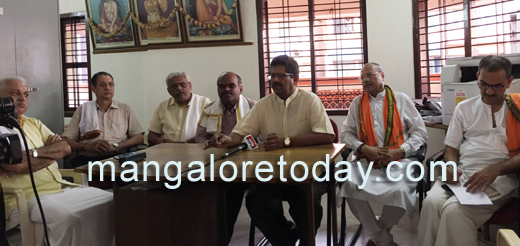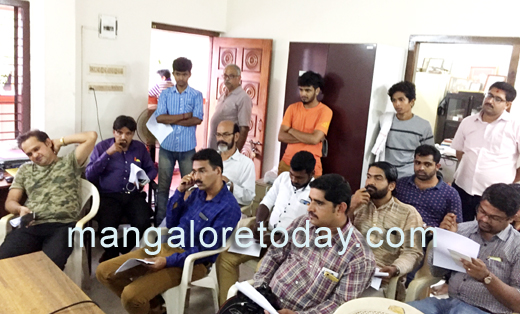 The congregation which took place at the premises of Sri Venkatrmana Temple, Car Street this evening was attended by a large number of devotees of Kashi Math and GSB community members.

The congregation passed five resolutions: (1) To accept and abide by the successive proclamation issued by Sudhindra Thirtha Swami anointing Samyamindra Thirtha as his successor. (2) To condemn any attempt or activity of any party to lower the dignity of Kashi Math and Samyamindra Swami and to further pledge to uphold their esteem. (3) To call upon Raghavendra to return all properties belonging to Kashi Math presently lying with him and to pursue legal struggle to reclaim them for the Math. (4) To undertake legal fight and social struggle against false allegations and court cases against Kashi Math and its head. (5) To unanimously condemn any attempt by disowned shishya Raghavendra Thirtha to impersonate himself as the head of Kashi Math and to cause disunity among the community members.

Later addressing a press conference at Kashi Math office at Car Street, Kaup Narayan Shenoy, who holds General Power of Attorney for Swami Samyamindra Thirtha, said that FIR No.0061/2019 lodged at the Surathkal Police station against Samyamindra Thirtha was based on lot of falsehoods. He informed that in the year 1994, the then head of Kashi Math Srimad Sudhindra Thirtha Swami had entrusted certain powers and responsibilities to the complainant of the present FIR Raghavendra Thirtha. Subsequently, as he was behaving in irresponsible and negligent manner, the senior swami had completely relieved Raghavendra Thirtha of all responsibilities connecting to kashi Math in 1999.

During the intervening period Raghavendra had made deposits of huge amounts belonging to Kashi Math at a Bank in Surathkal. He had illegally maintained these deposits in his own personal name. The income tax department has taken note of these deposits and issued notice also. Auditors too had raised objections. At that time Raghavendra himself had written to the income tax department clarifying that the funds belonged to Kashi Math and that the amounts are duly accounted for in the balance sheet of Kashi Math. The officers of the Bank, after studying all these matters and taking proper legal advice, had recently renewed the deposits in the name of Kashi Math Samstan. "Raghavendra has suppressed all these facts while filing false case against Samyamindra," Shenoy alleged.

The complainant has projected himself as though he is the successor in Kashi Math and instituted a bogus trust. He is using Kashi Math insignia and misusing Math's identity and properties, he said. "Kashi Math is aware of his activities and had questioned Raghavendra's activities at Bangalore City Civil Court and also succeeded in getting a restraining order against him" he said. As per the court order, Raghavendra is prohibited from using any symbols or properties of Kashi Math or undertaking any transaction or activities or representing it or interfering in its activities in any manner.

Among other during the press meet were Surendra Nayak, auditor of Kashi Math Samsthan, Mohandas Mallya, president of Dahisar Kashi Math, Jagannath Shenoy, President of Cochin Tirumala Devasthan, R. G. Bhat, Trustee, GSB Seva Mandal, Mumbai, T. Ganapathi Pai, All GSB Temples Association and Namdev Mallya of GSB Temples Association.

It may be called that an FIR No.0061/2019 had been registered at the Surathkal Police station under sections 403, 406, 420 and 34 of the IPC for cheating, criminal conspiracy, breach of trust and cheating against three individuals - Samyamindra Teertha alias S. Umesh Mallan and two managers of a Bank, Surathkal Branch, Iddya Village, Mangalore. The FIR was filed late evening on May 11, 2019 by Raghavendra Thirtha, identifying himself as the 21st pontiff of Kashi Math.

Prof. Narendra Nayak of Desha Premi Sanghatanegala Okkuta had then expressed his apprehension that instances like these might have been the root cause of Vinayak Baliga Murder Case. Baliga had been murdered brutally in March, 2016 allegedly for questioning the irregularities in the financial affairs of the Kashi Mutt and Venkatramana Temple and Prof. Narendra Nayak has been leading a campaign for justice for Vinayak Baliga.


Write Comment
|

E-Mail
|
Facebook
|

Twitter
|

Print