Fr. Claude D'souza, SJ, Mangalurean Jesuit passes away in Bengaluru
Mangalore Today News Network
Bengaluru, July 07, 2018: Rev Fr. Claude D'souza SJ, Aged 87 yrs, 67 yrs a Jesuit priest, passed away at Mallya Hospital, Bangalore early today, July 7. His funeral will be tomorrow July 8, 2018, Sunday. with funeral mass at 3 pm, at the St.Joseph's Boys High School Chapel. Burial at the Mount St. Joseph's Jesuit Cemetary.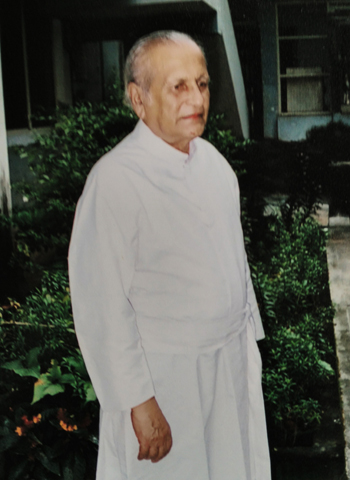 Rev Fr. Claude D'souza SJ, is a well known Jesuit of Mangalore, who is known all over South India. Born 1931, he was ordained in Rome and served in important positions. He first came to light as the AICUF Director based in Madras (now Chennai). Was Headmaster St.Joseph's Boys high School, Bangalore in the 1970s. 1984 to 90, he was Rector St.Joseph's College, Bangalore. 1991 to 97 Director of 'Ashirvad' Bangalore. 1997 he went to Bijapur as a parish priest and served several social causes. He served the cause of education in Karnataka and Tamil Nadu in different ways and experimented a lot to insure that education reached the marginalized in remote villages.

One such effort was as Founder, Chair person of 'Kalvi Kendra'. He is a social thinker and scientist. He had promoted number of social action groups in Tamil Nadu. He evolved a new concept called Cluster School Movement. He visualizes the meaningful spirituality through humanitarian services. He worked until he was well past 80s, recently his health failed.

Family Background :

Son of reputed business magnate A R D'Souza, a leading cloth merchant of Kanara. Fr. Claude's mother was Evelyn Lobo (they were married at Bendur church in 1924) and lived 66 yrs of married life. Both were recipients of the 'Pope's Golden Cross' - Pro Ecclesia et Pontifice for services rendered to humanity and Mangalore community. M/s. A R D'Souza's, W J D'Souza's and Bright Shop were the old business houses that they had which have now given way to newer enterprises.

They had 8 children and resided at 'Pompei' at Bendur Well. Fr. Claude was the 5th child. His siblings were : Verdine, William, Margaret (Greta), Lidwin, Claude, Richard, Blasius, and Merlyn. Verdine, Lidwin and Merlyn joined the cloistered convent at Kankanady early. Blasius was a politician and held the positions of City Mayor and State Minister. The rest, apart from Fr. Claude, were married. Fr. Claude is the last of them to pass away. The surviving progeny of the family is well known here.

Write Comment
|

E-Mail
|
Facebook
|

Twitter
|

Print