Flex hoardings and banners continue to be an eyesore
Mangalore Today News Network
Mangaluru, Apr 03, 2017: Mangaluru City Corporation (MCC), the custodian of public places in the city, is yet to exercise its powers under the Karnataka Open Places (Prevention of Disfigurement) Act, 1981, with banners, hoardings and buntings dotting across the city.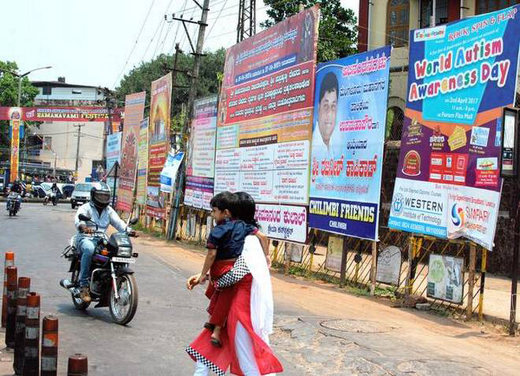 At the same time, the corporation has also failed to enforce the ban on plastic as per the notification issued by the government on March 11 last as every such display material is of plastic.

Newly elected Mayor Kavitha Sanil had recently said that the civic body would undertake a drive to remove all such illegal hoardings from April 1. However, the corporation is yet to act on the promise even as hoardings congratulating Ms. Sanil on her new assignment are increasing every day.

Prakash Kamath, a private firm employee, wondered how the civic body could sit idle over the flagrant violation of law. "More than violation, the fanciful display has become an eyesore in the city, which is on the way becoming Smart City," he regretted.

Flex hoardings of political leaders congratulating them for "accomplishing tasks", temple programmes, office-bearers elected to various associations, etc., are some of the commonly seen display items on the roadside across the city.

Their numbers only go up at vantage locations, particularly at traffic junctions thereby distracting motorists too.

Sarvesh Kumar, a self-employed person in Kadri, said that lack of penal action against violators of law has been the reason for unbridled erection of illegal hoardings. "When the hoardings are erected congratulating political leaders, who would dare take action against those responsible for such hoardings," he wondered.

Incidentally, Section 3 of the Karnataka Open Places (Prevention of Disfigurement) Act, 1981 provides for punishment to offenders.

"Whoever by himself or through another person, affixes to, or erects, inscribes or exhibits on, any place open to public view any advertisement without the written permission of the local authority having jurisdiction over such area, shall be punished with imprisonment of either description for a term which may extend to six months or with fine which may extend to one thousand rupees or with both."

From today

Corporation Commissioner Mohammed Nazeer told The Hindu that the civic body would undertake a clearance drive from Monday.

"All of us were busy till Friday in mopping up various taxes as it was the year-end," he said.
Courtesy: The hindu

Write Comment
|

E-Mail
|
Facebook
|

Twitter
|

Print