Fishing begins amid uncertainty over availability of catch
Mangalore Today News Network
Mangaluru, Aug 2,2017: Even as fishermen using mechanised boats began slowly venturing into the sea after the 61-day fishing holiday from Tuesday, drastic decrease in the monsoons has made them a worried lot.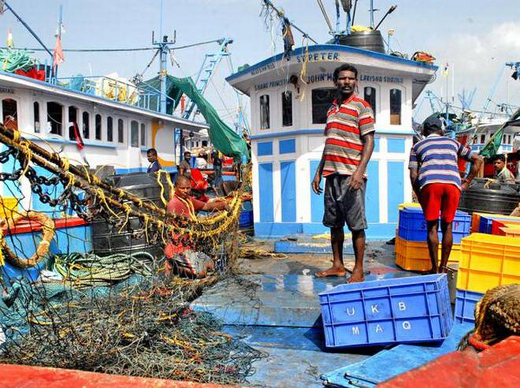 Adequate monsoons resulting in copious flows in rivers has a direct bearing in fish breeding and any shortage is bound to affect the availability of aqua fauna.

Not all mechanised vessels, about 3,500 in Karnataka coast, did venture into the sea on Tuesday.

While some are waiting for an auspicious day to begin the new season, some others are waiting for arrival of traditional fishermen, who were engaged in traditional fishing during fishing holiday.

The beginning of the fishing season also saw restarting of ancillary activities, including functioning of ice plants and others.

Director of Department of Fisheries Veerappa Gowda said deficient Monsoons might affect the fish catch; but one has to wait and watch. The catch had been around 4 lakh tonnes in the preceding three fishing years, he noted.

While all states on the west coast including Karnataka have gone for uniform 61-day fishing holiday from June 1 to July 31, Kerala alone did not agree and has observed just 47-day holiday, Mr. Gowda said.

A fishing holiday is being observed to facilitate fish breeding during the monsoon.

Inadequate nutrients

Vasudeva Boloor, Vice President of National Fish Workers Forum told The Hindu that reduced rains would result in reduced flow of nutrients into the Sea. This in turn, would affect fish breeding as they would not get adequate fodder, he said.

At the same time, breeding itself would get affected as fresh water flow into the sea gets reduced for want of rains.

Aqua fauna prefer warm water for breeding, for which they approach the coast, he noted.

Mr. Boloor also said had there been adequate rains and full flow of rivers, the same would have removed sand dunes at the mouth of rivers thereby offering safe passage to fishing vessels. However, fishermen are now worried over the deposit of sand at river mouths and expect the government to undertake dredging, he said.
Courtesy: The Hindu

Write Comment
|

E-Mail
|
Facebook
|

Twitter
|

Print