First batch of pilgrims leaves for Hajj; Haj Bhavan to be raised up at Adyar, Zameer Ahmed
Mangalore Today News Network
Mangaluru, July 22, 2018: Minister for Minorities Welfare, Haj and Wakf B Z Zameer Ahmed Khan said that the Haj Bhavan will be constructed in front of the Adyar-Kannur Masjid. The site marked earlier was near the Mangaluru International Airport.

The minister was addressing a gathering of Haj pilgrims on Ansar PU School premises at Bajpe on July 21, Saturday.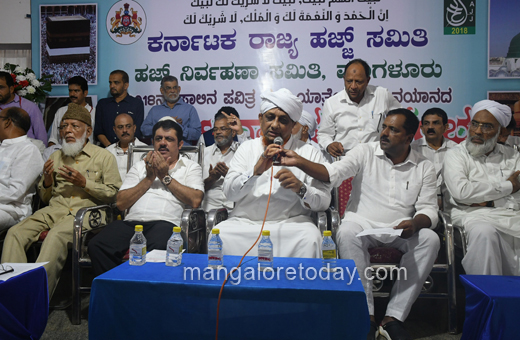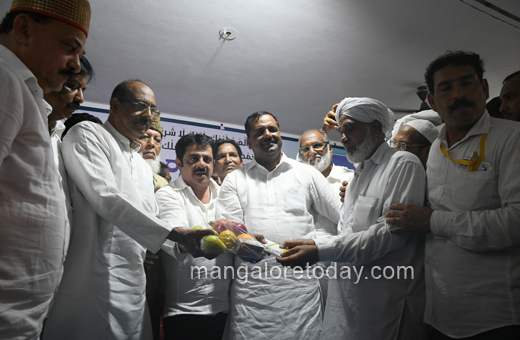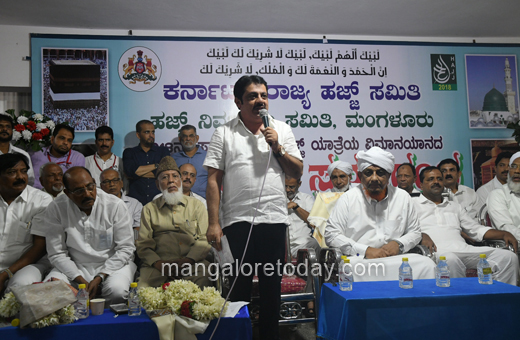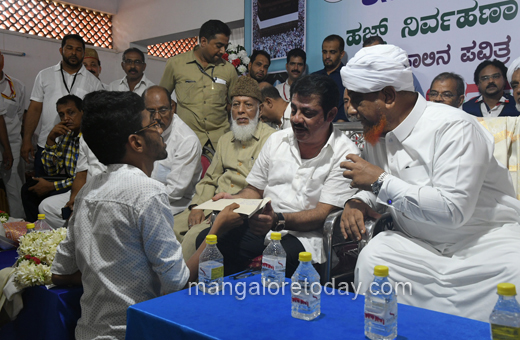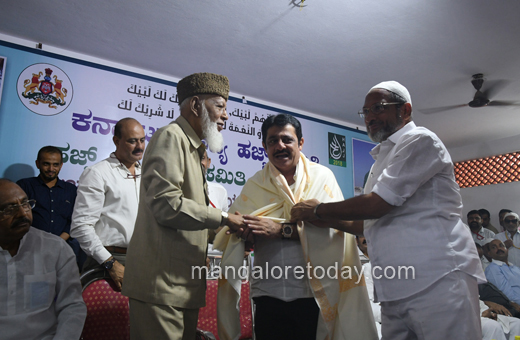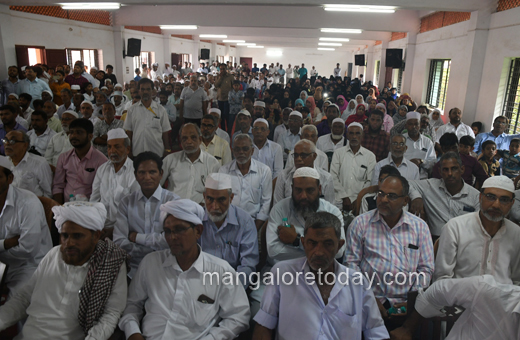 Khan said, "If the Haj Bhavan is constructed on the identified land at Bajpe, then it would be used only for Haj pilgrimage. Hence, it has been decided to construct the Bhavan in front of the masjid at Adyar. The Bhavan can be used for marriage and other functions."

He said that 1 acre land in front of the masjid at Adyar will be purchased for constructing the Haj Bhavan. "I inspected the land and will hold discussion with the owner of the land. The Department has earmarked Rs 10 crore for the construction of Haj Bhavan," he added.

'Send poor to Haj' : "As per Quran, there is a sanctity for Haj pilgrimage. A rich may visit Haj several times in his lifetime. Instead, a rich man should help a poor to go on a Haj pilgrimage, which is a great service," said the minister.

"I have been sending the Imams of masjids for Haj pilgrimage for the last 22 years. This time, I am bearing the expenses of 52 Imams for their pilgrimage. I want all the religious heads to go on Haj pilgrimage at least once in their lifetime," Khan said.

"During the Haj pilgrimage, one need to pray for the welfare of the country. There are false propaganda against Muslim community members, which needs to be checked. There is a need to pray for communal harmony in the country," he requested.

Minister for Urban Development and Housing U T Khader said that the Karnataka State Haj Committee will provide all the facilities for the pilgrims. He appealed to the pilgrims not to get confused over any delay in the arrival of the flight.

6,624 quota for state: The Karnataka State Haj Committee had received 18,247 applications. Karnataka was allotted a quota of 6,624, of which 686 reserved category. As many as 658 persons (age 70 and above, 28 ladies) were selected without Qurrah or draw of lots. The remaining 5,938 were selected in Qurrah. The pilgrims from Karnataka will proceed to Haj pilgrimage from four embark points – Bengaluru, Mangaluru, Goa and Hyderabad.

Three chartered Haj flights, with 146 pilgrims in each flight, from Mangaluru International Airport will operate till July 23.

The flights from Goa is scheduled to start between July 26 and 28. Around 270 pilgrims from Belagavi and North Karnataka districts will use the facility from Goa. The Haj flights from Bengaluru will operate between August 1 and 15. As many as 19 Haj flights, with 300 pilgrims in each flight, will travel from Bengaluru.

MLC B M Farooq, former MLA B A Mohiuddin Bava, District Wakf Board Committee President U K Kanachur Monu and others were present at the gathering.

First batch departs: The first batch of 146 Haj pilgrims from Karnataka left for Madina and Mecca from Mangaluru International Airport on Saturday.

They were among 432 pilgrims from Dakshina Kannada, Udupi, Hassan and Chikkamagaluru districts who are scheduled to leave for the pilgrimage from the airport in three days from Saturday. They will go in three chartered flights.

This is for the first time the pilgrims are going on the pilgrimage without subsidy from the Union government.

As many as 1.73 lakh persons will undertake pilgrimage from India this year of which 6,624 are going through the Karnataka State Haj Committee.

Pilgrims from the State will leave from airports in Mangaluru, Bengaluru, Hyderabad and Goa. As many as 270 pilgrims from Belagavi and Uttara Kannada will travel from Dabolim Airport in Goa from July 26 to July 28. Pilgrims from different parts of the State will go in 19 flights from Kempegowda International Airport from August 1 to August 15. Haj pilgrims from Bidar, Kalaburagi, Raichur and Yadgir districts will leave from Rajiv Gandhi International Airport, Hyderabad.

At a farewell function held at a school in Bajpe, Food and Civil Supplies and Haj Minister B.Z. Zameer Ahmed Khan asked wealthy members of the Muslim community to donate funds for Haj travel to support poor members of the community.

Minister Ahmed said he has been sending people to Haj since 2006. He was sponsoring travel of 54 pilgrims this year. The cost for each pilgrim was around Rs. 2.5 lakh.

Write Comment
|

E-Mail
|
Facebook
|

Twitter
|

Print