First Shramadan of final phase, Ramakrishna Mission Swacchata Abhiyan held December 9
Mangalore Today News Network
Mangaluru, Dec 10, 2018: The very first Shramadan of Swacch Mangaluru, part of Ramakrishna Mission Swacchata Abhiyan was launched December 9, Sunday at Marnamikatta – Nandigudda. Manjula, Coordinator of D K Zilla Panchayat Swacch Bharath Mission along with Captain Ganesh Karnik flagged of the drive preceded by Vedic Chanting. Swami Ekagamanandaji, Dr Rajendra Prasad, Mohan Kottari, Mohammad Shameem and others were present on the occasion.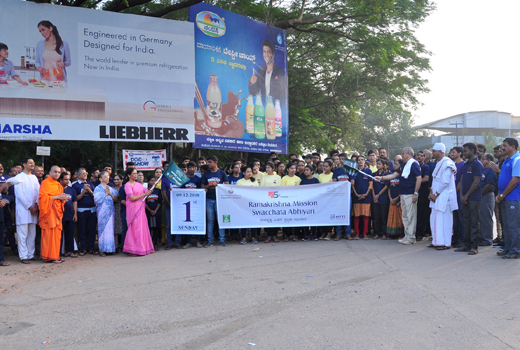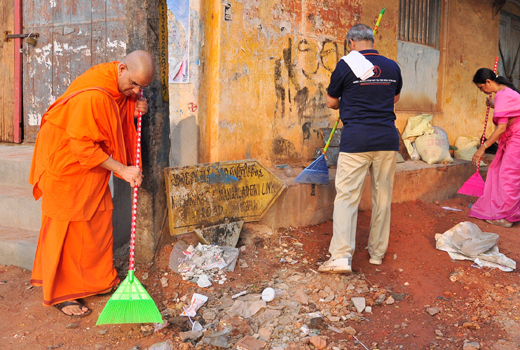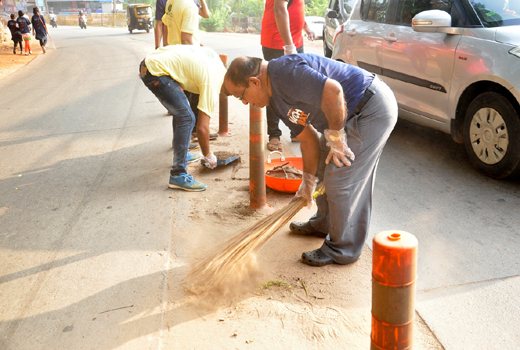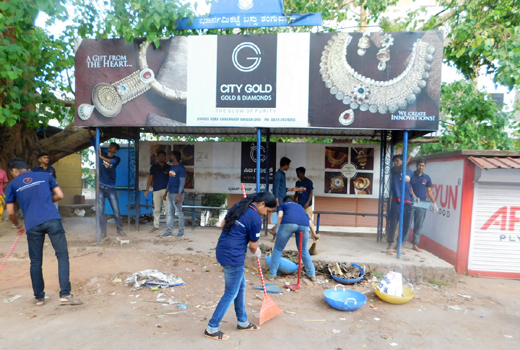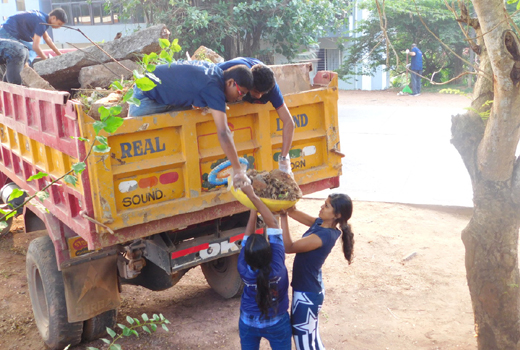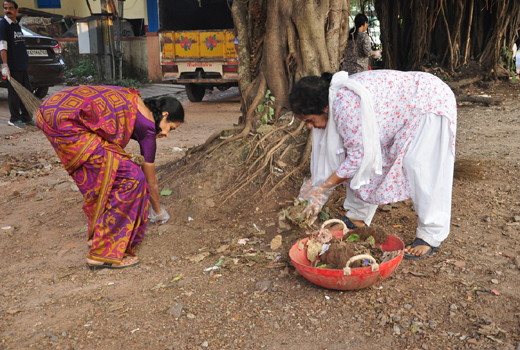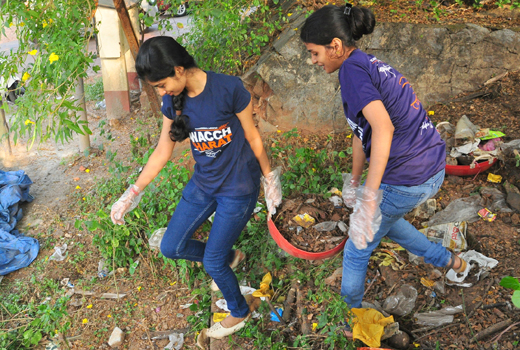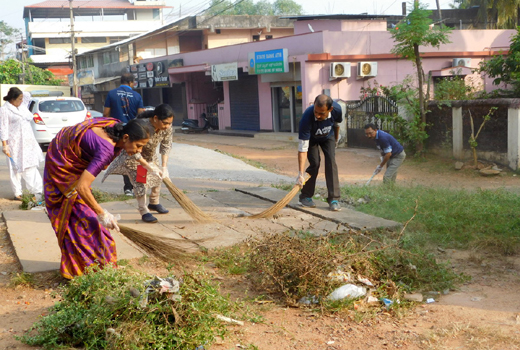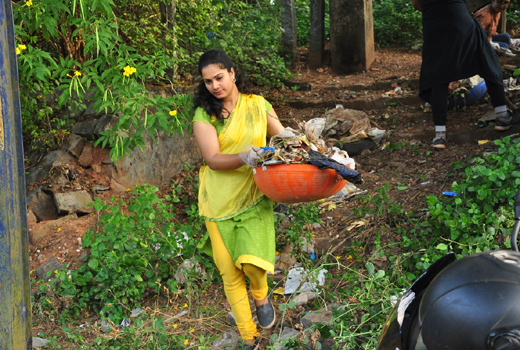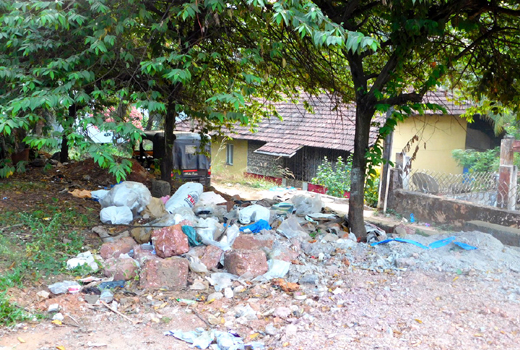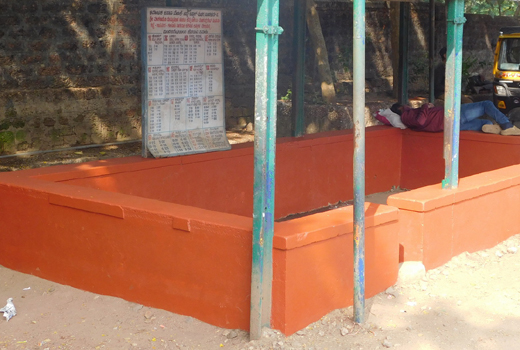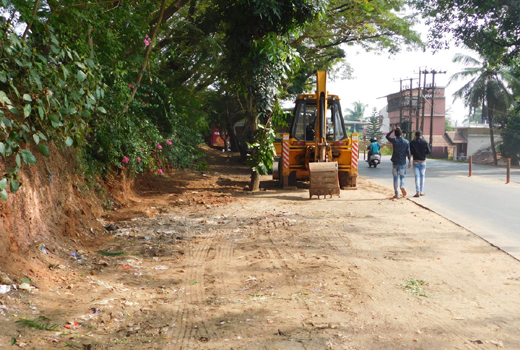 Cleanliness: Volunteers present were divided into 6 groups under the leadership of Dilraj Alva, Coordinator. Debris lie scattered at several places on the roadsides between Marnamikatta Nandigudda. These were removed using JCB tipper. Students of Nitte Physiotherapy College, Principal Dr Dhanesh Kumar, Vittahldas Prabhu, Kodange Balakrishna Naik others carried out Shramadan in the Nandigudde area. Grass cutting machine was used to cut the overgrown weeds on the roadsides in Marnamikatta area.
Steps leading towards ground in Nandigudda were cleaned by removing plastics. Deekshit, Deepika Alva, Suma Kodikal & others joined hands. Members of Team Nivedita Balaga cleaned the drains near Nandigudda circle. Cleaning of Bus Shelters: Surroundings of both the bus shelters at Nandigudda Jeppu were thoroughly cleaned of cobwebs and weeds and washed. Later volunteers painted the bus shelters and gave a much deserved facelift. Sudir Noronha, Avinash Anchan, Vikhyath others joined hands. Removal of flex banners & posters: Several illegally put up flex banners, posters that were are a ghastly sight in the city were removed. Uday K P, Yogish Kayarthadka other volunteers helped removing nearly 200 illegal banners. They were also called up and warned not to put up such flex banners without permission.
Cleanliness drive was carried out from 7.30 am to 10 am. Sri Ravishankar, DGM of Corporation Bank, Kamalaksha Pai, Satyanarayana K V, Sujith Bhandari, members of Hindu Warriors and several others participated in thefirst Shramadan. MRPL is sponsoring these drives.

Swacch Surathkal: Ramakrishna Mission and Nagaraika Salaha Samiti, Surathkal carried out Swacch Surathkal Abhiyan on December 9, at Idya area. Dr T R Shetty, President of Mahalaingeshwara English Medium School flagged off the drive. Idya West side, Narayana Guru Mandira, Killeria Mosque and school campus were thoroughly cleaned. MCC member Sri Ashok Shetty, J D Veerappa, Coordinator of Swacch Surathkal Abhiyan, Prof. Rajamohan Rao, Satish Sadananda others actively participated in the drive. Kulai Nagarika Salaha Samiti, Badriya Helath League, Idya Sports Club, Karnataka State Tailors association, Surathkal Car owners-drivers association, Teacher – Parents association, Surathkal cricket academy, Rotary Club Baikampady, Kulai Ganeshotsava Samiti and more than 20 such groups and NGOs participated in the drive.

Swacch Puttur: Ramakrishna Mission Swacch Puttur team initiated the 3 rd phase of Abhiyan in front of Sri Mahalingeshwara Temple on December 9. Puttur Town Municipality member Jagannivas Rao and Sri Gopalakrishna of Isha Educational society flagged off the drive. Volunteers later cleaned the surroundings of large idol of Shiva situated in the Sri Mahalingeshwara Temple car street. Srikrishna Upadhyaya, coordinator of Swacch Puttur, Sri Krishna G, Principal of Narendra P u College, Smt. Harini Putturaya, Vinod Acharya, Sandeep Lobo and others participated in the drive.


For further Contact – 9448353162 (Swami Ekagamyananda, convener, Ramakrishna Mission Swacchata Abhiyan)

Write Comment
|

E-Mail
|
Facebook
|

Twitter
|

Print