Feast of St.Anthony relic at the Ashram in Jeppu Mangaluru, February 15, Forenoon
Mangalore Today News Network
Mangaluru, feb 16,2017: The red letter day of St.Anthony here on February 15, Wednesday was a bright and beautiful day for all the residents of St.Anthony's Poor Homes or 'Ashram' at Jeppu. This now 118 year old institution in Mangaluru is without doubt a miracle place of this great saint who is known all over the world and in India is perhaps the most uniformly popular icon.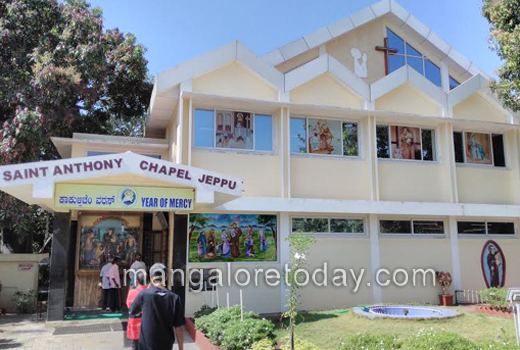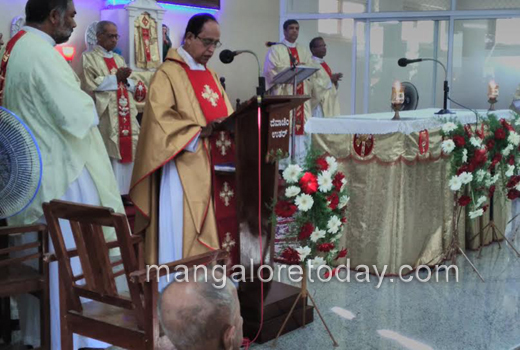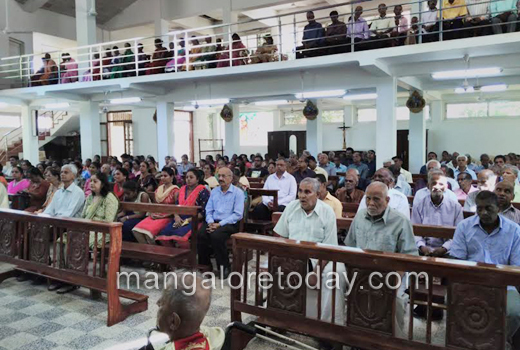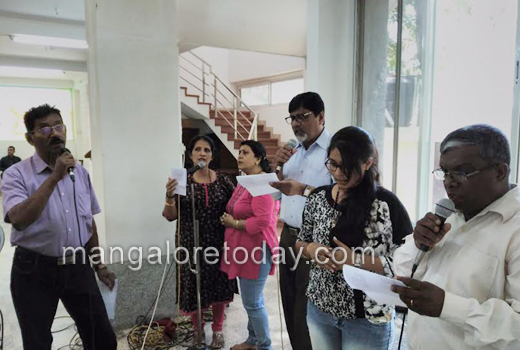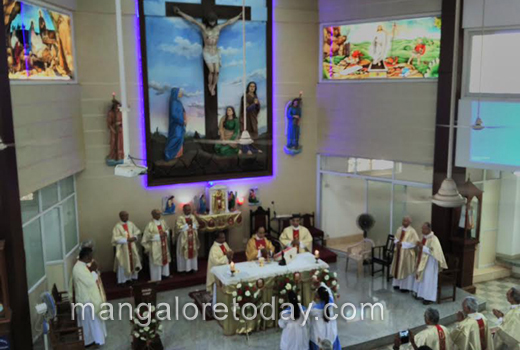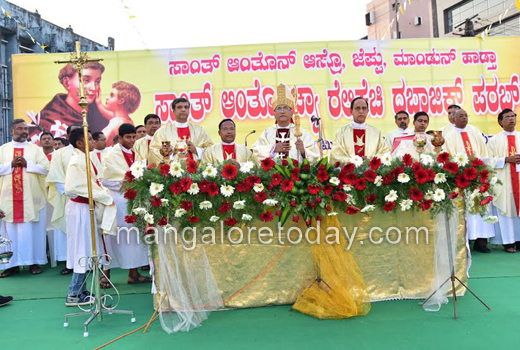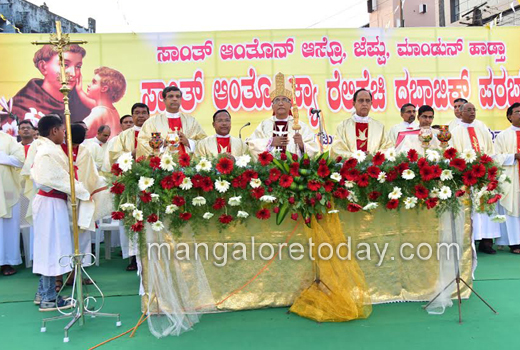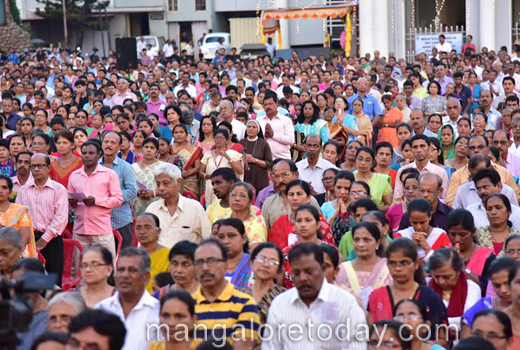 A solemn mass at 8.15 am at the shrines root spot at Milagres started off the day in a special manner. In the 'Asram' at Jeppu, the sprawling nature blest green and clean campus has been a buzz with activity these last ten days. The high light of the feast at this holy place where at least 4oo needy and challenged (in different ways) call this place 'Home'; men and women, ranging now in age from 20s to the 90s, some times even more surely. A solemn mass at 11 am was the in-house focus in the chapel of the Ashram, which now a beautiful and comfortable cool place. Prayers were offered for all people of 'good will' those suffering and eve for the release of Fr.Tom missing from Yemen. At the mass most of the able residents, except some who were bed ridden, were there, with walkers, crutches, and in wheel chairs too – yet with joy and smiles galore.


Joining them were several benefactors who are regulars to help, support and contribute to the 'Ashram' in different ways. Along with them were several valued veteran aged priests who live in the 'Senior priests home' on the campus, some of them like Fr.Cliford D'Souza have been responsible in the Ashram in the past, were co-celebrants with a few guest priests , along with the priests who run the Ashram day to day and reside in it : Director Fr.Onil D'Souza along with the long time Administrator Fr. Francis D'Souza, Fr. Peter Gonsalves. The chief celebrant and leading the solemnity was Mgr. Denis Moras Prabhu, Vicar General of the diocese; he is a very dedicated promoter of this Ashram effort. Also a past Director and a permanent long time well wisher. The choir called "United Family Singers" is regular in serving here. The mass and the talk (in Konkani) on the days significance and the history of the 'relic of the toungue' that was found fresh red when the body of St.Anthony was exhumed for 'Canonization cause' by St.Bartholomew, and is kept in tact now in the Basilica of St.Anthony at Padua held the whole congregation spell bound their devotion enhanced many times over.


To conclude the feast of Feb 15......A public holy mass attended by near 4000 people, was celebrated at the shrine premises at Milagres church in the evening at 6 pm by Rt.Rev Dr. Aloysius P D'Souza, Bishop of Mangalore, with a large contingent of priests. A separate report is set to be presented for our readers.


Brief on the 'Ashram': A Miracle 118 years :

The needy and destitute, knock on the doors of this beloved 'Ashram' situated in a central but quiet eco-friendly part of the main city and very accessible. The abandoned of all ages are brought in form the streets too. Deserving humans needing shelter and food on a permanent basis are usually referred by known responsible persons and social workers. Normally the aged and maimed once admitted never leave this secure and happy shelter that is a virtual home, with all support - physical, emotional and moral.

The campus is a treasury of the ecology aiming to reduce pollution and 'global warming' as is desirable. Systematic ecology by water conservation, harvesting rain water, solar power, LED lighting are part of the institute. The green and clean environment in and around the campus is indeed a prime example of 'Swacch' enhancing the all around well being of this 'St.Anthony's Ashram'.


The management of this Ashram, for 118 years is directly under the Catholic Bishop of Mangaluru who along with it's director, administrator, staff and volunteers maintain a consistent hands-on care on all aspects of life in a dedicated and committed spirit. The facilities are quite up to date and entirely provided for by a system called 'providence' that is partly God's own, through human efforts. The residents as per their ability and desire are well involved in day to day services, which helps to keep them cheerful, productive and healthy. There has never been a serious complaint from any quarter about this miracle shelter. The medical needs of the residents are met with the support of nearby complimentary charitable super specialty Fr Muller Hospital, and the Govt. Wenlock District Hospital, Mangaluru. No effort is spared by the management, who also reside in the campus, to unfailingly provide tasty, nutritious food cooked in the central kitchen and from where it is distributed to different houses. At least thrice a day all come together for community interaction as needed as well as prayer and to pray for people who support. Noting the many residents of all ages, their loyalty and sense of belonging to their real home at 'St Anthony Ashram' is real love, much more can be said about this.


The residents, in one way or the other according to ability and age are involved in voluntary activity. Vegetables and fruits of several kinds are grown in-house, harvested throughout the year, are used for Ashram consumption, which is the main stay for the nutrition of the residents. The Institutes provide opportunities to residents to make use of their skills, talents and abilities and it makes them productive. Candles and church needs are produced with the industry of residents. Entertainment is well regulated with work and life interspersed ; meditation, yoga, retreats and prayer are a high point at the Ashram and many are happy to be involved. Thanks to kind at heart and considerate donors, St Anthony's Charity Institutes have reached high standards in serving the destitute and disabled for the last 118 years. One can find the young, old, sick and helpless-with each alike group housed in individual 'homes'. All are enabled to go about their roles with all possible support from the management - work in house and in the city, getting treatment for the aged and sick and more.......life takes it's designed trajectory, nothing is chance, all a divine design, life moves on.

Write Comment
|

E-Mail
|
Facebook
|

Twitter
|

Print