Fatima Apparitions : Mangaluru diocese to hold grand celebration, May 13, Saturday
Mangalore Today News Network
Mangaluru, May 11, 2017: At the press club it was detailed, that the Mangalore Diocese had made all due preparations for months for this celebration. The statue of Mother Mary brought from Fatima on the occasion of fiftieth year of apparition and kept in Milagres Church has been taken to all the 117 Churches of the diocese and people have honoured Our Lady of Fatima by conducting prayers. On May 13, the statue will be brought in procession from Bondel Church to Our Lady of Fatima Church Thannirbavi.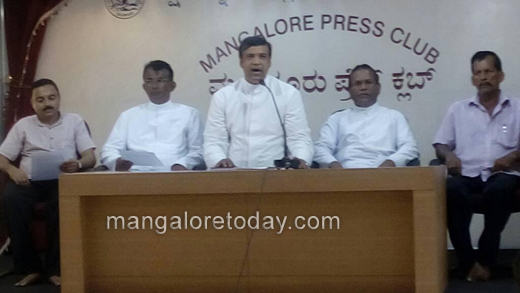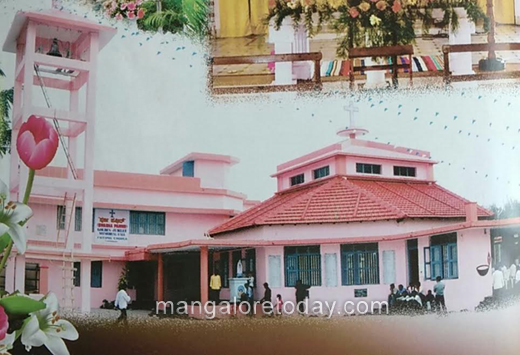 At 4 pm large number people coming from different place will join the procession at Doast Club Thannirbavi. Bishop of Mangalore, Rev Dr Aloysius Paul D'Souza, will celebrate the Holy Mass. Around seventy five priests and six thousand people are expected to participated in the celebration.

The Bishop will also release a documentary film prepared on Our Lady of Fatima by Rev Stany Montiero of Bambil Church. Rev. Francis D'Souza Convener of the celebration; Rev. Onil D'Souza Director St Anthony's Charity Institutes; Rev. Alban Rodrigues Parish Priest, Felix D'Souza Vice President, Clifford Lobo former Vice President of Thannirbavi Parish and Vincent Mascarenhas Media person of the Diocese of Mangalore were present at the media meet on May 10, Wednesday.

Background of Fatima : It was 1917, World War I was raging; it is documented that six apparitions of Mary the mother of Christ, took place on May 13, June 13, July 13, August 19, Sept 13 and October 13, 1917 at Fatima in Portugal. On May 13, 1917 - The 3 Children frequently graze their sheep on the same piece of family land, the Cova da Iria. The 3 children soon after lunch and prayers saw flashes of lightning, fearing a storm, herded the sheep for shelter.
Above an oak tree, they saw a beautiful luminous lady, the children's first impulse was to run away but the Lady beckoned them to draw near. She spoke to the children. Initially people of the place didn't believe in what the children said. But as months passed, the crowd swelled to witness the apparition. On October 13, 1917, a crowd of one hundred thousand gathered to witness the miracle. It was around midday amidst the pouring rain the children and the people witnessed the apparition along with the unusual dance of Sun and unusual phenomena of nature in the sky.

Message in the apparition: A call to pray consistently, for the war to end, turn back from sinful life, repentance. There afterwards people from every corner of the world flock to Fatima. Many of those who visited Fatima have experienced physical healing and inner peace. In 1981 when the then Pope John Paul II was going around in an open vehicle in Vatican square to greet the large crowd a young man from Turkey fired bullets at the Pope. Immediately the Pope was rushed to the hospital and he was rescued.

One bullet was removed from his intestine. The incident occurred on May 13, 1981. The Pope understood that Our Lady of Fatima had done that miracle for him. Following year on May 13, he went to Fatima and placed the bullet removed from his intestine on the crown of Mother Mary. Every year around five million people visit Fatima and experience the spiritual grace. This year on May 13, Saturday, Pope Francis will be in Fatima and he has announced that he will also declare Franscico Marto and Jancintha Marto as Saints. Sister Lúcia died at the Santa Teresa convent in Coimbra on February 13, 2005, at the age of 97, her cause for sainthood is in progress now. At Fátima it is clear that something more than an intellectual vision took place, an external apparition accompanied by indications of the actual presence of Mother Mary. However, it reasonably follows from the descriptions of the events and especially from the senses of Her presence continued to be felt there to this day.

Thannirbavi Church - Historicity : This church of our Lady of Fatima is the only one situated near Mangaluru city. The church is located about 20 km in the North west of the city, near Sultan Bathery, just across the ferry. In early times the area was referred to as "Thundrabail". With the 'Gurpur river' on one side and the vast Arabian sea on the other, this pictures picnic spot is a very valued place locally. Strangely near this church, if one digs for water, it is found at quite a shallow depth, and the water too is of a potable nature though one would expect salty water here.

Before 1940 it was once part of Rosario Cathedral parish, later Urwa parish and Kulur parish until it became independent on May 16, 1950. It has about a hundred families, 450 parishioners and 3 wards. in 1948, a Saldanha family it is said donated about 60 cents of land with a bunglow on the beach nearer the river bank and ferry point. Rev John Miranda was the first Parish priest here, who built a chapel in 1951, blessed by Bishop Victor Fernandes. In 1961. After Rev.Apolinaris Crasta was based there in 1995, good efforts were put in by the parishioners and a large church, priests house and so on was constructed. On May 13, 1998 the new parish church and presbytery was inaugurated. Today it is a fairly active parish, the 'Mangaluru smart city' project and the tourist potential of the area there is scope for it to develop in a big way in the future. As of now it has earned a name as a "Fatima Pilgrim Center" and with the 'Fatima Centenary' being marked by the Mangalore diocese at this church in Tannirbavi it's value is surely seeing a big leap with many blessings to be showered down on all people here and in the future too.

Note : Readers of "Mangalore Today - Monthly Magazine" issue- May 2017, to be released soon, can read a full account as a special feature on this episode.



Write Comment
|

E-Mail
|
Facebook
|

Twitter
|

Print