Fake news is a misleading term'
Mangalore Today News Network
Udupi, June 08, 2018: The spectrum of fake news with different connotations in other contexts stares at us, particularly in surcharged communal and electoral politics, opined Professor Sanjay Barthur of Central University, Tamil Nadu.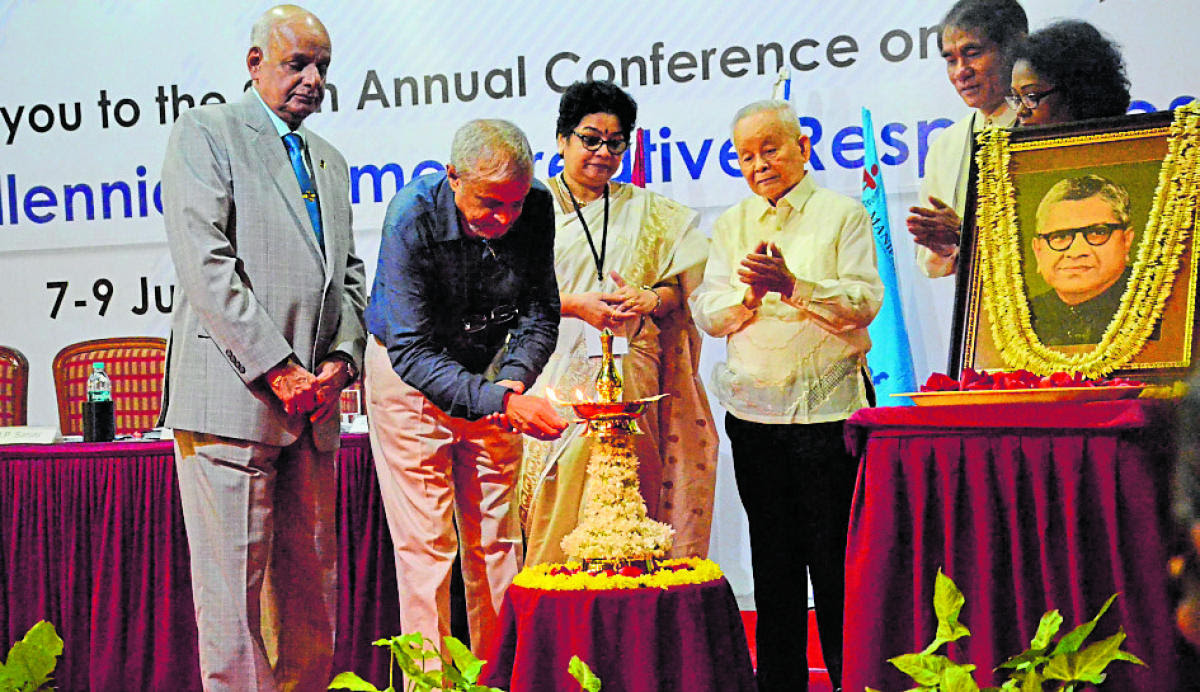 Speaking at the 26th Annual Conference of Asian Media Information and Communication (AMIC) under the theme 'Disturbing Asian Millennials: Some Creative Responses,' organised by School of Communication, Manipal Academy for Higher Education (MAHE). He said that the vulnerability is so high that the standard operating procedure in the recent past has been recourse to Internet shutdown in volatile contexts.

Fake news was also sought to be formally regulated and it was withdrawn, as there was no clarity on the origin of such news stories. Several professionals concerned, who have reflected on it, suggest that among different platforms, WhatsApp seems to be the widely used. "Fake news is a bit misleading term, as fake news can mean many things – a mistake, intentional misleading, twisting a news story, or fabricating a complete lie."

While media houses and credible journalists have been found to put out misleading stories and/or mistakes, the most damage is done by people with fake social media profiles, polarizing websites, and pages which spread fake news intentionally to garner votes and/ spread hatred. While education in the formal sense is imbued with a host of debates of the public sector, commercialization, and privatization, a default faith is placed in the new media that can virtually bring "handheld" education to the millennials. This is an area public and private education sector intended to reach out through online education and learning options.

He said the euphoric underpinnings of the digital era into which the Asian region and its sub-variants, the Asia Pacific, the ASEAN and South Asia have leapt into is reminiscent of many such parallels in the past, both colonial and post-colonial that have highlighted the techno-centric dimension.

He added that the Indian language online content is expected to reach about 60%. Therefore, digital destinations across genres will capitalize on the profile that is non-English. Information is considered as an enabling and empowering input. The speed with which it currently travels through several platforms has raised erstwhile concerns about the legacy media content through adaptation or user-generated content. Ethics apart, legacy media is reposed with higher faith based on its screening and verification process and layered institutional processing.

UGC reflects a paradigm shift with regard to the fact that theoretically allows for higher participation. The millennials profile is not uniform across countries and therefore the kind and nature of content have come into sharper focus. Critique of what kind of content is consumed or circulated is a matter of both academic discourse and the legal and regulatory frameworks.

The extension models of higher education seem to suggest that this can be tapped to bring the skilled youth to the workforce. The transformative potential and better forms of content production and dissemination are immense. With telecoms in fierce competition and entertainment firms collaborating with them, the spread is vast, he concluded.

MAHE Pro-Chancellor Dr H S Ballal said that media should be ethical and responsible. The balanced journalism is the need of the hour, he opined.

Write Comment
|

E-Mail
|
Facebook
|

Twitter
|

Print