Fair reveals the magic of science
Mangalore Today News Network
Mangaluru, Sep 21, 2015 : Demonstrations by the students at several booths as a part of the two-day science fair, which began at Dr. K. Shivaram Karanth Pilikula Nisargadhama near Mangaluru.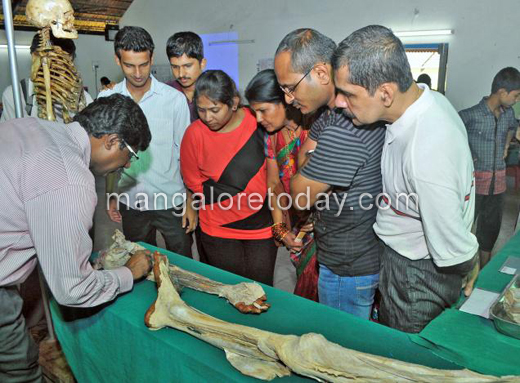 An M.Sc (Chemistry) student of St. Aloysius College, showed how paper can catch fire after being placed in a bowl. She cleaned the small bowl and her classmate, put drops of chemicals in it. A few pieces of paper in the bowl were and they caught fire. This is the secret behind some magicians burning combustible material without fire they showed.

It was explained that the fire is due to the heat from the reaction when few drops of concentrated sulphuric acid are put on the mixture of potassium permanganate and acetone. There is always science behind many of tricks showed in magic shows and also in films. Reaction between ammonium thiocyanate and ferric chloride solution that gives blood red colour, which, he is what is shown in movies denoting blood.

A concept of learning science with fun, Agasthya International Foundation has brought in simple gadgets to explain concepts of reflection and refraction of light. One such gadget is a camera model to explain about the refraction of light. Here students were made to see from one opening of the cube the inverted image on a plain sheet of paper placed inside the cube. This image on the sheet is of objects one captured by the plano-convex lens placed on other opening of the cube.

Among the other features of the fair included display of human organs, namely brain, stomach, heart, tongue and nerves, by the Anatomy Department of the K.S. Hegde Hospital. Students here were seen curiously observing Anatomy Professor Martin Lewis demonstrating human organs.

Sahyadri Engineering College students demonstrated the operation of Octocopter – a device developed to spray fertilizers on arecanut plantation. There were display of energy saving lights and also demonstration of Yoga, Ayurveda and Homeopathy concepts, which people specially the young found very useful and interesting.

Write Comment
|

E-Mail
|
Facebook
|

Twitter
|

Print