Election officers explain procedures - Council polls
Mangalore Today News Network
Mangaluru, Dec 16, 2015 : At a meeting of the candidates and representatives of political parties on Dec 15, Tuesday, DK DC and District Election Officer Adoor B Ibrahim said that to make the ballot paper valid, a voter should indicate his/her first preference by placing the figure '1' against the name of one of the candidates. "The other preferences are only optional and not compulsory.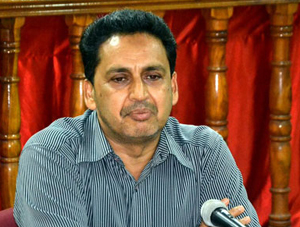 Even if the number of candidates to be elected is more than one, the figure '1' should be put opposite the name of only one candidate. The voters can indicate their other preferences against the names of the remaining candidate by placing the subsequent figures, in the order of the preference," explained the officer.
The option NOTA (None Of The Above) will be present on the ballot papers for the upcoming Legislative Council elections from the local authority constituencies.

He added that the polling will be held from 8 am to 4 pm, unlike the Assembly or Lok Sabha elections which will be held from 7 am to 5 pm. "The polling booths that have more than 25 voters will have an additional polling officer. Even if a polling booth had registered 100 per cent polling within one hour of commencement of the polling, the booth will remain open till 4 pm," said DC Ibrahim.

Marking selections

Additional Deputy Commissioner Kumar said that only violet sketch pens, which are supplied to the voters, should be used while marking the preferences in the columns opposite the names of the candidates. "Ballot papers for the Legislative Council polls from the local bodies constituencies would have photographs of the candidates, the candidates' names, party names, but not party symbols. If a voter gives preference to NOTA without giving preference '1' to any candidate such ballot papers will be considered invalid," explained Kumar.

He said that the ballot papers will be pink in colour. When the candidates make dummy ballot papers, they can print such papers in any colour other than pink. In the dummy ballot paper, the name of the candidate, photograph and party name can be printed, the officer added.

The additional deputy commissioner further explained that if two seats are to be elected, then if one candidate is elected at the first count by getting votes more than the quota (quota is calculated by total number of valid vote plus 1 divided by number of seats to be filled plus 1), then the surplus vote of the elected candidate will be distributed among remaining candidates.

Kumar said that the figures may be marked in the international form of Indian numerals of 1, 2 and 3, or in the Roman form of I and II or in the form used in any Indian language recognised in the eighth Schedule of the Constitution.

Counting : DK DC Ibrahim said that the counting of votes will be held at Ladyhill Victoria Girls' Composite PU College at Urwa on December 30.

Write Comment
|

E-Mail
|
Facebook
|

Twitter
|

Print