Efforts on to go easy on Naresh Shenoy, prime accused in Baliga murder case : Activists allege
Mangalore Today News Network
Mangalure, July 02: Activists and well-wishers of murdered RTI activist Vinayak Baliga fear that efforts are on to protect the main accused Naresh Shenoy and go easy on him in jail. They allege that on the one hand Shenoy is making efforts to avoid jail by claiming to be ill, while on the other, unseen people are trying to get him out of jail. Shenoy was arrested nearly three months after Baliga's murder on March 21.
Three days after Shenoy's arrest on June 28, he obtained a medical certificate from a private hospital that he has been suffering from kidney disease since 2014. Shenoy has submitted the certificate along with an application to the Third Judicial Magistrate First Class (JMFC), Mangaluru, seeking permission to be admitted to a particular nursing home for medical treatment.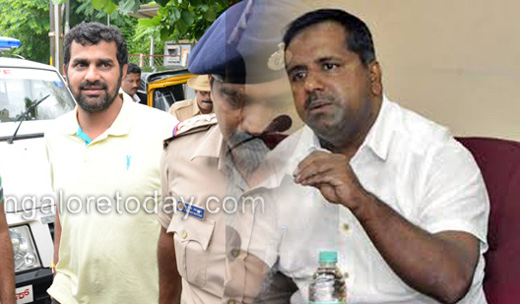 The timing of this is suspect, but not really surprising says activist and President of the Federation of Indian Rationalists' Association Narendra Nayak. "Nobody is going to question the doctor (at a private nursing home). So they will keep saying he will need hospitalisation until he gets bail," Nayak said. He has pointed out that before remanding him to judicial custody, government doctors who conducted the mandatory health check-up found no complications.
"There is no need for Shenoy to go to a private nursing home for treatment when the government Wenlock hospital has special cells reserved for prisoners and under trials. It is attached to a tertiary care teaching hospital which is one of the best in the country," Narendra Nayak said.

Prof. Narendra Nayak also said that there are discrepancies in the health certificate submitted to the court. "The certificate is signed by Dr SK Mankar who had treated him at Highland Hospital for lumbar pain for the past 15 days and dysuria+ on November 10, 2015. The certificate states that his is an old case of obstructive renal disease treated by Dr Ashok Pandit, a consultant "neurologist", as on May 11, 2014, at Mangala Kidney Foundation and later on by Dr SK Mankar. There is nothing to prove that Dr Ashok Pandith has treated him or that he has been suffering from what he claims!"
Prof. Narendra Nayak is also the Convener of the Deshapremi Sanhgatanegala Okkuta which has been fighting for justice for Baliga. Nayak is among those who have alleged that the Superintendent of the District Sub-Jail in Mangaluru had received a call from a man claiming to be the PA of MLA and former minister UT Khader.
In a Facebook post on Thursday, Prof. Nayak said that the caller "the accused (Shenoy) who is coming should be treated well and sent immediately to a private hospital. The jailer had refused to his request and was threatened with all sorts of punishment including transfer and he tells him to get lost!"

Khader however, denied that any such call had been made. He said he asked all five of his personal assistants and that all of them had denied this. "This is false news. I called the Superintendent of Jail and asked him to give me the number of the caller. I have also asked the Police Commissioner to inquire into this and give me a report."

Narendra Nayak : I am told that the PA of Karnataka minister for food and civil supplies U.T.Khader had called the jailer at the Mangalore Jail to tell him to go easy on the Baliga murder accused Naresh Shenoy! Late in the night I remembered that and wanted to know the truth behind it. So, I contacted a member of AICC P.V.Mohan to get the number of his PA; his wife had taken the phone and I had given her a message for him to call me back which he did not.

So, I had posted the same on my facebook timeline as all concerned are public servants. The next day, I had contacted the Baliga family to contact the number which the minister had given them to call if they had problems to verify the same. They called back and told me that it was not reachable. In the meanwhile a web site had contacted him for his reactions and he had clarified that none of his five PAs had made such a call. Thanks to the minister for clarifying the matter and ordering an enquiry. We are happy to know that such a thing has not happened and probably is not likely to.


Write Comment
|

E-Mail
|
Facebook
|

Twitter
|

Print