Easter Vigil, observance in DK, Udupi, devout and solemn
Mangalore Today News Network
Mangaluru / Udupi, April 21, 2019: Easter vigil the premier liturgy of the Catholic church was observed with devotion and solemnity across the coastal districts of Dakshina Kannada (DK) and Udupi. It celebrated the resurrection of Lord Jesus Christ, three days after the agonizing crucifixion and burial in the tomb. Churches on April 20, Saturday evening, between 7 and 11 pm conducted the solemn liturgy, mainly in Konkani. People in thousands flocked to the churches in new attire with Joy and smiles.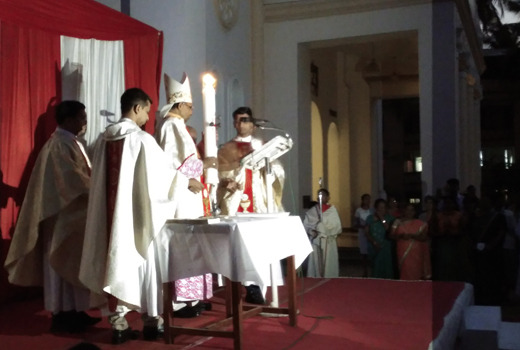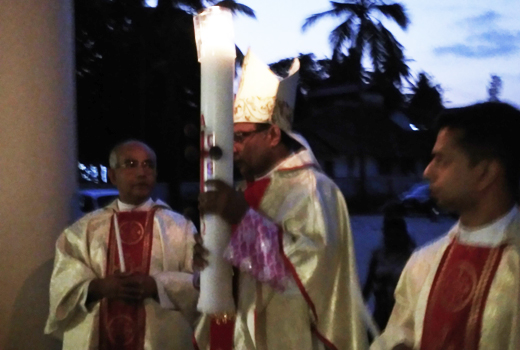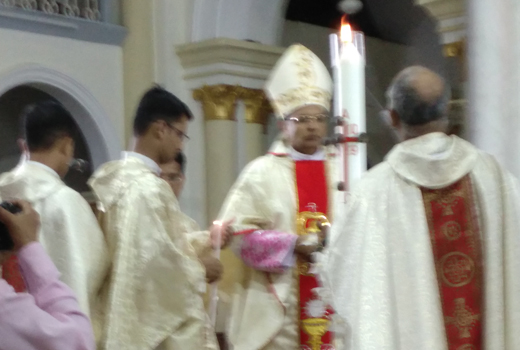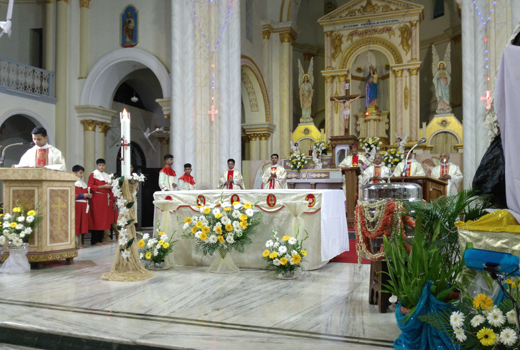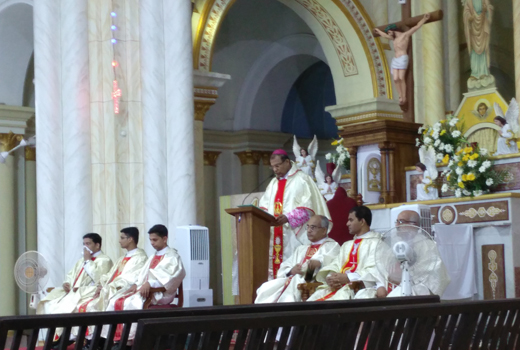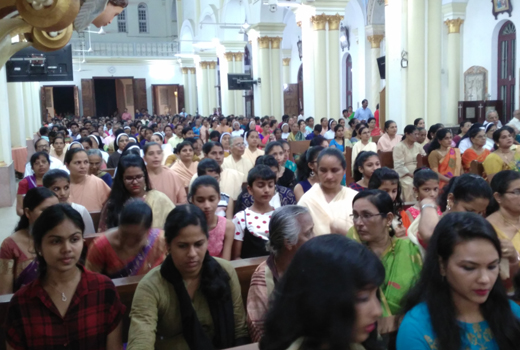 Lent started on Ash Wednesday, the Holy week rituals began with the Palm Sunday, which was followed by Maundy Thursday (Last supper) and Good Friday (Crucifixion of Jesus Christ). Easter brings out the Resurrection Joy and celebrations among people in the best traditions of Kanara.

While the Bishop of Mangalore Rev Dr Peter Paul Saldanha celebrated the Vigil Mass at Rosario Cathedral, Bishop of Udupi Rev Dr Gerald Isaac Lobo celebrated at Milagres Cathedral Kallianpur. The Bishops were assisted by several priests present.

The celebrations started with the Easter Vigil at the grounds of respective churches. The fire is blessed, from which the Paschal candle was lit and carried inside the church in darkness, in the church the faithful holding candles were from the blessed Pascal signifying the new light for the world. It was followed by the chanting the Exsultet, also called the "Easter Proclamation". It was followed by four solemn readings from Old Testament as and New Testament - responsorial Psalm and prayer by the main celebrant.

The Liturgy of the Word following comprised of four readings from the Old Testament: The story of Creation from the Book of Genesis; Crossing of the Red Sea from the Exodus; a passage from Isiah and another from Ezekiel.

After singing 'Gloria' accompanied by ringing bells and the main church bell, two readings from the New Testament were read. After the homily, the water was blessed, people lit their candles as they renewed the Baptismal Vows following which the Bishop and priests sprinkled newly blessed Holy Water on the congregation.

Besides blessing the fire, the priests also bless the water, the holy water is used for all rituals in respective churches through the year.

Christians are called upon in a special way to renew the Baptismal Vows following which the priests sprinkle newly blessed Holy Water on the congregation. Though most of the churches were celebrating Easter mass at midnight earlier it is rarely followed now.

A few churches had organised entertainment programmes soon after the mass for the parishioners.

Today, April 21, Easter Sunday is the chief feast of the catholic Church - EASTER. There will be holy mass, prayers and celebrations all through the day and will continue during the Easter week in a special manner.

'Mangalore Today', takes this opportunity to convey Greetings and Good Wishes on this special occasion.

Write Comment
|

E-Mail
|
Facebook
|

Twitter
|

Print