EVMs to be under safe custody for 45 days
mangaloretoday network
Mangaluru, May 26: All the Lok Sabha constituencies in the country completed the vote counting on May 23; but the special security and custody for the voting machines will be continued for the next 45 days.

There is opportunity for political parties to submit objections regarding the results to the court in the next 45 days. Post the time limit, the opportunity to submit objection ceases. If in case there is an objection submitted to the court within the prescribed 45 days and the court decides to investigate the claim, the district administration will minutely verify the voting machines of that particular Lok Sabha constituency under tight security. Until the investigation is completed, the machines cannot be used for any other election nor can the data in the machines be deleted. If in case the court directs for a re-election, necessary action in this direction will be taken.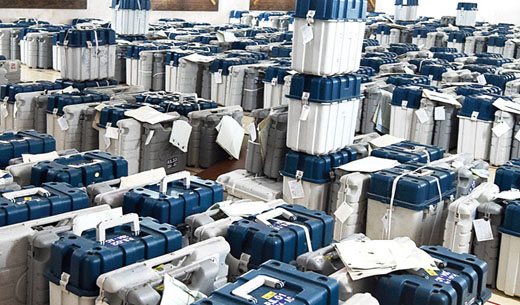 The counting of votes of Dakshina Kannada Lok Sabha constituency was completed at NITK Surathkal by may 23, Thursday evening. Post the announcement of the results, the machines were transferred under tight security to the strong room at DK DC's office (old office) in the city. The election machines were transported to the strong room through GPS attached lorries under police security. Including the controlling unit, ballot unit and VVPAT's, there are almost 7,000 voting machines here.

The strong room at the DC's office will be under tight security for the coming days. CC cameras have been installed around the strong room. The machines have been sorted Legislative Assembly wise and will have 24 hours police security. For no reason will the strong room be opened. If in case it has to be opened, it will be brought to the notice of all the political parties.

The voting machines used in Legislative Assembly elections and Lok Sabha elections are not used for local body elections. After the counting of votes, the voting machines which have not faced any objection will be used for another election.

Previous EVMs : During the last year's elections, Congress candidates Mohiuddin Bawa and J R Lobo had gone to the court questioning the counting of votes of Mangaluru North and South Legislative Assembly constituencies respectively. Therefore, even after counting, the machines were maintained under tight security. Of the duo, Mr Bawa's case has been solved while J R Lobo's case is still under investigation. Due to this reason, the voting machines of Mangaluru South Legislative Assembly constituency are still under tight security in Mangaluru.

Write Comment
|

E-Mail
|
Facebook
|

Twitter
|

Print