Dr. Shanbagh clarifies reasons for rejecting 'Rajyotsava Award'
Mangalore Today News Network
Udupi, Nov 04, 2017: In his most sincere approach as always, Udupi based Human Rights Protection Foundation (HRPF) president Dr. Ravindranath Shanbhag in an open letter to the government and public narrated why he rejected Kannada Rajyotsava Award. In the letter he said, irresponsibility of the government in resolving issues of the people, negligence of the government officers have forced him to reject the award.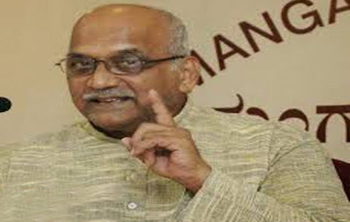 "I understand that the Rajya Rajyotsava Award is given to achievers in literature, sports and other fields. I have been identified by the government in the field of social service and I am grateful for it," Dr. Ravindranath Shanbhag said in his open letter. "Meanwhile, while my service has not reached sufficient aggrieved people, while people I have be fighting for still await justice, while hundreds of senior citizens are at my door steps with tears in their eyes, to what avail would it be to receive such an award? The concerned higher officials and ministers turn a blind eye to my letters regarding this matter and a deaf year to their cries. There are several people awaiting justice even with Court judgment in their hands. Eight senior citizens have already left this world in despair without justice. Is it not an insult to these deprived souls if I accept such an award?," he added.

"It is not important as to how much of social service I have done. What is important is how many of them have got justice. Senior citizens from all over the state are approaching me. They hold my hand and pray for help with tears in their eyes. The government passed the law for the protection of senior citizens and it has gone down the drain, and for whose sake and what purpose do I accept the award?," he pointed out.

"Over 8000 endusulfan victims in the West Coastal districts are still deprived of the anticipated justice. The health centres at Udupi have failed to even register hundreds of aggrieved victims, let alone grant them monthly pensions. No day care centres or rehabilitation centres have been set up for nursing these children. The children have resorted to committing suicide in desperation and helplessness and we had to watch them with our hands tied. When we approached the previous DCs it was remarked, "We know what to do, it is not any of your business."

Girls are trafficked every other day: "We wrote a series of letters to the recent DK DC Dr. Jagadish regarding this matter without any response. When we approached him personally neither did he have the minimum courtesy to hear out the matter nor did we get any solution to the matter. The illegal agents continue their activities and our girls are still getting trafficked." Dr. Ravindranath Shanbhag said.

When these officials lack basic etiquettes to talk to citizens how can social activists like us work with success? Why should we get insulted? When endosulfan victims are begging on the streets and senior citizens continue to shed tears will it bring a smile on their faces by my mere acceptance of an award?, he questions.

"I have no intentions of publicity by this refusal to receive the award. I am not doing this for name. I do not mean to disrespect or dishonor this award. However I wish and hope that this small gesture opens the eyes of the authorities and create awareness, if at all," he concluded.

One local senior citizen with much anxiety and concern said that he is a witness to many 'social workers' for helplines and NGOs whose only aim is to get awards, and they have got many without justice. They make a show of doing much where as they only project untruth. None of these are able to have a mechanism to handle the grievances such as harassment and exploitation of high degree, no suitable system to get an 'Aadhar' card for aged and bed ridden. None of these committed award chasers....have ever demanded that a full-fledged department and ministry at the Center and states be set up for issues regarding the aged and sick. Dr. Shanbagh's stand is commendable and needs to be supported by all.

Write Comment
|

E-Mail
|
Facebook
|

Twitter
|

Print