Dr.Arunachalam Kumar urges teachers to refrain from punishing students
Mangalore Today News Network
Mangaluru, May 29, 2015 : An informative and educational lecture on permanent physical and mental trauma caused to young children in their primary level of schooling by teachers using corporal punishment as corrective or disciplinary measure was conducted at the Kanachur Institute of Medical Sciences at Deralakatte on May 28, Thursday.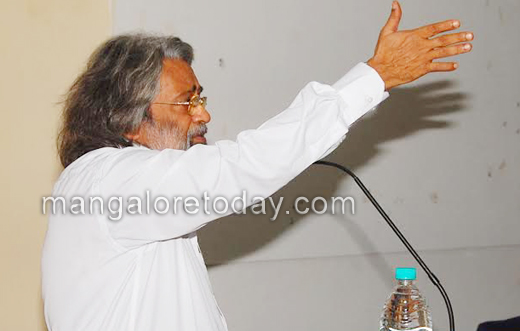 Dr. Arunachalam Kumar, Vice Chairman, Kanachur Academy and Professor of Anatomy at KIMS, elaborated on the bony structures and soft tissue composition and structures of the infant and neonate skull and skeleton – outlining the likely damage and harm caused to growing tissues through injury.

He cautioned teachers dealing with young children, especially those in play schools, kindergartens and primary level to be aware of the extreme levels of long term and permanent physical effects even minor punishments like slapping or using a wooden ruler or scale has on small children.

Dr. Kumar, whose research on school-bag weight and the physical load primary school children are forced to carry on their backs and shoulders was subject of nationwide debate in the eighties, appealed to teachers not only to eschew from any form of classroom violence, but also be alert to identifying children possibly being ill-treated at home by kith or kin. The professor said that teachers are in the best position to spot children with handicap or carrying congenital diseases.Instead of punishing a 'lisping' child or one who doesn't reply to attendance roll call, the teacher should look for causes for the behaviour – most often the so-called disobedience or indiscipline is result of in-born errors of genetic origin – Treacher-Collins Syndrome (deafness), Ellis van Creveld (lisping), Rubinstein Taybi, Down', Klippel-Feil (neck rigidity) , Apert's, Crouzon's and Marfan's syndromes are among the many syndromes that can be identified quite easily with each one carrying identifiable physical traits also result in poor cerebration and poor performance in school, the latter often mistaken by parents and teachers as 'laziness' or lack of academic application. Dr. Kumar also explained to the gathering of academicians and special invitees from primary school to be patient and tolerant to slow learners and dyslexics. The professor said that smaller muscles of the palm and hand get fully functional only after a certain age and that forcing two and three year olds to copy-write, hold a pencil or crayon is task far beyond the cerebral capacity of the child. Nerve injuries leading to facial palsy, palatal perforations, contusions, cerebral concussions, bruises, abrasions and membrane bone fractures are not too uncommon consequences of physical punishments, he added.

K.I.M.S. Dean, Dr. Khaja Nazeeruddin, moderated the session and Dr. Radhakrishna Shetty proposed the vote of thanks. U.K. Monu, Chairman of the Kanachur Islamic Education Trust also spoke on the occasion.

Write Comment
|

E-Mail
|
Facebook
|

Twitter
|

Print