Donít beg for funds, ask alumni to contribute: Prakash Javadekar to schools
Mangalore Today News Network
Pune Sep 15 2018: Instead of "coming to the government with a begging bowl", schools should ask their alumni for financial assistance, Union Human Resource Development Minister Prakash Javadekar said during an event in Pune on Friday.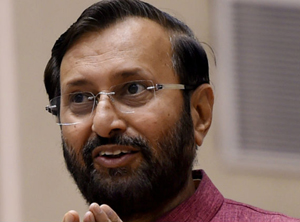 "Some schools come to the government with a begging bowl asking for funds. They can easily ask their alumni for help. It is the duty of the alumni to contribute to their school, their college and this attitude of 'give it back' should be cultivated by schools," Javadekar said at the event organised at the Jnana Prabodhini School.

Lauding the role of the alumni of Jnana Prabodhini School in its development and growth, the Union minister said the institute had set an example for other schools. "Many students, as a reward to their schools, happily contribute in the development of the school… former students of Jnana Prabodhini are still associated with the school and help to sustain and maintain the school," said Javadekar.

Recalling his student days, when he studied in a Zilla Parishad school where his mother was teacher, Javadekar said without facilities such as e-learning or digital resources, students used to gain knowledge and life skills from the school.

"Today, a 7th Standard student can't solve Maths problems from Standard 4. It is such a sorry situation. We started the National Assessment Survey last year and assessed lakhs of students in Class III, V, VIII and X. We have prepared a district-wise document and even shared it with the local MPs of that area, so that they know the state of affairs in their constituency. But delegating this work to the government is not enough, the entire society will have to come together to improve the situation," he said.

Every district officer has been sent a school-wise profile to highlight the issues affecting the school, said Javadekar, adding that the respective officers have been asked to fix the issues and improve infrastructure as well as the quality of education.

Speaking about schools like Jnana Prabodhini, Navodaya Vidyalay and other "focussed" schools, he said such schools should come together and help each other frame a better curriculum, which will help in development of attributes such as leadership and innovation among students.

The Union minister reiterated that the curriculum in schools will soon be slashed by 50 per cent and the ministry was analysing which portions could be done away with, so that students had time for extra-curricular activities.

He also spoke of the proposed changes in the Right of Children to Free and Compulsory Education (RTE) Act, 2009, such as reintroducing exams in Std V and Std VIII, and the system of detention. But he assured that students who failed in the first attempt would get a second chance.

Write Comment
|

E-Mail
|
Facebook
|

Twitter
|

Print