Disciples of Kashi Math Samsthan recall religious leadership of Sri Sudhindra Tirtha
Mangalore Today News Network
Photos: Nagendra Kamath / Ganapathy Nayak

Mangaluru, Nov 27, 2016: With Kashi Math Samsthan in the alacrity of observing the first death anniversary of its late spiritual leader Sri Sudhindra Tirtha swami, disciples of the samsthan under the banner of Sukrutindra Seva Pratishtan came together to offer guruvandana to their erstwhile leader here on November 27, Sunday. Nearly 7,000 devotees from near and far ascended on Sanghanikethan to recall services of the nonagenarian and influence he wielded on Saraswath Brahmin community.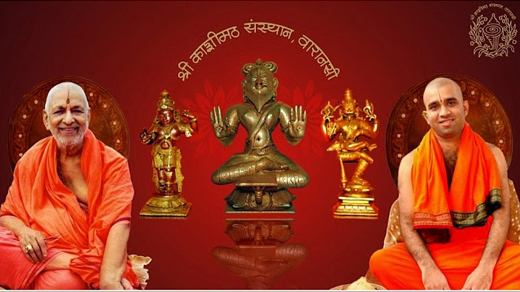 Reaffirming their faith and devotion to his successor and current head of the samsthan Sri Samyamindra Tirtha, members of the community representing various interests singled out the far-sighted approach that Sri Sudhindra Tirtha displayed in uniting the community and working tirelessly for its welfare. It was his untiring efforts that have seen the community prosper and carve a niche for itself not just individually but collectively, the speakers averred.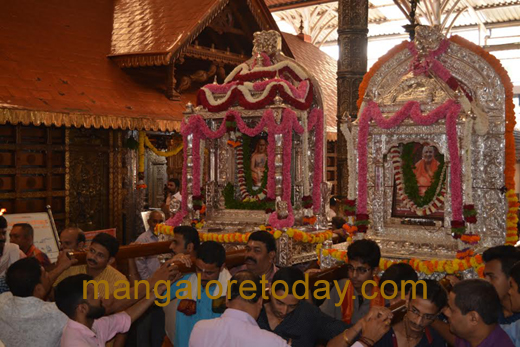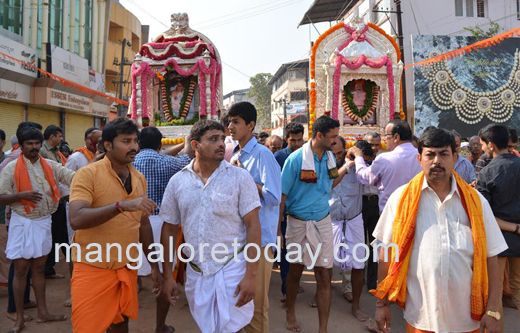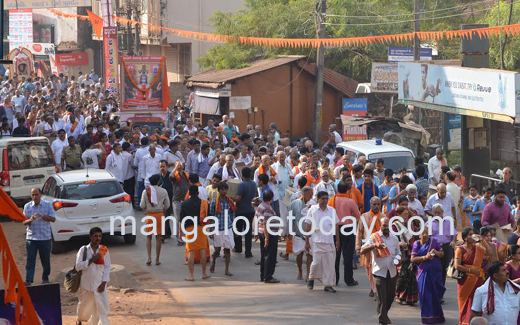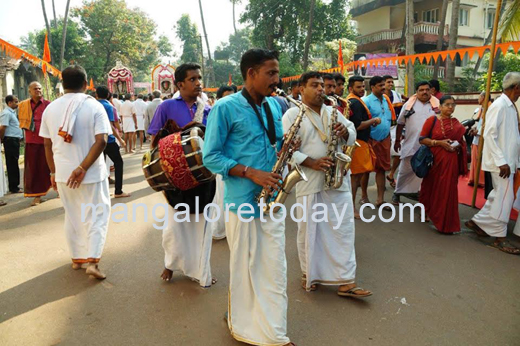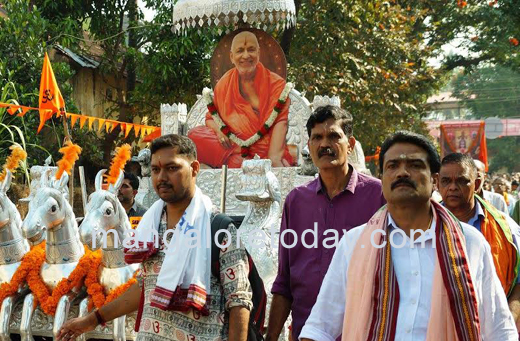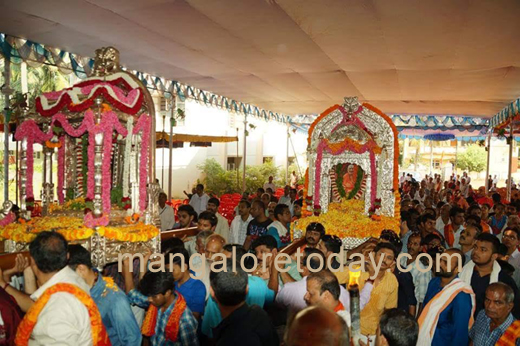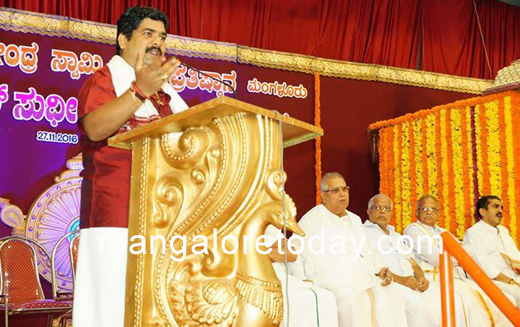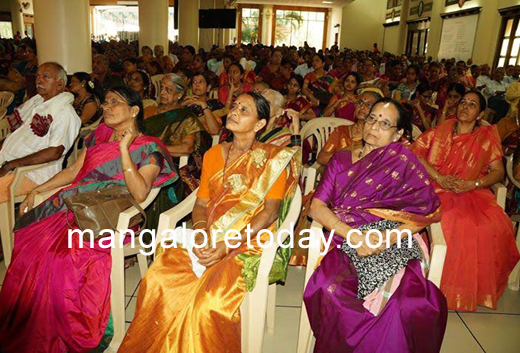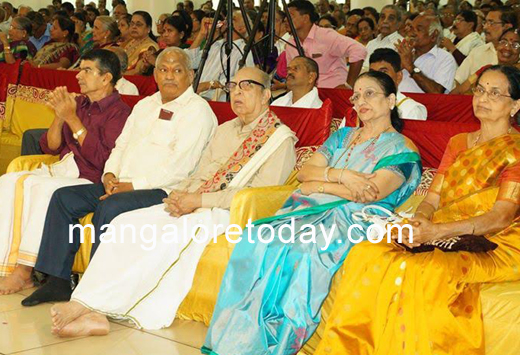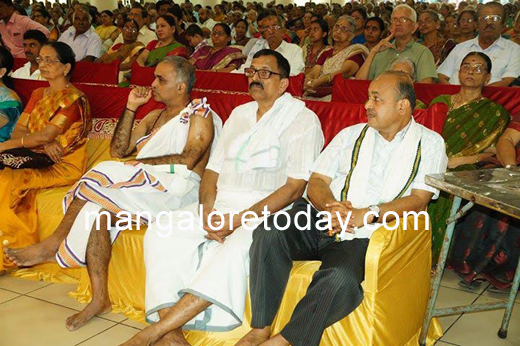 P Dayanand Pai, philanthropist, set the record straight to clear nagging doubt in the minds of the community as to why Sri Sudhindra Tirtha never ventured to start professional colleges just as most religious and community leaders do. "It was his belief that such business matters are best left to those who should and that his sole bounden duty was to be one with his chosen deity, worship it three times a day and thereby seek welfare of the community," he said.

Sridhar Kamath, functionary of Sri Venkataramana Temple, Koteshwara said it is sad that the community has not yet recognised the true value and depth of sacrifice that Sri Sudhindra Tirtha did for the community. People who have observed the erstwhile swamiji and his actions from close quarters will vouch for the saintliness of a person who possessed a rare trait of guiding the community with a sense of equanimity and fairness to all concerned, he said.

Dinesh Kamath, all India organising secretary of Samskrita Bharati said it is heartening that all in GSB community considered Sri Sudhindra Tirtha as their own person and the love and affection they have for him is unsurpassed. The community has always thrived and prospered under his sagely guidance and persons such as him are inspiration for generations. He also recalled respect that heads of other Saraswath Brahmins maths had for Sri Sudhindra Tirtha.

Sudhakar Bhat, principal of Srinivasa Nigamagama Patashala, Narayan Shenoy, secretary of Sri Kashi Math Samsthan, Bengaluru, G Rathnakar Kamath of Sri Kashi Math, Konchady, Ganapathy Pai of Veera Venkatesh Charitable Trust, Vedavyas Kamath, trustee of Sukrutindra Seva Pratishtan, Narasimha Acharya, vedic scholar, Padmanabha Pai, trustee, Sri Venkataramana Temple, N Yogish Bhat, former deputy speaker of the state assembly spoke.

A documentary on the life and works of Sri Sudhindra Tirtha swamiji produced by the Pratishtan was played on this occasion. Incidentally, the Pratishtan has made arrangements to run a special train from Mangaluru to Haridwar and back for the first death anniversary of the late seer. The devotees took out a procession of Sri Sudhindra Tirtha from Sri Venkataramana Temple to the venue of Guruvandana in a specially bedecked vehicle prior to the event.

Courtesy: TOI

Write Comment
|

E-Mail
|
Facebook
|

Twitter
|

Print