Dharmastala Yakshagana Shows to be shorter to kindle new audience
Mangalore Today News Network
Dharmastala: August 22, 2015: Sri Kshetra Dharmasthala Yakshagana Mandali is ringing in the change. In a historic decision, the mandali will be going in for a shorter version of Yakshagana keeping in tune with the times.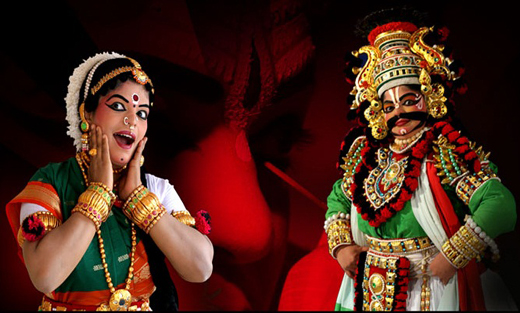 The mandali had decided to stage shows from 7pm to midnight soon. The format will come into effect from the touring season starting November.

D Veerendra Heggade, president of the mandali, said the decision was taken after due consideration taking into account the changing trends among the public and patrons of the art form.

He stated that as the country progressed, the traditional art form saw declining patronage from the public, hence many art forms vanished. In the period between 1960 and 1980, many transformations occurred in Yakshagana, be it the narrative, the stories, use of electricity and microphones and loudspeakers to attract the public. But the winds of change have been strong and people have lost interest to assimilate the nuances of a night-long Yakshagana in the onslaught of television and serials. Heggade said the decision to truncate the Yakshagana shows to five hours was not an easy one nor was it taken in haste.

"Discussions were held for three long years. This decision is painful and time will provide answers to some issues which cannot get answers at this point of time,"said Heggade.

Truncated versions are not new. Historian B Surendra Rao remarked: "The advent of vibrant forms of theatre and cinema had seen interest in Yakshagana wane decades back. Yakshagana legend Keremane Shambhu Hegde tweaked and introduced truncated versions to make it more acceptable to people outside its traditional base. He presented more than 5,000 Yakshagana prasangas (episodes) throughout the world. Gradually, solo performances too came to the Yakshagana stage.

Art critic Prabhakar Joshi noted that many changes have occurred in experimentation. "Some were the need of the time; some were of a commercial necessity and some prompted by social needs. But like malignancy cannot be termed as growth in human body, all experiments aren't necessarily growth in absolute terms," he said.


Write Comment
|

E-Mail
|
Facebook
|

Twitter
|

Print