Devout 9 day solemnity opens, 'Relic feast of St.Anthony of Padua',
Mangalore Today News Network
Udupi, Feb 7, 2017: February 6, Monday opened the nine-day novena in preparation to the feast of Relic of St Anthony the feast which is on Feb 15. The hoisting of the flag of St Anthony by Associate Judicial Vicar of the Diocese of Mangalore Rev Walter D'Mello, at St Anthony's Shrine at Milagres Church.This was followed by the Holy Mass, which was offered for the special intentions of youth.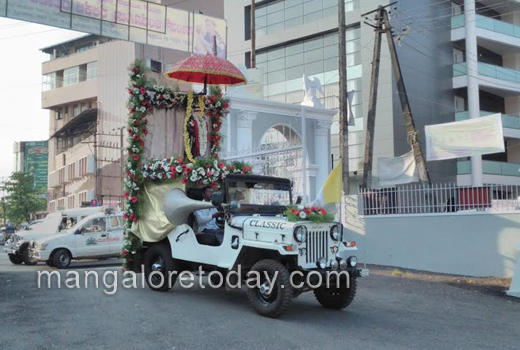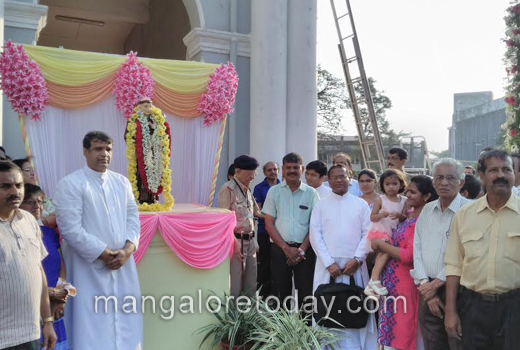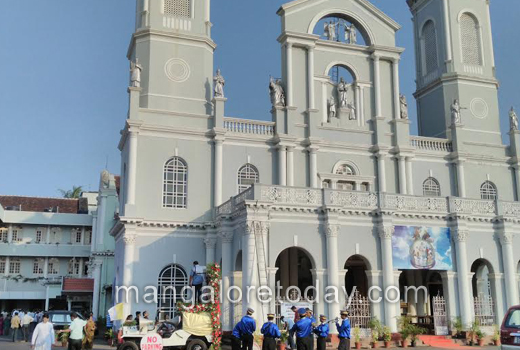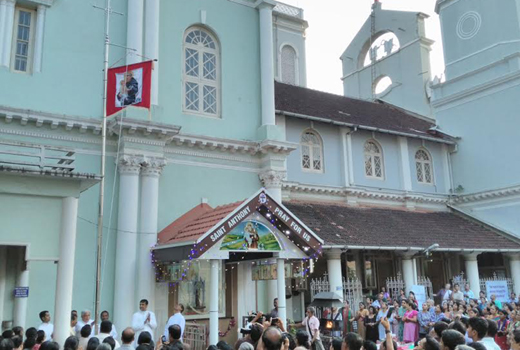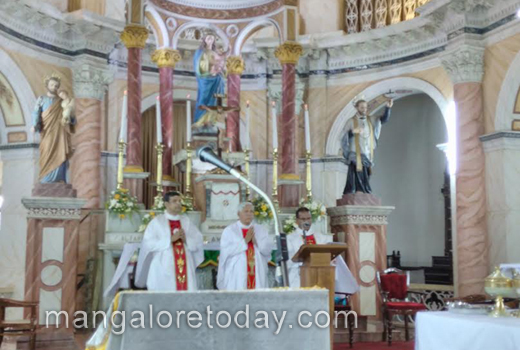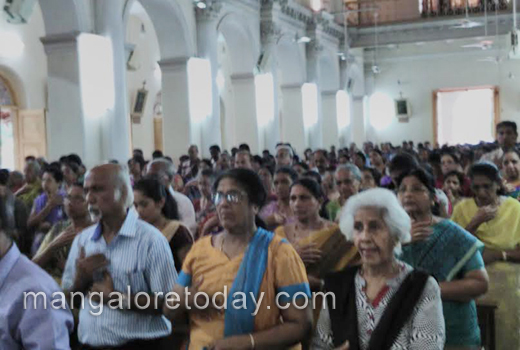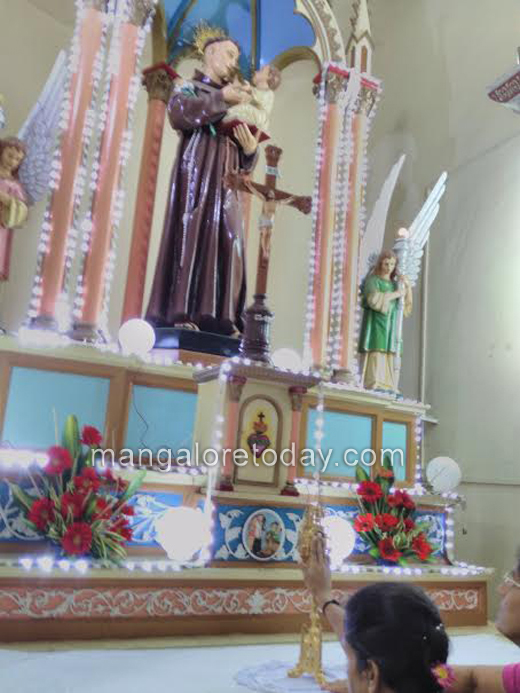 Rev. D'Mello stresed that using the talents in serving God and people. "Th enatural talents need to be put to best use or they are a waste in God's eyes," he said.

After the mass, St Anthony Ashram assistant director Rev Peter Gonsalves conducted the novena in honour of St Anthony during which intentions of the people for various needs were placed before the great 'miracle worker'.


Earlier, the decorated statue of St Anthony was brought to Milagres from St Anthony's Ashram Jeppu via Kankanady and Falnir. Many vehicles of devotees participated in the procession.

Milagres Church Parish priest Fr Valerian D'souza, institute director Fr Onil D'Souza, administrator Fr Francis D'Souza and hundreds of people participated in the first day of the novena.

Good word about the Ashram : The management of the Ashram at Jeppu, for 118 years is directly under the Catholic Bishop of Mangaluru who along with it's director, administrator, staff and volunteers maintain a consistent hands-on care on all aspects of life in a dedicated and committed spirit. The facilities are quite up to date and entirely provided for by a system called 'providence' that is God's own, through human efforts. The residents as per their ability and desire are well involved in day to day services, which helps to keep them cheerful, productive and healthy. There has never been a serious complaint from any quarter about this miracle shelter. The medical needs of the residents are met with the support of nearby complimentary charitable super specialty Fr Muller Hospital, and the Govt. Wenlock District Hospital, Mangaluru. No effort is spared by the management, who also reside in the campus, to unfailingly provide tasty, nutritious food cooked in the central kitchen and from where it is distributed to different houses. At least thrice a day all come together for community interaction as needed as well as prayer and to pray for people who support. Noting the many residents of all ages, their loyalty and sense of belonging to their real home at 'St Anthony Ashram' is real love is awesome and divine.

St. ANTHONY OF PADUA, 1195-1231 A.D. : St.Anthony of Padua, also venerated as Saint Anthony of Lisbon, was born in Lisbon, Portugal, which was then a part of Spain, in 1195 A.D.His life is a legend that can be read in many ways, his extraordinary love for Christ and the poor transformed him to serve all mankind. On June 13,1231, the beloved preacher became ill he died at the young age of 36. His body was buried in a chapel, which is now enclosed by the Basilica of St. Anthony in Padua. In 1263, when his remains were transferred to the Basilica, his tongue was found to be still fresh and red in color. Saint Anthony was declared a saint 352 days after his death, by the same Pope Gregory he had met in life. St. Anthony of Padua is one of the most famous disciples of St. Francis of Assisi. He was a famous preacher and worker of miracles in his day, and throughout the eight centuries since his death, he has become known throughout the world as a wonderful support for suffering people.

Write Comment
|

E-Mail
|
Facebook
|

Twitter
|

Print