Devotees throng Ratnagiri for three-day Mahamastakabhisheka rituals
Mangalore Today News Network
Dharmasthala, Feb 16, 2019: The epitome of sacrifice – all of 39 feet tall – literally stood still amidst a swirl of devotion around him. The occasion was fourth edition of anointment of Lord Bahubali that got underway at Ratnagiri of Sri Kshetra Dharmasthala at the auspicious meena lagna here on Saturday.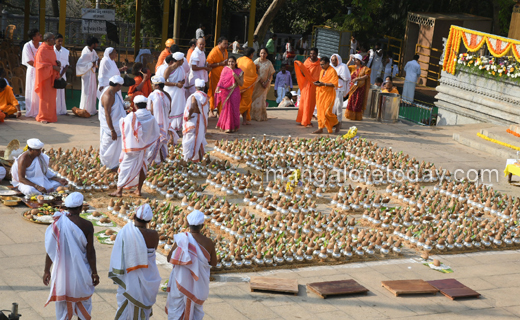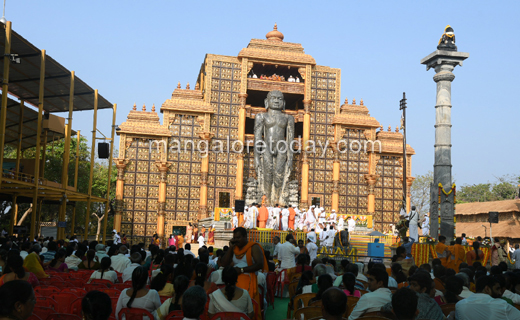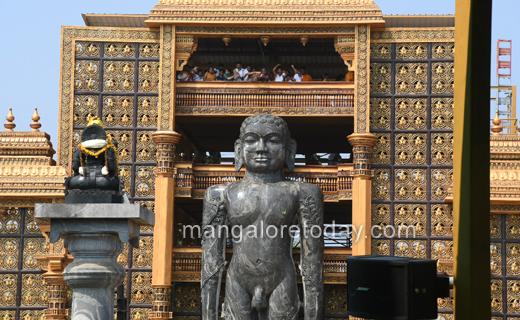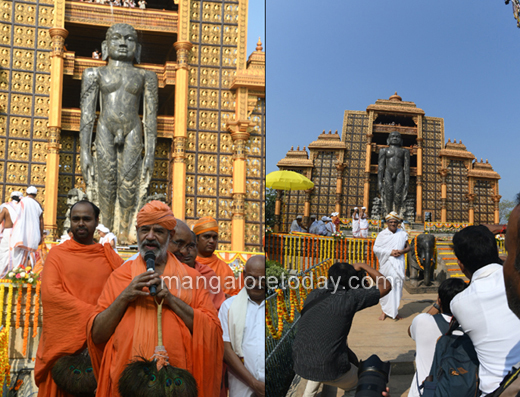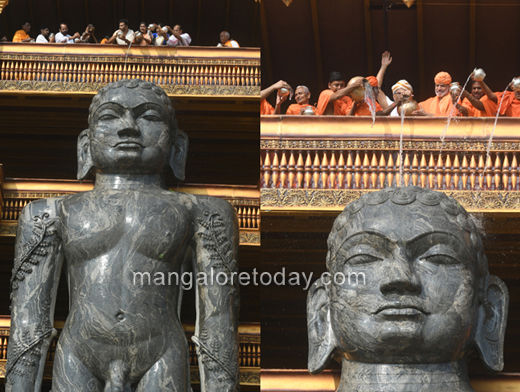 D Veerendra Heggade, dharmadhikari, Sri Kshetra Dharmasthala and his family led proceedings to kick-start the three-day Mahamastakabhisheka proceedings.

First up was jalabhisheka with 1,008 kalashas containing purified water followed by pouring of tender coconut water on the monolith. Next up was offering of sugarcane juice to the Lord which was followed by pouring of milk as part of the rituals. Kalka churna was next offered to the deity. A generous offering of turmeric next saw the idol turn yellow, which was duly cleansed when the devotees performed the 'kashaya abhisheka'.

Once these rituals was over, the focus shifted to the 'Chatushkona' abhisheka rituals where kalashas placed in four corners of the vast stone platform in front of the lord was taken up the mammoth scaffolding for the rituals. The offering of sandalwood paste and 'ashtagandha' surcharged the atmosphere even as the devotees soaked in devotional fervour, saw the granite idol consistently assume a different hue amidst the sun beating down hard.

The finale came when flower petals were showered on the idol, a garland offered and arathi performed. The first day's mahamastakabhisheka proceedings ended with offering of poorna kumbha abhisheka to the deity. Volunteers played their part in ensuring that the devotees who had obtained passes for the kalashabhisheka went up the scaffolding in an orderly manner and performed the rituals with their near and dear ones participating with them.

Devotees had the option to pay Rs 1008 for the janamangala kalash, Rs 5555 for the divya kalash and Rs 25000 for the shraddha kalash. While a person opting for janamangala kalash could be accompanied by three persons, those who bought the divya kalash and shraddha kalash could take 8 and 15 people respectively up the scaffolding to perform the rituals. The surcharged atmosphere meant the organisers did not enforce these numbers strictly.

Earlier, the kalash were brought to venue of the mahamastakabhisheka in a grand procession from the 600-year-old Sri Chandranath Swami Basadi after religious rituals were performed there. The kalash passed in front Sri Manjunatha Temple where a brief prayer was offered for the success of the event. Heggade said it is the ritual of the Kshetra for the water used in the anointment rituals to be cleansed at the Basadi before it is poured on the Lord.

Courtesy: Times of India

Write Comment
|

E-Mail
|
Facebook
|

Twitter
|

Print