Develop questioning attitude, budding scientists told
www.mangaloretoday.com
Mangaluru, Feb 15, 2015 (DHNS): MLC Ganesh Karnik called upon students to develop questioning attitude and understand the strengths and limitations of science. There is a responsibility of handing over the earth in a better condition to coming generation.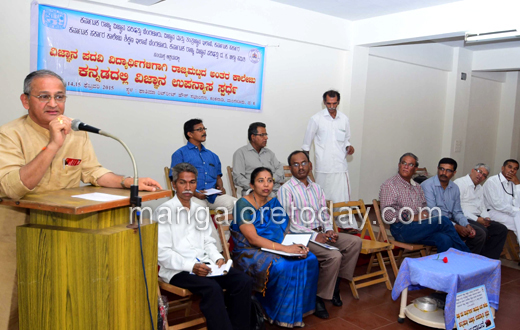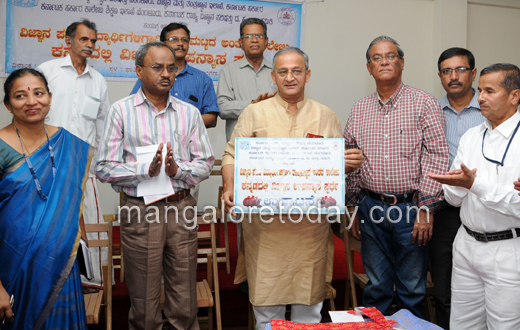 Speaking after inaugurating State- level intercollegiate Kannada science lecture competition to degree students, organised by Karnataka State Council for Science and Technology, Department of College Education and Department of Science and Technology here on Saturday, he said earth is completely depended on relations, which may be relation between human beings, may be with other creatures or relation of earth with other planets. Science also has its own limitations, but it can be a path to understand mysteries. But, whenever man goes against nature, it results in disaster, he said.

Learn civic sense
Karnik said modernity are killing natural curiosity of kids to learn. India has human resource and we should stop copy paste job, he said. Meanwhile, he said it is unfortunate that even after 15 years of school education, we are not learning social, moral education and common sense.

College Education Department Education Coordinator Dr Y C Kamala said scientific literacy is must in modern world. People should develop scientific temperament.

In India out of 123 crore population, 60 crore are youth. Around 50 crore people get education up to high school and only one crore get advanced education like CBSE.

More that 75 per cent people get education in their mother tongue. So, to reach modern science which is in European languages to Kannada readers, Kannada is important, she said.

Karnataka State Council for Science and Technology Working Board Member C Krishnegowda requested the college education department to organise Children's Science Conference even for degree and PG students.

Every year opportunity should be provided to five students (now it is one) from a district.
The expense of the event would be 10 times more. The government should provide funds for the benefit of science, he said. Winners of district-level competitions, from all 30 districts, participated in the event.

Write Comment
|

E-Mail
|
Facebook
|

Twitter
|

Print