Devarabalu waits in vain - 10 years have passed
Mangalore Today News Network
Udupi, June 23, 2015 : Devarabalu shootout was a sensational happening in the district, people of Devarabalu and two other near by villages, Kattinadi and Kabbinale even after 10 years has been stagnant and the people wait hopelessly. Two Maoists, Umesh and Ajith Kusubi were killed in an encounter that took place on June 23, 2005.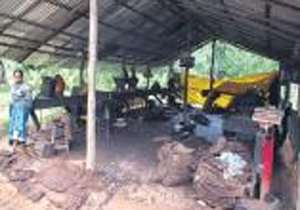 The place similar to Maoist affected spots in the region is plagued by poverty and trash. Besides, Roads, clean drinking water, footbridges to rivulets found in large number in the forest cover, inadequate power supply, toilets, schools, healthcare and public transport are all absent with communication lacking. Not a single Maoist is in the area since the encounter.

Hallihole gram panchayat has Hallihole and Kamalsheele villages with 4,777.93 hectares of landmass. Population is 4,292, 407 of SC community and 560 of ST community. Devarabalu, Kattinadi and Kabbinale villages are mainly SC/ST communities.

Advantage for ST community is they are given title deeds under 'Girijana Upa Yojane'. These people have their voting power in Udupi and are given ration cards by Udupi district administration and they pay tax in Udupi.

A major problem for the people in Devarabalu and Kattinadi is the bridge on Chakra River. Just three bamboo poles serves as a bridge to Kabbinale and Chakra Maidan, from where they get their groceries and children go to schools. The newly elected gram panchayath president Bhagirathi Kattinadi laments that it is horrible experience to cross the river during rainy season owing to fast flowing water.

Children are worst sufferers, the government is urged to release funds to correct matters early. Maoists would frequently visit houses prior to the encounter. The only source of drinking water is Chakra River as there are no wells and borewells. Villagers suffer in both monsoon and summer, as the water is contaminated during rains and there is scarcity of water in the river during summer.

Telephone connection does not exist, people even avoid to think of the consequences that can befall them in emergencies. No funds have been forthcoming under naxal package since four years. The inhabitants in these hamlets have passed ten years waiting change, for better lives. Their expectations remain unfulfilled and a distant dream - the authorities must revisit matters and do the minimum at least so that these hapless citizens are cared for.

Write Comment
|

E-Mail
|
Facebook
|

Twitter
|

Print