Demonstrations against "Kambala" ban
Mangalore Today News Network
Mangaluru,Nov 28, 2014 : The Kambala Committees of Udupi and Dakshina Kannada districts would be staging a protest against the banning of 'Kambala' in front of the Deputy Commissioner's Office in Mangaluru on November 29.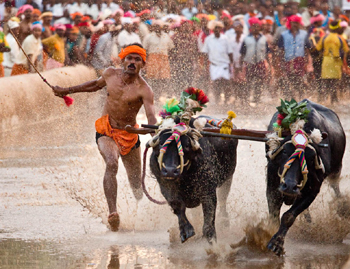 Kambala or he-buffalo race is a popular traditional folk sport in Udupi and Dakshina Kannada districts. The Department of Animal Husbandry and Veterinary Sciences banned it in Udupi district on November 15 and in Dakshina Kannada district on November 21, following objections raised by the Animal Welfare Board of India.

Addressing THE MEDIA, Deviprasad Shetty, president of Aikal Bava Kambala Committee, said Kambala had a history of 1,200 years in Tulunadu region — consisting of Udupi and Dakshina Kannada districts in Karnataka and Kasaragod district in Kerala. There had been references of Kambala in the stone inscriptions found in Udupi, Barkur, Kollur and Sringeri. It had been in existence since the rule of Alupa dynasty in Tulunadu, he said.

There were nearly 52 Kambalas in Udupi and Dakshina Kannada districts. The ban on Kambala was based on a misconception of the sport, he said. The sport did not involve any cruelty to the buffaloes. "In fact this sport increases the value of buffaloes who get a lot of care and affection," he said.

Both the Union and State governments have an onus to clarify to the Animal Welfare Board of India on this issue. Both these governments should declare Kambala as a folk and rural sport, he said.

The committee has also written to the Animal Welfare Board of India on this issue, and is planning to approach the court on this matter. Nearly 25,000 persons including farmers, Kambala lovers and members of voluntary organisations, along with 200 pairs of buffaloes from different parts of Udupi and Dakshina Kannada, would participate in the protest in Mangaluru on Nov 29, Saturday.

Organisers of Kambala would wear traditional dress during the protest. "If the government does not respond, we will intensify our agitation," Deviprasad Shetty said.

The petition filed by Kambala organizers at the high court seeking a stay on the DC's order will be heard on December 2. "If there's an interim relief, we will be able to conduct the Kambala as planned,'' said Ashok Kumar Rai, another Kambala organizer.

The Dakshina Kannada district administration banned Kambala a week ago after the department of animal husbandry wrote to the DC directing to implement the ban based on a Supreme Court order dated May 7, 2014. Department deputy director Thippe Swamy had said the Animal Welfare Board of India (AWBI), Chennai, had sent an email to the deputy commissioner, based on the Supreme Court order. After the SC order, subsequent AWBI directive were issued in a circular banning organization of Kambala in Dakshina Kannada district .

Enthusiasts, continue to observe the traditional form of Kambala, purely a symbolic act, by releasing the buffaloes onto the field. This practice also holds a religious significance in Tulunadu.

Write Comment
|

E-Mail
|
Facebook
|

Twitter
|

Print