Demand soaring for designer drugs: MLA Dr. Bharat Shetty
Mangalore Today News Network
Mangaluru, Mar 13, 2019: Demand is soaring across the country for untested concoctions of psychoactive substances that are labelled as designer drugs. Inaugurating a seminar on "designer drugs – an escalating public health challenge". Dr. Y. Bharat Shetty MLA cautioned the abuse of new drugs that are entering the underground drugs market with nicknames such as "spice", "bath salts", "meow meow" and "ecstasy". The drugs are called "designer" because they are based on existing illegal recreation drugs with chemical structures that are modified to varying degrees to evade the drug loss. The unscientific mixtures of drugs can easily transform from 'safe' to toxic, resulting in delirium and even death. The total number of new psychoactive substances is around 400 presently, with new drugs entering the market every day. New formulations are outpacing efforts to impose international control.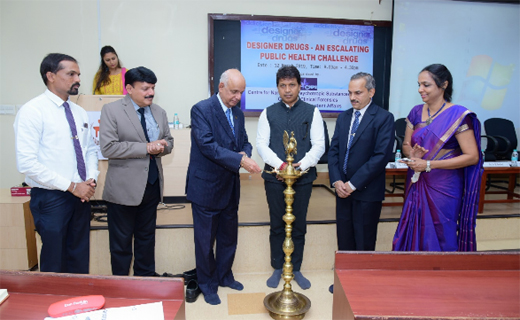 The seminar was attended by officers, from Police, Customs, CISF, RFSL and different universities, apart from scholars, and students. The seminar was organised by the newly setup Centre for Narcotics and Psychotropic Substances (CNPS) under MAHE. Dr. G Shreekumar Menon, head of the CNPS opined that the use of Amphetamine Type Stimulants (ATS) including ecstasy is on the rise worldwide. Methamphetamine continues to dominate the ATS business as also crystal methamphetamine. Pro chancellor MAHE, Dr H S Ballal, Registrar Dr Narayana Sabhahit and Dr Vinod Nayak spoke on the need for robust law enforcement, as well as prevention and treatment approaches. The seminar concluded by stressing to reduce the physical and mental health burden and the destructive impact of illicit drugs.

The Valedictory program Chief Guest was Mr. Amith Kumar, Deputy Commandant, CISF, Mangalore Airport, who stressed the need for continuous vigil at all entry and exit points to check the flow of illicit drugs. Dr.Poornima Baliga Pro Vice Chancellor, stressed the need for parents and teachers to constantly monitor the student behaviour in order to identify tendencies that can give a hint of any deviant behaviour. She also pointed out that MAHE would be shortly commencing a Certificate Program in Alcohol and Drug Abuse Counselling.


Write Comment
|

E-Mail
|
Facebook
|

Twitter
|

Print