Deborah Lobo installed as President of Winners Club Toastmasters
Mangalore Today News Network
Mangaluru, July 6, 2020: The new team of Office Bearers of Winners Club Toastmasters for the year 2020-21 led by President Deborah Lobo was installed on Sunday, 5th July 2020 at a meeting held online. Dr. Shalini Aiyappa, HOD, Psychology, St Aloysius College, Mangaluru was the chief guest of the occasion.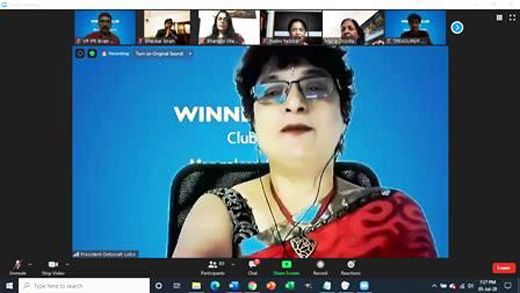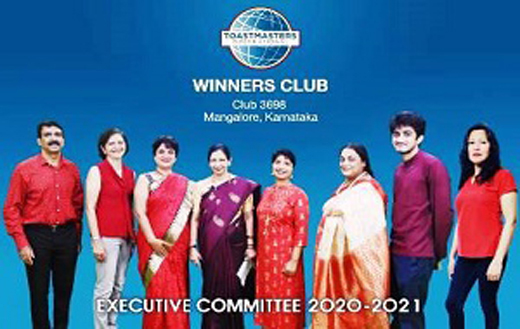 "Can we experience happiness in this pandemic?" asked the chief guest Dr. Shalini Aiyappa rhetorically and then emphasized that it's entirely possible because happiness is a choice. The pandemic, she said, has provided all of us a different perspective of name, fame, and money. And while providing instances from her experiences as a counselor she said, if we want happiness, "We must open our hearts, focus our minds, find a purpose and connect with people." Connecting with people is the key to happiness and that is what this Toastmasters platform provides, she emphasized.

Toastmasters Area F2 Director Beena Shetty administered the oath of office to the new team of office bearers for 2020-21, led by President Deborah Lobo. The team includes Shalini Prabhu (Vice-President–Education), Joan Mascarenhas (Vice-President–Membership), Brian Fernandes (Vice President–Public Relations), Veera Katpitia (Secretary), Saurav Baliga (Treasurer) and Roshni Pinto (Sergeant-at-Arms)

Tashi Bhandary rendered the invocation. Roshni Pinto welcomed the gathering and Sweetha Shetty presented the annual report in the form of a PowerPoint Presentation highlighting the achievements done by the club during the past year. Shalini Prabhu introduced the chief guest. Malini Hebbar presented an innovative concept of passing on the baton from the old team to the new, keeping in mind the theme of 'Finding Happiness', on which the program was based. Maria D'Costa introduced Deborah Lobo to the audience.

Outgoing President Beena Shetty thanked her team and club members for their cooperation during her tenure. In her acceptance speech, Deborah Lobo expressed her vision and goals to be achieved by the club during her term. VP-Membership Joan Mascarenhas inducted Tapasya Bhandary, a software engineer, into the club. Since 'Finding Happiness' was the theme of the installation ceremony, the functionaries referred to their individual ways of finding happiness in their addresses to the audience.

District Club Growth Director Savitha Salian, Division F Director Molly Choudhury, Area Directors Sapna Shenoy, Deepa Bhandary and Jyotika Shetty, and the Presidents / Representatives of 12 of the 16 clubs in Mangaluru felicitated the new office bearers. Capt. Allan Lobo, Deborah Lobo's husband, and Darren and Sasha Lobo, the son and daughter of the newly sworn-in President too felicitated the team. An activity involving the ways through which some members seek happiness in unique ways was creatively conducted by Bharathi Shevgoor.

Veera Katpitia proposed the vote of thanks. Prahlad Kubanooraya and Lathamani were the Master of Ceremonies.

Write Comment
|

E-Mail
|
Facebook
|

Twitter
|

Print