Dalai Lama to visit city on Aug 29 to 31
Mangalore Today News Network
Mangaluru, Aug 28, 2019: DK DC briefed media that Tibetan spiritual leader, the 14th Dalai Lama, will arrive in Mangaluru on August 29 at 12:30 PM to take part in the All India Association of Catholic Schools conference. On August 30, he will preside over All India Association of Catholic Schools conference at the Father Muller Convention Centre.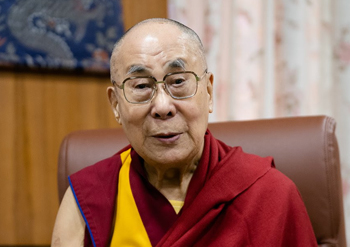 Dalai Lama will be leaving Mangaluru on August 31. The DK DC Sasikanth Senthil informed that security measure will be taken up before his visit.


Dalai Lama : Title given by the Tibetan people for the foremost spiritual leader of the Gelug or "Yellow Hat" school of Tibetan Buddhism, the newest of the classical schools of Tibetan Buddhism. The 14th and current Dalai Lama is Tenzin Gyatso.

The 14th Dalai Lama was born on a straw mat in a cowshed to a farmer's family in a remote part of Tibet. According to most Western journalistic sources he was born into a humble family of farmers as one of 16 children.The 14th Dalai Lama had become the most popular world leader by 2013, The Dalai Lama was not formally enthroned until 17 November 1950, during the Battle of Chamdo with the People's Republic of China. In 1951, the Dalai Lama and the Tibetan government were pressured into accepting the Seventeen Point Agreement for the Peaceful Liberation of Tibet by which it became formally incorporated into the People's Republic of China.Fearing for his life in the wake of a revolt in Tibet in 1959, the 14th Dalai Lama fled to India, from where he led a government in exile.

In 2014 and 2016, he stated that Tibet wants to be part of China but China should let Tibet preserve its culture and script. In 2018, he stated that "Europe belongs to the Europeans" and that Europe has a moral obligation to aid refugees whose lives are in peril. Further he stated that Europe should receive, help and educate refugees but ultimately they should return to develop their home countries.

In March 2019, the Dalai Lama spoke out about his successor, saying that after his death he is likely to be reincarnated in India. He also warned that any Chinese interference in succession should not be considered valid.

Write Comment
|

E-Mail
|
Facebook
|

Twitter
|

Print