DRI sleuths seize 2116.64 grams of gold at MIA
Mangalore Today News Network
Mangaluru, May 17, 2018 : Upon receipt of specific intelligence that certain unscrupulous elements are attempting to smuggle huge quantities of gold of foreign origin into the country through Mangalore International Airport by way of concealing it inside aircrafts, the officers of Directorate of Revenue Intelligence, Mangalore rushed to Mangalore International Airport, Bajpe, Mangalore in the morning of 16.05.2018 and conducted thorough rummaging of the aircraft under suspicion, which happened to arrive here as Flight No. SG 479, the Spice jet flight operating from Mumbai to Mangalore.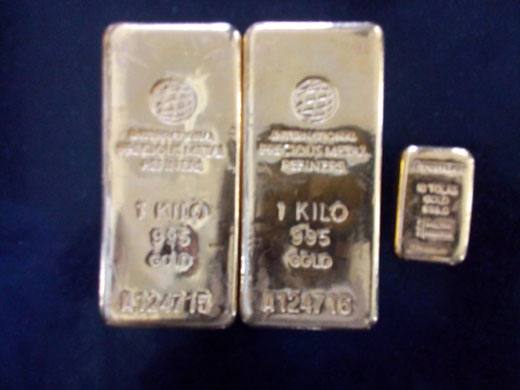 Prior to this journey, the same aircraft was deployed on an International run between Dubai and Mumbai as SG14. During an intensive search operation conducted with the assistance of technicians of Spice Jet, officers on suspicion opened the Oxygen mask panel on the top ceiling of the aircraft's front toilet and inside the panel hidden Gold bars wrapped in a socks were discovered. On opening the socks two Gold bars of 1 Kg each and a single tola bar of 116.640 grams were found.

The total weight of the Gold bars so recovered was found to be 2116.640 grams and their current market price was assessed at about Rs. 66.67 Lakhs. The Gold was seized by the officers for contravention of the provisions of the Customs Act, 1962 as they were being illegally smuggled into the country. Preliminary investigation revealed that the said Gold was originally concealed in the aircraft by a Passenger during the aircraft's international run from Dubai to Mumbai and it was supposed to be retrieved by a domestic passenger during one of its subsequent journeys. Further investigation in the matter along with look out for the smugglers behind the scene is underway.

The event assumes importance as it happens to be the first incident of organized gold smuggling attempted through Mangalore airport after the election period is over.

Write Comment
|

E-Mail
|
Facebook
|

Twitter
|

Print