DK origin cardiologist for highest US civilian award
Mangalore Today News Network
Mangaluru, Apr 06, 2017: From 2011-2013, Dr Annapoorna S Kini, achieved the highest rating of two stars for performing angioplasty with percutaneous intervention with one of the lowest documented rate of complications in New York State Department of Health's PCI Report for that time period.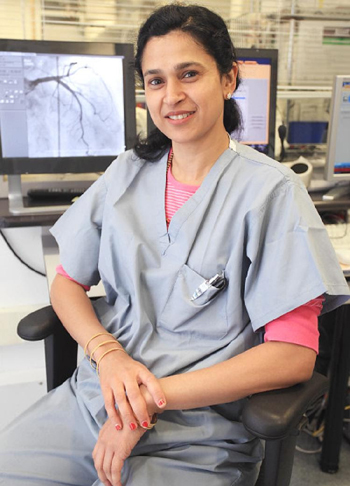 Dr Kini performs over 1,000 coronary interventions annually, which is the highest number performed by a female interventionalist in the US and the second highest overall volume in the US, with an extremely low complication rate of less than 0.3%.

Dr Kini, a cardiologist of Puttur origin and working as professor of cardiology and director of the Cardiac Cathertization Laboratory at Mount Sinai School of Medicine in New York, US, has been selected for Ellis Island Medal of Honour, the highest civilian award of the United States.


Her safety record and patient outcomes, along with her supervision of her Mount Sinai colleagues and staff, also garnered Mount Sinai Medical Center's Cardiac Catheterisation the prestigious two star rating. This distinction from the New York State Department of Health, which came in 2015 marked the 17th consecutive year of the Mount Sinai Heart Cardiac Catheterisation Laboratory physicians awarded the two-star rating for its coronary interventions overall and in non-emergency cases.

Indian roots

Annapoorna was born to Namdev Prabhu and Pushpalatha Prabhu in Puttur. She completed her PU at Vivekananda College in Puttur and later pursued her studies in medicine at KMC, Mangaluru. She completed her advance studies at the University of Wales College of Medicine, UK. She also went on to become the member of the Royal College of Physicians of London.

As the director of the Cardiac Catheterisation Laboratory at the prestigious Mount Sinai Hospital in New York, Dr Kini is responsible for the day-to-day smooth functioning of their high volume catheterisation laboratory, which performs more than 15,000 procedures including 5,200 interventions annually.

She has been serving as the director of the Annual Live Symposium of Complex Coronary and Vascular Cases at The Mount Sinai Medical Center and also the director of monthly web conferences on Live Complex Coronary Intervention Cases hosted by the prestigious www.cardiosource.org.

In collaboration with Dr Sharma, she started the Live Symposium of Complex Coronary and Vascualr Cases in 1998. She had been conferred with several other awards, 'The Dean's Award for Excellence in Clinical Medicine', 'Rock Star of Science', 'Young Investigator Award' conferred by American Association of Cardiology of Indian Origin, to name a few. Dr Kini, has to her credit, numerous book chapters in the field of Acute Coronary Syndromes and cornoray interventions.

Write Comment
|

E-Mail
|
Facebook
|

Twitter
|

Print