DC asks officials to speed up all pending works
Mangalore Today News Network
Mangaluru, July 13, 2016: DK DC Adoor B Ibrahim on July 12, Tuesday categorically told MCC, Mangalore City Corporation officials to get on their toes and speed up and implement pending works under various heads.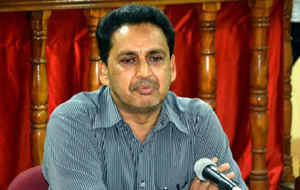 Presiding over a progress review meeting of MCC at his office, that assumes significance in the wake of Mangaluru being ranked last among local bodies in executing works ( as reported in 'mangaloretoday.web, taken into cognisance by the Chief Minister Siddaramaiah during the recent progress review meeting of urban local bodies held in Bengaluru), he said this development has disturbed him.

Literally cracking a whip on officials, he sought detailed information on the works taken up under the chief minister's special grant of Rs 100 crore under Nagarothana scheme totalling Rs 300 crore in three different phases, 13th finance commission grants and SFC, state finance commission grants.

When it was brought to his notice that some works are still under tender process, DC Ibrahim directed MCC Deputy Commissioner (Development) N Shivashankar Swamy to start pending works by next Monday, besides monitoring its progress on a weekly basis and report the same to his (DC's) office. Besides, a meeting of contractors should be convened and if need arises, manufactured sand (M-Sand) can be used for works, he added.

Swamy informed the DC that, under third phase of Nagarothana scheme, a total of 169 works were taken up and 60 were completed at an estimated cost of Rs 16.5 crore, while 11 are under progress and 41 under tender process with cost estimated at Rs 30.7 crore. In the second phase, a total of 124 works were taken up, 84 works were completed at an estimated cost of Rs 39.84 crore, nine are under progres and 31 are under tender process (including tenders invited for 26 works) with cost estimated at Rs 23.82 crore. In the first phase, a total of 255 works were taken up. Among them, 251 works were completed at an estimated cost of Rs 96.10 crore, three are under progress and one has been cancelled, he explained.

Under 13th finance commission grants, an amount of Rs 10,906.66 lakh was released from the year 2010-11 to 2014-15, and Rs 7,334.17 lakh was spent on various works, with Rs 3,572.49 lakh remains unspent, making for 67.24 pc total expenditure. While under SFC grants, an amount of Rs 2,249 lakh was set aside for the year 2015-16 and Rs 1,686 lakh was released and Rs 634 lakh was spent as on May 31, Shivashankar Swamy apprised deputy commissioner.

Motor pump to check road flooding : An engineer attached to MCC, Mangalore City Corporation suggested installation of a permanent motor pump to drain water coming in the way of a road between Padil and Bajal near Mangaluru railway junction, only to embarass the DC.

Assistant Executive Engineer Lingegowda told the DC that underground water is coming in the way of the work below bridge. "If a motor pump is installed that could help in draining the water from coming in the way of road users. It has also been conveyed to authorities at northern railway, as the road comes under their jurisdiction," said the engineer.

When the deputy commissioner outrightly rejected the idea, the officer said, "Such is the condition of the site that, motor pump was the only solution with water seeping through the concrete stretch of the road above."

Write Comment
|

E-Mail
|
Facebook
|

Twitter
|

Print