Complete realization of constitution still a dream; MLC Ivan
Mangalore Today News Network
Mangaluru, April 14: Protest over not materializing Ambedkar Bhavan held in the city on Tuesday provoked District-in-Charge Minister Ramanath Rai to offer an explanation for delay- in an inaugural speech at ZP office during a celebration of 124th year of birth anniversary of Dr B R Ambedkar.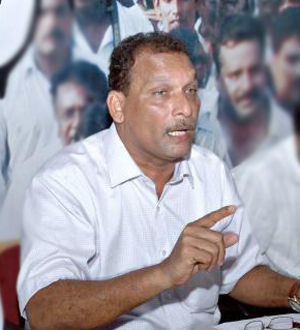 The district administration celebrated Ambedkar Jayanti in a meaningful way feting six Dalit achievers from different walks of life. However a protest was held in the city over state failing to allot land and construct Ambedkar Bhavan by Dalit Sangharsha Samiti ahead district administration celebrating the auspicious day. This forced Ramanath Rai to emerge with an explanation in his inaugural delivery.

Ramanath Rai justified his government saying the state has been prompt in completing due procedures in connecting to the hall. He claimed there was some technical error due to which the file was sent to law ministry. "I had conversation with law minister T B Jayachandra and now file would find its way to cabinet." After chief minister's nod the file would be put up in the cabinet for clear all hurdle. He assured the state government would soon erect Ambedkar Bhavan and feasible land would be allotted for the same.

Speaking on Dr Ambedkar, Minister said he toiled for the betterment for Dalits due which many people from backward community were leading comfortable life. He invoked CM Siddaramaiah and expressed his chief minister has been working in the similar direction to ameliorate plight of poor hailing from backward communities.

The MLC, Ivan D'souza argued in his speech in same venue that directive principles drafted in the constitution headed by Dr Ambedkar has not completely been implemented by many governments. Though, 68 years into independence, he lamented "we are forced not to lift reservations given to backward castes". This proves inability to implement directive principles of the constitution and end inequalities prevailing in the social domain. The complete realization of constitution was still a dream, he opined

The district administration felicitated Agara (farmer), Sundari (farmer), Laxman (power lifter), Balakrishna ( Bhootaradhane), Uttam Kumar (classical music) for their achievements in respective fields.


Write Comment
|

E-Mail
|
Facebook
|

Twitter
|

Print