Coast Guard Karnataka gets new Commander
Mangalore Today News Network
Mangaluru, May 16,2017: The incumbent Commander of Coast Guard Karnataka has been promoted to the rank of Inspector General on 12 May 2017. Departmental Promotion Committee of Indian Coast Guard considered promotion of senior officers and Inspector General KR Suresh, TM, the Commander, Coast Guard Karnataka is one of the Flag Officers, who have been elevated. On promotion, the Flag Officer has been appointed as the Commander, Coast Guard Region (Andaman and Nicobar) and will function from Port Blair. Deputy Inspector General SS Dasila has taken over the duties of Commander, Coast Guard Karnataka on 15 May 2017.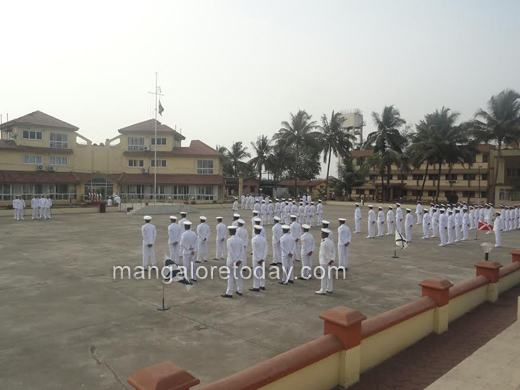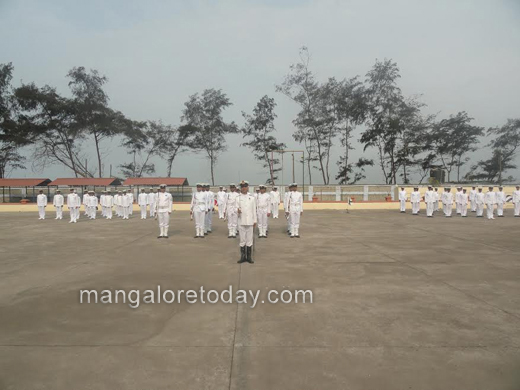 Inspector General KR Suresh, TM, joined Coast Guard service on 19 Jan 1987 and belongs to 8th batch of direct entry Coast Guard officers. The Flag Officer is specialist in Communication and Electronic Warfare. He is an alumnus of Defence Services Staff College, Wellington, Naval Higher Command Course, Goa and National Defence College, New Delhi. The Flag Officer also holds an M Phil Degree in Defence and Strategic Studies from Madras University, Chennai as well as MSc Telecom from Cochin University of Science and Technology and MBA from Symbiosis University, Pune.

The Flag Officer has had an illustrious carrier spanning over 30 years, during which he has held various important Operational and Staff appointments both at sea and Headquarters. He has commanded various Indian Coast Guard ships, Advance Offshore Patrol Vessel Sagar, Offshore Patrol Vessel Varuna - Training Ship, Fast Patrol Vessel Annie Besant and Inshore Patrol Vessel Kittur Chinemma. The Flag Officer also commanded Coast Guard Station Mandapam, an important Coast Guard post on the South of Tamil Nadu. His major Staff appointments include Officer-in-Charge, Bureau of Naviks at Mumbai, which deals with human resource development of the enrolled personnel of the service. The Flag Officer has also carried out the duties of Chief Staff Officer (Personnel and Administration) at Regional Headquarters (East) and various portfolios in the Directorate of Operations, on three occasions, including Principal Director (Operations) at Coast Guard Headquarters, New Delhi.

Due to the continuous professional and meritorious service, the Flag Officer was awarded Tatrakshak Medal (TM) by the Hon'ble President of India on 15 Aug 2015.

Inspector General KR Suresh, TM, believes in team work and coordinated efforts. Under his leadership, the relationship of Coast Guard Karnataka with other organizations, like Navy, Civil administration, State Police, NMPT, Old Port Mangalore, Karwar Port, Airport Authority of India, Customs, KIOCL etc flourished. The Flag Officer was successful in strengthening the coastal security of Karnataka and maritime search and rescue efforts. 72 in number lives were saved in 19 in number search and rescue operation in seas off Karnataka under the Command of the Flag Officer.

The Coast Guard's force buildup improved during the tenure of the Flag Officer. Hovercraft Squadron was setup at Mangalore on 01 August 2016. The hovercrafts have provided close to coast safety and surveillance capabilities. Indian Coast Guard Ship (ICGS) Shoor, which was commissioned on 11 April 2016, has been based at New Mangalore. The ship has the capability of carrying helicopter onboard its deck.

The presence of ICGS Shoor has provided impetus to the maritime security apparatus. Coast Guard Air Enclave Mangalore was setup on 10 Oct 2016 and has augmented air surveillance efforts of the Coast Guard.

The Flag Officer encouraged out of box thinking for bringing improvements in joint exercises like Sagar Kavach and Sajag. With the close-knit functioning of Civil administration, Police and other stake-holders, vulnerabilities and gaps in the coastal security setup were found and actions initiated for improvement. Coast Guard Karnataka also carried out Coastal Cleanup drives, Swatch Bharat Abhiyan and Swachh Sagar Abhiyan. Besides sensitizing students and local populace for the cleaner beaches, emphasis was given on safe fishing and shipping.

Community Interaction Programs with fishing community were undertaken at various places in coastal Karnataka and the fisherman were taught about safety procedures to be followed at sea. Coast Guard Karnataka also facilitated four fishermen at Bhatkal for rescuing seven fishermen from a boat, which had overturned on 03 August 2016. This led to increase in faith between Coast Guard, Police and fishing community.

Coast Guard Karnataka participated in all the internal activities of the service. The operations and administrative setup received a fillip under the leadership of the Flag Officer. The Coast Guard Headquarters at Mangalore was adjudged as the Best Shore Unit of Coast Guard on the West Coast of India on 01 February 2017.

The Flag Officer emphasized on Environmental Security, which is a vital part of National Security. Coast Guard Karnataka carried out level I Pollution Response Workshop at Mangalore on 18 Oct 2016. A workshop on the menace of drug abuse, sea-borne smuggling and narcotics control was organised onboard ICGS Shoor on 26 Jun 2016.

Inspector General KR Suresh, TM, will take over the duties of the Commander, Coast Guard Andaman and Nicobar Region on 18 May 2017. During the send-off, the Flag Officer stated, "I am grateful to the Central and State Governments for working in tandem with Coast Guard Karnataka. With the support of all the stake-holders, the coastal security and safety of life at sea has improved. I look forward to work with all these organizations in the future". The Flag Officer also motivated Coast Guard Karnataka staff and advised them to dedicate themselves to the motto of Coast Guard, 'Vyam Rakshamah' meaning 'We Protect'.

The new Commander of Coast Guard Karnataka, Deputy Inspector General SS Dasila, had been commanding Indian Coast Guard Ship Shoor and is the commissioning Commanding Officer of the ship. He is an alumnus of Military School, Dholpur and College of Defence Management, Secunderabad. He is from the 15th regular batch of Indian Coast Guard and joined service on 06 January 1991. The officer has gained diverse experience spanning over 25 years in Coast Guard duties in various assignments.

He is a specialist in Information Technology. The officer has been trained in International Maritime Officers Course (IMOC), USA and also undergone customised training on marine pollution control equipment with Vikoma International Ltd, UK and Lamor Corporation, Finland. His wide ranging appointments at sea include, command of four Coast Guard Ships C-06 (Interceptor Boat), Naiki Devi (Inshore Patrol Vessel), Raziya Sultana (Fast Patrol Vessel) and Varuna (Offshore Patrol Vessel).

His important ashore appointments include Officer-in-Charge PRT(East), Dy Director (IT) at Coast Guard Headquarters, Officer-in-Charge of MRCC, Mumbai and Chief Staff Officer Operations at Coast Guard Regional Headquarters (North West) and (North East).

Deputy Inspector General SS Dasila has encouraged the Coast Guard fraternity to follow the laid down norms and continue to work with zeal to serve the people of Karnataka and the Nation by providing safety and security at sea.


Write Comment
|

E-Mail
|
Facebook
|

Twitter
|

Print