Co-op week celebrations : KMF offers support to DKMUL for products
Mangalore Today News Network
Mangalore, Nov 18, 2014: Speaking at the unveiling of 200 and 400grams of Nandini real thick curd and Nandini cream here at 61stAllIndia cooperative week organised by DKMUL on November 17, Monday, KMF President P Nagaraj said that the KMF will extend its suppor t to the Dakshina Kannada Co-operative Milk Producers Union Ltd(DKMUL) to set up ice cream plant in Mangaluru. Lack of cattle feed, milk production in the district falls short of demand by more than 25 per cent, said Raviraj Hegde, president, Dakshina Kannada Cooperative Milk Union Ltd. (DKMUL).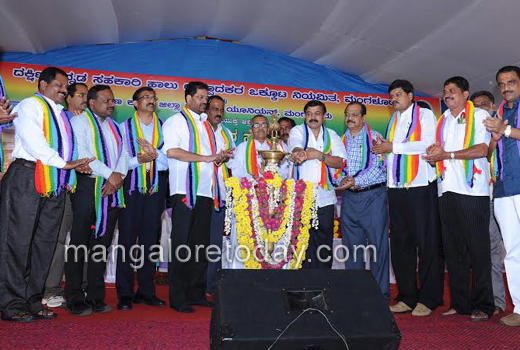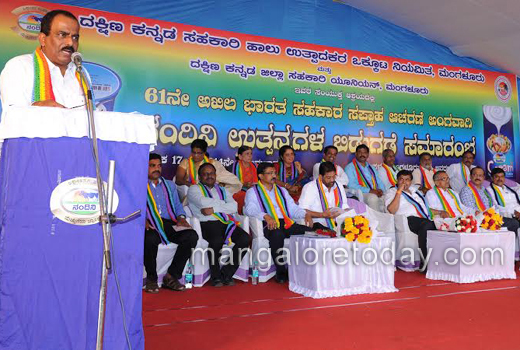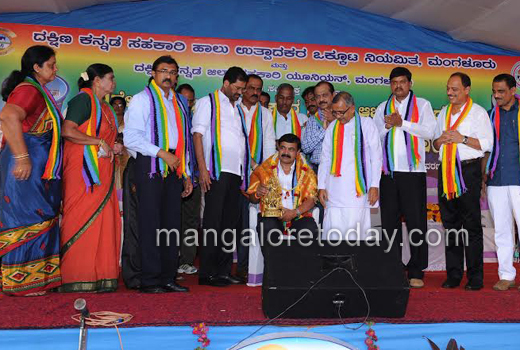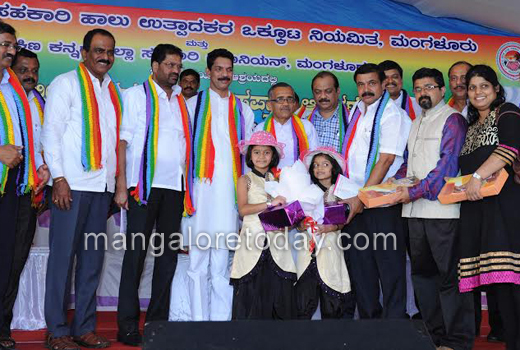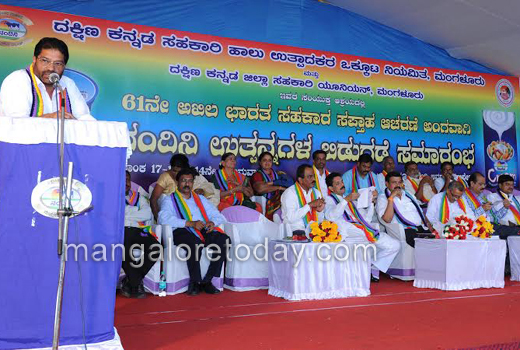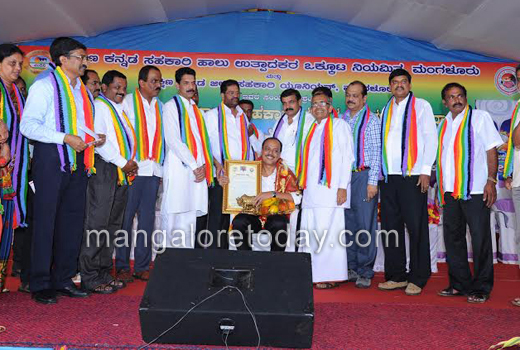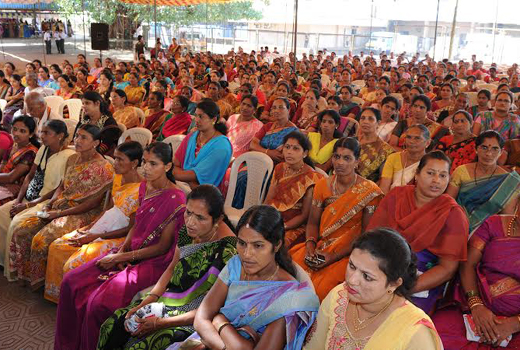 Talking during the launch of Nandini products here, he said while the demand for milk in the region was around 4 lakh litres daily, the production was just 3.13 lakh. This is largely due to lack of quality cattle fodder, which is deterring more farmers from taking up diary farming, he said.

One of the solutions propounded for increasing the production of cattle feed was to allow for farmers to use gomala land (grazing land) and other suitable government land for cultivation of fodder, Hegde said. Already the State government was approached to earmark land in the villages for growing fodder.

Another proposal presented before P. Nagaraj, president of Karnataka Milk Federation — who participated in the launch — was the setting up of a diary unit at Uppoor in Udupi district, and the setting up of an ice cream factory in the district.

Assuring the district Union of pursuing the proposals, Mr. Nagaraj said, "The Uppoor factory may cost Rs. 70 crore. We will have to ask Chief Minister Siddaramaiah, and we will push for at least Rs. 40 crore funding for this."

Meanwhile, he said the 'Nandini Gold' cattle feed introduced by the State government was "a success" that could generate additional revenues of up to Rs. 300 crore annually for farmers. According to him, 500 societies had already given positive feedback for the feed that used maize as its primary component (45 per cent), instead of paddy that was being traditionally used.

"Farmers are reporting that fat content in milk had increased by 2 per cent, while the cows were giving an average of one litre extra daily," he said.

From "thicker" curd to rich cream, Dakshina Kannada Cooperative Milk Union Ltd. (DKMUL) has launched two new products in their expanding Nandini line on Monday.

The Nandini "Real thick curd" comes in cans of 200g (Rs. 20) and 400g (Rs. 36), unlike the packet curd that is being sold now, said officials of the union.

The curd can be refrigerated for around 15 days. The cream has 35 per cent fat when compared to the 25 per cent fat available commonly in the market now, said BV. Satyanarayana, Managing Director, DKMUL. "Nearly 360g of ghee can be obtained from Nandini cream, compared to around 200g from the cream currently available. With this, the product catalogue of the Karnataka Milk Federation extends to more than 80 items.

Write Comment
|

E-Mail
|
Facebook
|

Twitter
|

Print