Classical Dance Fest 'Manthana 2016' in Mangaluru on Dec 11
Mangalore Today News Network
Mangaluru, Dec 10, 2016 : A media release received states 'Nrityaangan', a registered trust, is organizing 'MANTHANA 2016' – The third edition, a Classical Dance Festival, in Mangaluru. This classical dance festival is scheduled to be held at Don Bosco Hall, Mangaluru on December 11 th, 2016, Sunday at 5.45 PM. The event will be inaugurated by Smt. Prathibha Samaga, senior dance guru. Both established and budding artistes, Abhayalakshmi - Bengaluru, Vidyashree Radhakrishna – Mangaluru and Kavya Ganesh – Chennai are performing as part of Manthana.
Ministry of Culture, Govt. Of India & Department of Kannada & Culture, Bengaluru, are supporting the event.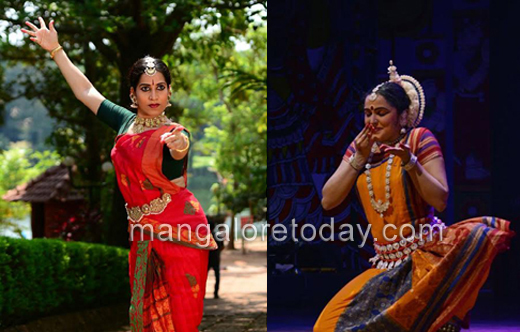 Brief Information on the participating dancers :

Kavya Ganesh: A budding talent in the field of Bharatanatyam, Ms. Kavya Ganesh, Chennai, performers at Manthana 2016. A truly dedicated, hardworking student of dance; She exhibited a passion for dance and a tremendous sense of movement and rhythm from an early age. Kavya underwent her initial training in Bharathnatyam under Padmashree Awardee Smt. Meenakshi Chittaranjan. Presently Kavya is undergoing advanced training in Bharathnatyam under dancer par excellence, Kalaimamani Smt. Rama Vaidyanathan. Her love and enjoyment for the art form has become even more intense with the passage of time. Today in Kavya's words "all I ever want to do is dance and all I ever want to become is a dancer" Kavya is a High school student at KFI, the school, Adyar, Chennai. Academically, proficient, she is also interested in varied activities like reading, swimming, basketball, drawing and outdoor adventures like trekking and camping. She also underwent training in Kalaripayattu from eminent Guru Shri. Shaji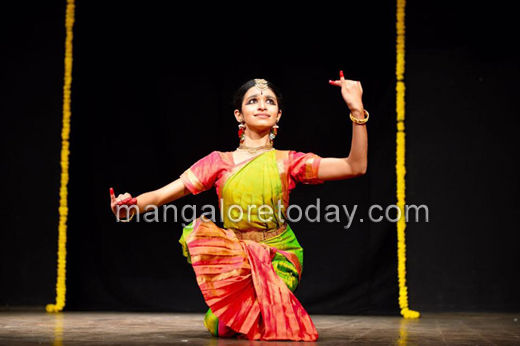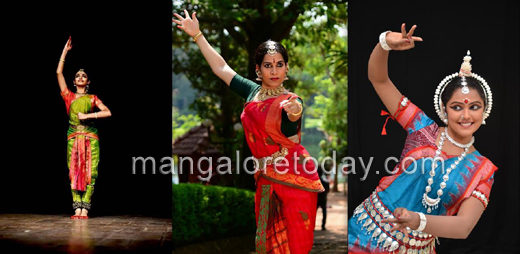 Abhayalakshmi : A young, passionate Odissi dancer who has dedicated her life for dance. She is a disciple of Guru Smt. Sharmila Mukerjee at Sanjali Center for Odissi dance, Bangalore. She started learning Bharathanatyam at a very young age of 6 from Temple of Fine Arts International (TFA), Coimbatore under the guidance of Guru Kamakshi Jayaram and Guru Vimala Chandrashekaran. She has also been fortunate enough to receive training from popular dancers such as Shankar Kandasamy, Umesh Shetty etc. After completing her Engineering she moved to Bangalore and began her intensive training in Odissi . She gave up a successful career in engineering to pursue dance. She is currently working as a teacher and senior performer at Sanjali Center for Odissi Dance, actively performing throughout India in several prestigious festivals. She was chosen as one of the top ten talents during Odissi International 2013 held at Bhuvaneshwar and awarded with Odissi Prativa title. She is also a Doordarshan graded and recipient of Nupuradhwani award. Currently she is working towards her dream in promoting the beautiful art form of Odissi to God's Own Country, Kerala. She is actively conducting workshops, demonstrations and classes in Kerala successfully. She has worked on several collaborative projects and it was presented successfully on several stages. Abhayalakshmi's hard work and perseverance, with blessings of her Guru Sharmila Mukherjee has helped her evolve as a beautiful artist.

**Vidyashree Radhakrishna: Vidyashree Radhakrishna is a multifaceted talent in the field of performing arts. She is a performer, choreographer, Guru, profound nattuvanar and a vocalist. Vidyashree Radhakrishna presents a solo feature; Jwalamukhi Ambe – Incarnation of Revenge; as part of Manthana 2016. Vidyashree belongs to a family where learning and practicing art is an indispensable part of life. Her childhood was spent amidst the melody of tambura, the rythm of cymbals and mridangam, the soulful bhajans and the roaring Yakshagana. She had her initiation into the art of Bharathanatyam from her mother Smt. Jayalakshmi at the tender age of five. Then she continued to learn under Smt Nalini Bypadittaya and Dr. Seetha Kote. Her zeal towards this divine art made her to further continue with Guru Muralidhar Rao - Mysore, Padmashri Adayar K Lakshman - Chennai and Guru Bragha Besell - Chennai. Currently she is learning the nuances with Guru Rama Vaidyanathan – New Delhi. She has given several solo and group performances across India and abroad. She is the founder director of Gaana Nrithya Academy in Dakshina Kannada, she is a graded artiste of Bengaluru Doordarshan.





Write Comment
|

E-Mail
|
Facebook
|

Twitter
|

Print