Civil matters not to be taken up by SHRC
Mangalore Today News Network
Mangaluru, June 24,2017:Speaking to media, the State Human Rights Commission (SHRC) chairperson Dr Meera Saxena said 122 applications are pending before the commission to be addressed. The Karnataka State Human Rights Commission (SHRC) has cleared 1,009 of the 1,131 complaints received over various types of grievances in the district.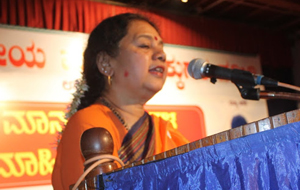 "Most cases received or registered with the SHRC are land disputes. The commission prefers to not interfere in civil matters, the disputes of which are pending before court. The next highest number is family disputes and labour disputes. There are different bodies to deal with the problems," she explained.

The commission had received 66,991 cases since inception, and 58,740 cases are disposed of. "Up to 8,251 cases are pending to be addressed. There are cases of violation, but the commission is cautious and around 9,000 cases have been registered suo motu," she said, adding, "The highest number of cases come from Bengaluru, Mysuru and Tumakuru. Dakshina Kannada also records a high number of cases. The awareness level is high in Bengaluru and Mysuru and hence the commission receives many complaints."

Responding to a query on the complaints on the irregularities in government hospitals and the patients being deprived of the appropriate facilities, Saxena admitted the government lags behind in offering the required number of specialist surgeons.

"When inquired, the Health department officials cite the reason that there are too few staff members to discharge the duties. The commission has received complaints and the recent incident that occurred in Shivamogga is an eye opener. The government should be able to offer solutions," she said.

She said awareness on human rights is the need of the hour. "The increasing number of violations has created an alarming situation. Workshops to create awareness should be held. Illegal trafficking of humans and bonded labour are problems that bother the society in the recent times." Saxena said people pretending to be the commission's representatives will be penalised and stern action would be taken against them. The commission will also initiate measures to curtail such activities, she warned.

"If at all the complainants are not aware of the credibility of their complaints, they need not worry as they will not be punished for misleading the commission. The commission will investigate the background of the commit before indulging into the inquiry followed other measures," she added.

Write Comment
|

E-Mail
|
Facebook
|

Twitter
|

Print