City urban basic infrastructure inadequate and collapsing
Mangalore Today News Network
Mangaluru, May 03, 2018: At least more than one third of the population of Dakshina Kannada, the Mangaluru urban net work spread over three Assembly constituencies appears to be crumbling with several inadequacies, including road infrastructure, public transport, underground drainage system and cleanliness.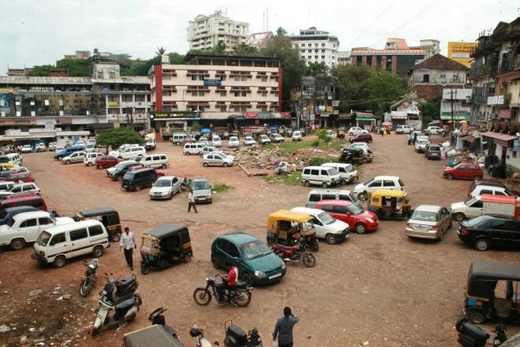 Though the region, a hub of commercial and educational activities, has been growing in leaps and bounds in the last two decades, the lack of foresight among successive administrations to augment infrastructure appears to have caused the gridlock for infrastructure augmentation. The city has now been chosen to be developed as a Smart City.

Consequently, Mangaluru region now has well laid out concrete roads; but without proper shoulder drains, pavements and utility ducts. It has two perennial rivers, but lacks properly designed water supply and drainage system. Mangaluru has many high-rises, but lacks adequate vehicular parking spaces. Though it has plenty of buses, it lacks a planned public transport system.

The central parts of the city have come to have concrete roads in the place of bitumen roads which were getting damaged just after the monsoon. However, these roads were built without provision for shoulder drains at many places resulting in rainwater flowing on roads during the monsoon.

The absence of shoulder drains also resulted in denial of walking space for pedestrians as otherwise drain-covers would have provided that space. Moreover, concrete was laid over the existing and aged water lines which frequently rupture thereby forcing the Mangaluru City Corporation to cut open portion of the concrete to fix leaks. Despite advancements in technology, these roads were not provided with ducts to lay utility lines, such as power and telephone making road shoulders vulnerable to frequent digging.

Half done Drainage : Mangaluru was one among many coastal cities/ towns chosen way back in 1999 for the Asian Development Bank-funded Karnataka Urban Development and Coastal Environment Management Project (KUDCEMP) to strengthen the underground drainage network.

Nearly two decades after the project was launched and about Rs. 400 crore spent, only two of the four sewage treatment plants — Kavoor and Pachchanadi — are functional, while the other two — Jeppinamogaru and Surathkal — are non-functional as the underground drainage network in the region is not connected to them. The infrastructure is decaying while waste water flows into the Netravathi and the Phalguni polluting the coastal eco-system.

Transportation : Mangaluru region, though known for its marked presence of private bus services, awfully lacks a robust and synchronised public transport system despite over 350 buses, both private and KSRTC, operating as city services.

Of the 350 services, nearly 300 operate with State Bank as the centre, while services connecting different parts of the city are unavailable. With different private operators, the travelling public have no option to change buses with the help of passes, daily or monthly, as provided by road transport corporations.

Though the administration had been talking of a satellite bus terminal to de-congest the city and earmarked about seven acres of land near Pumpwell (Bhagwan Mahaveer) Circle off National Highway 66, it too has remained only on paper.

In addition to the problems that haunt the citizens, fringe areas in the region, including Ullal, Someshwara, Mudipu and Konaje under Mangaluru and Surathakl under Mangaluru North, also face problems related to garbage disposal, drinking water and underground drainage system.

Mangaluru constituency has fast grown as an urban locality with the presence of many educational institutions, but it is governed by two urban local bodies and a few gram panchayats which do not have the wherewithal for disposal of solid waste. The region also lacks drinking water supply even though the government has now proposed a vented dam at a cost of about Rs. 200 crore at Harekala across the Netravathi. The underground drainage network in Surathkal area has remained awful with many missing links even as Mangaluru North that houses many major industries is affected by increasing levels of pollution, air as well as water.

Parking woes : With nearly five lakh registered vehicles in Mangaluru, the available road infrastructure is more used for vehicular parking even as parking lots in basements of many high-rises are illegally converted into commercial spaces.

While there are over 160 such high-rises identified by the city corporation for having violated building by-laws, the former Mayor Kavitha Sanil had in January this year assured of taking action against at least 25 buildings after issuing notices. However, no further action followed.

With vehicles being parked on roads and even on whatever available pavements, walking has become a nightmare for pedestrians, so too crossing busy chaotic roads. Roadside parking has also affected free movement of traffic.

The multi-level car parking facility at Hampanakatte at the place from where once service buses operated has remained a non-starter.

Write Comment
|

E-Mail
|
Facebook
|

Twitter
|

Print