City's Centenarian launches out on second century today
Mangalore Today News Network
By I J Saldanha Shet

Mangaluru, March 30, 2018: After a very successful 100 years spent admiringly, Mrs Glady's D'Souza today, March 30, 2018 launches out on her 101st year of life in the driving seat, with the good wishes of many and felicitations from world figures too, see pictures.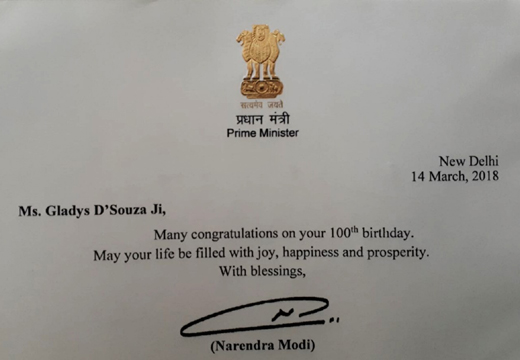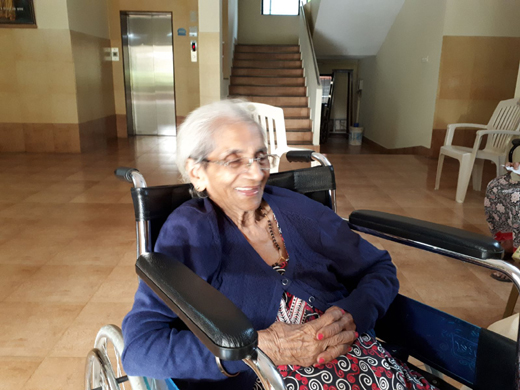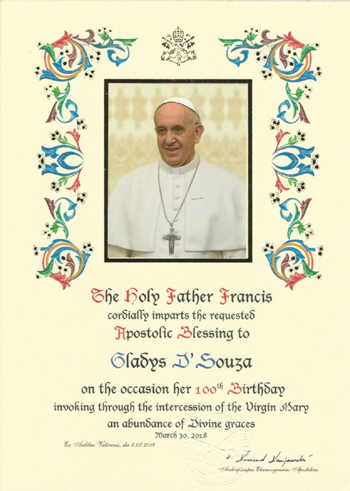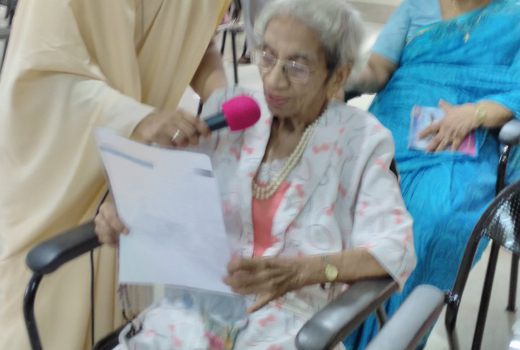 Born on a memorable day March 30, 1918, in the WW1 times of war, she came into this world to the joy of her parents. Today, she brings joy to her Children who have gathered here from parts of the world along with delighted people who are familiar with her and strangers too at a home of elders in the city, where of her own choice, she has spent ten years and says she never wants to leave. Since her arrival in Mangalore she has assured one and all that she will live well past 100, and has done it, given her will-power and positive mindset, after battling many hurdles of her long years of life on this earth. Since, Gladys is in 'Good Friday' mode for now, she hopes to rise to the occasion and celebrate in the Eater week.

A special Recap:
Gladys D'Souza, cheerful, smiling, well turned out, neat, clean, full of smiles for those around, she lives an active life, enjoying her good fortune and complaining little. Her love for reading, Caroms and Sudoku for many years have kept her going strong say many who know her.

Gladys D'Souza, (nee' Currie), hails from a prominent Konkani Catholic family of Mangaluru city proper; her ascendants were well known ancient residents of 'Candle Gardens' between the present Jyothi Cinema and Woodlands Hotel, at the foot hill of the legendary St.Aloysius College. Records indicate that several members of this family, originally called "Correa" worked in Burma (now Mynmar) in the early 1900s, some took the name of "Currie" caused by language and social nuances, both names are alive among this family spread wide; many returned during WW1 and settled in Calcutta, Bombay and Mangalore. Trevor D'Souza, 68 yrs, son of Gladys, has come all the way from Toronto Canada, along with some of his siblings and friends. Many of the extended family have joined in here to make Gladys' day a very special one.

Gladys was born March 30, 1918, in Rangoon (now Yangon) Burma, now Mynmar; the eldest of 5 brothers (Archie, Oswald/Ozzie, Ralph, Basil, Darwin/Banoo). Her father Casmir Nicholas Currie (Correa) and mother Annie Alice nee' Menezes. She was educated at the Good Sheppard Convent school in then Rangoon and to this day reads everything possible and her command of English impeccable.

Her husband, Joachim Lawrence D'Souza,(1905-56) an Engineer in Rangoon port, whom she married on December 29, 1942, doted on her just as her parents had always done. They had to move out of Burma for good to then Calcutta in the mid 1950s, after her husbands death she tried to occupy her self in teaching at Don Bosco School, Park Circus, Calcutta, but then decided that her priority was to look after the children and the home, which in those times was very hard full time work. She managed to bring up the children to do well in their education and life. Her 5 Children are Gloria, Pam, Norma, Trevor and Christopher.

Centenarian, Gladys, has been living in Mangaluru since 2008, She has always told her near and dear who visit her frequently that she likes life in Nympha Sadan, as it was too risky for her to live in Mumbai and she did not like the weather in Canada/US - being in the environs of her ancestors has been special for her. The food and serene life here in Mangaluru is just right for her. She loves to smile and interact with residents and visitors. Her best and fun side surfaces when she is at her electronic key board and she regales the audience with her rendering of old western songs and hymns. Her love for music and life clearly shows up in the way even to this day with the support of her wheeled buggy, a type of walker, and her care givers around her she is confident. Gladys loves receiving phone calls from her children and grand children who are all overseas. Though her hearing is poor, surprisingly she hears and responds better on the phone.

She is a victorious cancer survivor. As recently as 2015, she was diagnosed with cancer of the breast and treated at Muller's hospital with the support of city's leading Oncologists. Her son Trevor was down here then too from Canada and the nuns in-charge spearheaded and coordinated the needed care. Though at one stage it seemed a lost battle, the fighter of big battles that Grand Mother and Great Grand Mother Gladys; is now in fair health given her age of a century on earth. Leaving the hospital when she was told that she is fine and will live to 101, she frowned and said 'I will live to 110', her determination and courage will definitely prevail over all else, are the prayers of many.


Write Comment
|

E-Mail
|
Facebook
|

Twitter
|

Print