City media and medics hold summit on July 7, healing touch for citizens
Mangalore Today News Network
Mangaluru , July 8,2017: In a first of it's kind interaction between media and doctors organised by Mangaluru Press Club in association with Centre for Health and Development (CHD) and Association of Medical Consultants (AMC) at Pathrika Bhavan, July 7,Friday a cordial consensus brings hope to citizens particularly in emergency and disaster situations which loom large over day to day lives now and in the future.

Present on the dais were, CHD-Centre for Health and Development CEO Dr Edmond Fernandes,  Senior Journalist N T Guruvappa Balepuni, Association of Medical Consultants Convenor and Trauma and Plastic Surgeon Dr Sathish Bhat and KSHEMA Pediatrics Surgery Dept Head Dr Sandeep Rai and Press club Prez Dr. Ronald Fernandes gave the lead in the consultations and discussions. A good attendance of doctors, a cross section of journalists and students of clolleges made a great impact on the meet and bodes well for the future. Active consultations and good results are expected.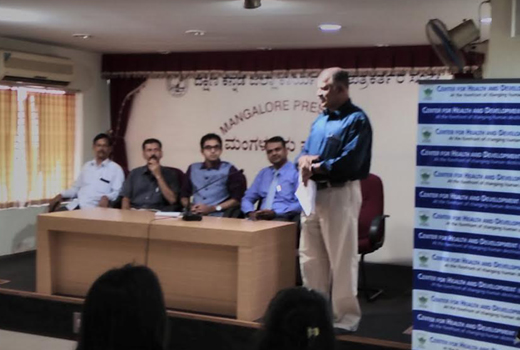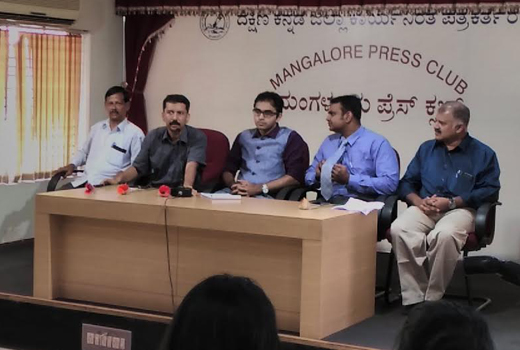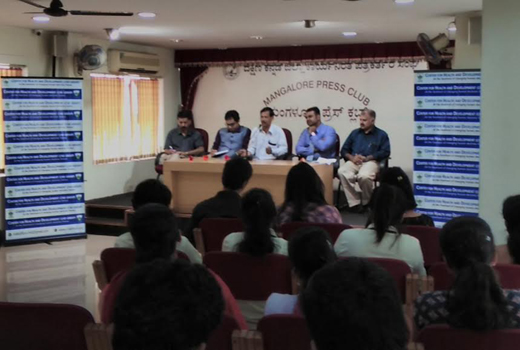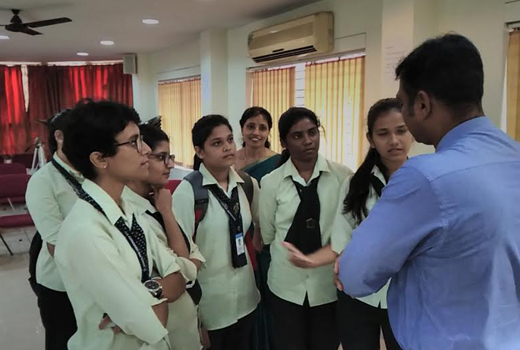 KSHEMA Pediatrics Surgery Dept Head Dr Sandeep Rai said that the total focus and responsibility of a doctor in any emergency/disaster situation is to save the lives of people. In circumstances beyond control the doctors need to consult with next of kin and seek best medical options as well. This is divine and impossible task often due to the stress, strain and limited knowledge of kith and kin along with limited time frames. This leads to communication gaps and room for unnecessary force and fights which extends the negative causes and out comes and trust deficits escalates in rapid force. Very prime information was shared and constructively discussed. Yes, 'God does the healing and the doctor takes the fees', he said. In the modern perspectives, professionalism is set to be high in every profession and doctors and scribes are no exception, because expectation level is very high, opined KSHEMA Pediatrics Surgery Dept Head Dr Sandeep Rai.


CHD - Centre for Health and Development CEO Dr Edmond Fernandes explained the purpose of the interaction in the wake of growing incidents of miscommunication or lack of communication between doctors and media personnel. Appealing media to bridge and strengthen doctor-patient relationship, he said that plans are on the anvil to have a draft of guidelines based on the day's interaction for peak exchange of social and scientific details in a systematic manner to the media and people.

Enthusiastic students present expressed the fact knowledgeably that in large hospitals it is impossible for the stressed and tense kith, kin and attendants of patients in ICU and Operation theater to get information often for hours together and have no option but to hang around bunched at the entrances, beyond reasonable time frames, left in the cold, high and dry. Doctors are too involved and lack time, nurses not very kindly refuse to explain and co-ordination is poor, causing avoidable unpleasantness and trouble. Minute by minute, they are eager and clamour for information as to what is happening to their patients in side the ICUs/ surgical theater, a natural situation more specially in emergency/accident cases. In the present scenario they are unable to get credible or responsible information. One visible solution is to provide a suitable display board (where feasible an electronic screen/monitor) where the condition of the patients undergoing surgery or in ICU can be briefly projected from one stage to another, time to time, which will keep the kith and kin informed and at ease, lack of proper information causes anxiety, uncertainty and anger due to rise in BP and fatigue as all are well aware. Hospitals could study the best possibilities and duly support the cause. Consideration of these points and addressing them will help all concerned.

In reply, Association of Medical Consultants (AMC) Convenor & Trauma and Plastic Surgeon Dr Sathish Bhat said that the AMC would take steps to start something like a WhatsApp group of doctors and media so that the scribes get correct news quickly in a fixed system. Also possibilities would be explored for suitable and dedicated PRO type officials sufficiently equipped to convey regularly authorised information to media persons, relatives and public is systematic legal manner respecting the overall individual rights of patients/victims and all concerned. He said that though many institutions have put in place in-house training and briefing of medical personnel on communication and information dissemination, he said he would initiate work-shops with media experts where feasable; it is now a relevant matter that communication be a subject in medical courses. Similarly, media people too need to improve on medical knowledge and also knowledge on conveying in a refined manner news on in multi subject knowledge scenario.

In the earlier part, senior journalist N T Guruvappa Balepuni raised the issue that there is a need to improvise the communication between doctors with patients. There should be a proper framework by the medical institutions to share authentic information with journalists as well so that there is no scope for inaccurate news appearing in media. "Many times scribes fail to get authentic news before the deadline giving scope for inaccurate news, also there is no system or set up frequetly which deals with this. Management is out of bounds, doctors have responsibility to patients - who is to bell the cat" he said.

The key themes for discussion were moderated by seasoned Jounalist Dr.Ronald A Fernandes, and included :

1. Do doctors have a responsibility in communicating with the media?
2. Role of journalists while reporting medical negligence, medico-legal matters and other public health issues
3. How public health issues like road traffic injuries, disasters, hospital fires must be addressed
4. How the media can bridge and strengthen the doctor - patient relationship, and
5. Medical advertisement and where to draw the line?



Write Comment
|

E-Mail
|
Facebook
|

Twitter
|

Print