City buses stop close to traffic junctions a hindrance
Mangalore Today News Network
Mangaluru, Aug 11, 2016: It is more than two weeks since the DKRSC, Dakshina Kannada Road Safety Committee directed the Mangaluru City Corporation and Mangaluru Traffic Police to relocate bus-stops at least 150 m away from busy traffic junctions in the city. It is reported that not a single bus-stop has been relocated by the authorities, including at places where abundant space is available and shelters have been provided.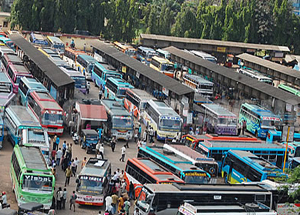 In areas such as Karavali Junction (Kankanady), where a bus shelter and a proper bus bay (towards Pumpwell) are in place, buses still stop immediately before or after a traffic signal thereby causing traffic gridlock. Even without direction from the Committee, urban planning requires setting up of bus-stops away from traffic signals or junctions to facilitate hassle-free movement of vehicles.

Hot points : Some of the major junctions close bus-stops are located in the city include Karavali (Kankanady) Junction, Bunts' Hostel Junction, Clock Tower Junction, Lady Hill Junction, Jyothi (Dr. Ambedkar) Junction, Pumpwell (Bhagwan Mahaveer) Junction, Bendorewell Junction and Balmatta Circle. Though there is a full-fledged bus bay and shelter at Karavali Junction (towards Pumpwell), both KSRTC as well as private buses, stop immediately after the junction and do not move further towards the shelter.

Consequently, vehicles on the Balmatta-Kankanady (Blasius M D'Souza) Road pile up. At night, private tourist buses occupy a major portion of the road blocking the space that is for other vehicles.

On the follow up on the Road Safety Committee's direction, Deputy Commissioner of Police (Crime and Traffic) Sanjeev M. Patil said that he had held a meeting recently with the MCC, Mangaluru City Corporation authorities.

The traffic police have requested the civic body to at least mark bus bays away from busy junctions. "We are still waiting for the corporation to act," he said. Asked about the Karavali Junction, Patil said he would ensure that buses stop only at the designated bay.

Social activist G. Hanumanth Kamath said the Committee's direction was not a new one even as the corporation and the traffic police will just keep on passing the buck. Kamath said the police appear to be lacking in enforcement initiative as otherwise they would have neither allowed bus-stops to come up near junctions nor the parking of vehicles haphazardly.

Citing the example of the congested bus-stop at Hampanakatte, Kamath said people had for a long time now, been demanding shifting the stop in front of J.V. Son's building where the road is wide enough. "The shifting will not happen till the Congress office, located on the second floor of the building, is shifted to own premises at Kadri," he stated.


Write Comment
|

E-Mail
|
Facebook
|

Twitter
|

Print