Centre to pay families affected by land acquisition
Mangalore Today News Network
Mangaluru, Feb 13, 2015: Speaking at the meet held to oppose the amendment to Land Acquisition Act, and withdraw Kasturirangan Report, held in Mangaluru, on Feb 11, Tripura MP Jithendra Chowdhuri has alleged that the Central government, headed by Prime Minister Narendra Modi, has supported corporate companies in looting the nation passing the amendment ordinance of Land Acquisition Act. He added that the Centre has neglected the welfare of ordinary citizens.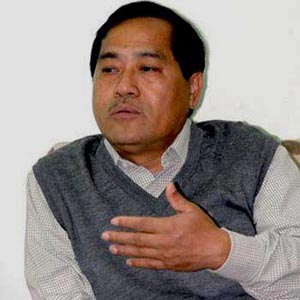 The amendment will not remove agriculture road blocks. During the implementation of five year plans in 1950,the agricultural sector was contributing 50 per cent of income to the development of basic infrastructure and 70 per cent of families in the nation, depended on agriculture. But, according to statistics of the past 65 years, contribution of agricultural sector is less than 25 per cent. But still, 70 per cent of families are dependent on agriculture.

He said the act implemented by the British in 1894, on land rights, is still in effect. After independence, the act was modified according to financial and agricultural needs of the country. In 2013, opposition parties had opposed the points in the act when the previous UPA government had administered several changes to the Act.

Corporate companies have been waiting to grab agricultural lands. After amendments in the ordinance, pro-farmer clauses have been removed, he said. The ordinance has been passed without review and streamlining in Parliament. The ordinance has been passed only to facilitate corporate companies to loot the country.

The development and economy will be badly hit if Kasturirangan Report is implemented. It will be detrimental to animal husbandry, fisheries and horticulture and the western ghats, he said and claimed that the report will have disastrous effects on more than 4000 villages spread across the western ghats.

When drafting the report, the Kasturirangan Committee has not obtained and included views of local gram panchayats, local people and tribal people. The report has failed to protect the rights, tradition and culture of all these people seriously.

A fresh committee should be constituted to chalk out alternative measures. CPM opposed the report, from the perspective of environmental conservation.

Write Comment
|

E-Mail
|
Facebook
|

Twitter
|

Print