Central Govt. increases rewards for informers on Smuggling
Mangalore Today News Network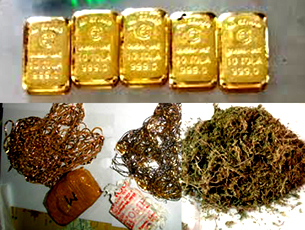 New Delhi, August 14, 2015: In order to check smuggling of narcotics, the Finance Ministry has increased monetary rewards given to informers and government officers for giving tip off leading to its seizure.

There has been six-fold increase in reward for giving intelligence resulting in seizure of cocaine (Rs 2.4 lakh per kg) and heroin (Rs 1.2 lakh per kg), as per the new 'guidelines for grant of reward to informers and government servants, 2015' issued by the Finance Ministry.

Whereas for opium, informers and officers can get reward of upto Rs 6,000 per kilogram. Earlier, the limit was Rs 220 per kilogram. The reward on seizure of cocaine has been increased to Rs 2.4 lakh from Rs 40,000 and for helping in seizure of one kilogram of heroin, the reward would be Rs 1.2 lakh as against Rs 20,000 given earlier.

For seizure of ganja, the reward would be Rs 600. Earlier, the limit was Rs 80 per kg. For hashish also, the reward has been increased to Rs 2,000 per kg from Rs 400, it said.

Advance rewards on seizure of opium and other narcotic drugs have, however, been discontinued.

Government servants working in other departments or agencies like police, BSF and Coast Guard, etc, may also be considered for sanction of reward in respect of cases of seizures of contraband goods.

However, only officers of these departments who hold rank equivalent to the Additional Commissioner of Customs and Central Excise or lower level officials, will be considered eligible for rewards. Earlier, the officers upto the level of Deputy Commissioner were being considered for the reward.

For giving inputs leading to seizure of Mandrax tablets, the reward has been increased to Rs 2,000 per kilogram from Rs 500.

Besides, in case of gold smuggling, they will be rewarded three times more for giving inputs leading to detection and seizure of the yellow metal being illegally ferried.

In case of seizure of gold, a maximum reward of Rs 1,500 per ten grams will be given, whereas for silver, Rs 3,000 per kilogram maximum reward has been prescribed. Earlier, the limit was Rs 500 per 10 gm gold and Rs 100 per kg of silver.

The ceiling on rewards given to an officer has been increased to Rs 20 lakh from Rs 15 lakh in the entire career for detection of frauds, evasion of indirect taxes and seizure of gold, fake Indian currency notes, arms and ammunitions, among others, the guidelines said. Earlier, the limit was Rs 15 lakh.

Informers and government servants will be eligible for reward upto 20 per cent of the net sale proceeds of the contraband goods seized, or on the amount of duty or service tax evaded plus amount of fine and penalty levied, imposed or recovered.

"This revision takes into account cases of seizure made, infringement or evasion of duty etc. and the recommendations made by the Committee set up to review the schemes in the Department of Revenue and various suggestions received from the field formations.

"It has been decided with the approval of Finance Minister to issue completely revised fresh guidelines in tune with the various recommendations and changing scenario of smuggling, evasion of duties and service tax," according to a Finance Ministry's communique to all field formations and like Directorate General of Revenue Intelligence (DGRI) and Directorate General of Central Excise Intelligence (DGCEI).

The DGRI act as lead agency to check customs duty frauds, gold and narcotics smuggling whereas, the DGCEI mandate is to check leakage of service tax and excise duty evasions.

For the first time, the officers of the level of Joint and Additional Commissioners will also be eligible for reward. Earlier, it was limited to officers upto the rank of Deputy Commissioners.

The ceiling of reward to private persons engaged in office for help in work related to intelligence or investigation and post-investigation task, earlier fixed at Rs 1,000, shall now be Rs 2,500 in each case, it said.


Write Comment
|

E-Mail
|
Facebook
|

Twitter
|

Print