Caste census to focus on education, economic status
Mangalore Today News Network
Mangaluru, Jan 29, 2015: District in-charge Minister Ramanath Rai has said socio-educational and economic census which will commence from April 11, will focus on education and economic status of the communities. It plays a significant role in the preparing schemes for the backward communities and bring them to the mainstream of society.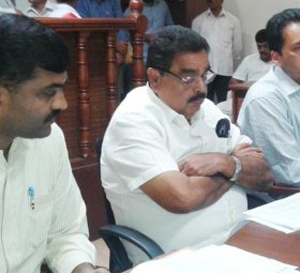 Chairing a preparatory meeting here, on Wednesday, he said enumerators should collect accurate information. The last such census was held way back in 1931. "The census will be conducted from April 11 to 30. We want to study the economic status of every household through the census."

Deputy Commissioner A B Ibrahim said enumerators will spend 40 to 45 minutes at each household, collecting information on caste, size of each family, employment status of its members and their education qualification and economic status. The census findings will help the authorities to analyse the socio-economic condition of each caste.

The deputy commissioner had been entrusted with the responsibility of looking at the census in each district. The enumerators are accountable if they furnish false details. "People should compulsorily participate in the census."

The DC said that each block in the district will have 130 to 150 houses. Fifty per cent of the remuneration for the enumerators will be paid in advance.

Teachers involved

District Statistical Officer Pradeep D'Souza said "we will be involving teachers in the data collection process. If a house is locked for more than 20 days, then it will be considered as empty house. If a Nepalese or Bangladeshi resident is residing in Mangaluru for more than six months, then their details will be collected during the census.

"The enumerators should ensure that there was no duplication while collecting details of children studying in hostels. If a resident of Mangaluru is working in foreign countries and visits the home land once in a year, then his details need not be furnished in the column," he said. The district has 3,930 blocks. The enumerators should ensure that no house is left out.

Social Welfare and Backward Classess officer Santhosh Kumar said "we will be involving teachers except those teaching SSLC in the data collection process. The caste census will be comprehensive, with 55 queries in its questionnaire.

In six parts

The census questionnaire is divided into six parts starting with address and geographical location of the household, personal details of the head of the family and members.

Part-2 and three of the survey will include household schedule and educational and employment details of the family members.

Part four of the survey deals with annual income of the family, income tax details, bank accounts. The fifth part deals with membership of local bodies and cooperative societies.

The last concluding part of the survey, will have questions on economic, social aspects especially land holdings, movable and immovable properties, water sources in the house, toilet facilities and so on.

Courtesy: DHNS

Write Comment
|

E-Mail
|
Facebook
|

Twitter
|

Print