Cashew Baron, Industry Doyen Gurpur Sadanand Prabhu No More
Mangalore Today News Network
Mangaluru, March 4, 2018: Cashew industry pioneer and founder of city based Achal Industries Gurpur Sadanand Prabhu passed away today (Sunday, March 4, 2018) in the wee hours of the morning, aged 93. He died peacefully at about 4:30 a.m. at his residence due to old age, it is learned.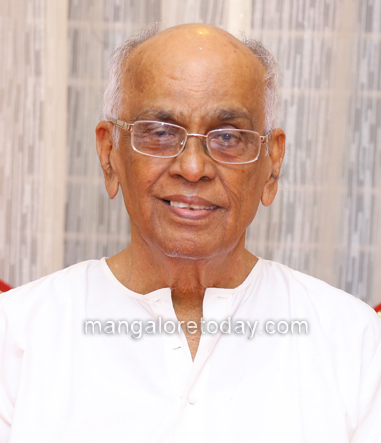 He is survived by his wife Rohini Prabhu and three children, son Giridhar Prabhu and daughters Prafulla Kamath and Anuradha Shenoy.

He was a past president of Kanara Chamber of Commerce and Industry and was also actively associated with Mangalore Cashew Manufacturers Association. He was also a member of Rotary Club Mangalore North.

Last rites will be at his residence 'Ananya' at Bejai Kapikad Road at 12:00 noon today, followed by funeral at 1:00 p. m. at his home town Gurpur, according to family sources.

Cashew industry leaders and past presidents of Karnataka Cashew Manufacturers Association Kalbhavi Prakash Rao, Bola Ramanath Kamath, Bola Rahul Kamath and others have condoled the demise of Sadanand Prabhu.

Personal Profile
Born in 1925, Sadanand Prabhu was a native of Gurpur town in the outskirts of the city. After completing his matriculation, he started his career as teacher and then moved into business.

Then on he joined as a partner with his relative in Konchady Appayya Shabhogue and Co, at Bunder. Subsequently he started Sadananda Prabhu and Co., a groundnut oil manufacturing unit.

Then in 1981, at the age of 55, he established Achal Industries, which was one of the first industries to start at the newly formed Baikampady Industrial Area. In 1983, he started his second unit Achal Cashews at Turkewadi, a small village in Maharashtra.

Today Achal is a Rs. 125 crore group comprising four family owned companies with manufacturing units at multiple locations and 950 employees. It became an exporter of processed cashew in 1984 and its products are now reaching North America, the EEC countries, Middle East and Japan. His son Giridhar Prabhu is presently the proprietor of the flagship unit Achal Industries.

According to M. N. Pai, General Manager of Achal Industries and director of three other Achal group companies, Gurpur Sadanand Prabhu had retired from business about two years ago due to his advancing age. "He was a self made man and always had a vision to build a customer friendly business. He was an innovator of several processes in cashew industry," he said.

Sadanand Prabhu was known as an unassuming and simple person always clad in white dhoti and white shirt. He liked to encourage the younger generation and many entrepreneurs credit him with being their mentor.

He took pride in tax compliance and ethical business practices. Cashew industry being a labour intensive sector, he showed keen interest in employee welfare and always put the workers first. He was one of the first to introduce bus transport for workers. Every worker he employed was well taken care of for the contribution he or she did. Productivity linked wages is one of the innovations practiced at his cashew processing units which enable the labourers to earn more.

According to sources close to him, Sadanand Prabhu always believed that tax paid money is more worth than any other wealth. He was well known for insisting on full tax compliance in his own firms and also had a prodigious knowledge of commercial law. "He was always up to date in all the laws applicable to the industry and even the tax authorities respected him for his knowledge," said M. N. Pai.

Write Comment
|

E-Mail
|
Facebook
|

Twitter
|

Print