CREDAI lists out myths and facts regarding effects of demonetization
Mangalore Today News Network
Mangaluru, Nov 30, 2016: D B Mehta, President of Mangaluru Chapter of CREDAI has said that it was a myth to think that demonetization would lead to a fall in prices of land as well as houses and apartments.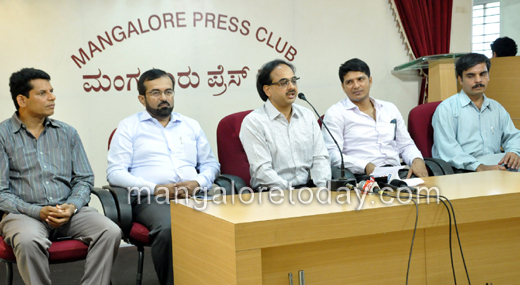 Speaking to reporters at the Press Club, he said that prices of apartments in Tier II and III cities will not come down due to demonetization while there is a chance of the prices falling in Tier I cities like Mumbai and Delhi where the prces of apartments are already very high.

At the same time he said it was the best time to invest if some attractive offer comes in the way. He also stated that CREDAI would always protect the investors.

CREDAI Secretary Naveen Cardoza, William D'Souza, M Arshad, Sudhish Karunakaran and others were present.

A press communique by CREDAI Mangaluru Chapter has listed out the myths and facts regarding demonetization.

Myths:

A. House/apartments prices will drop by 30% or more.
B. Land prices will come down by 50% or more.
C. GDP growth will come down and unemployment will increase.


Facts:

A. The price level will fall initially but will recover as soon as the central bank pumps in new currency to the market in replacement to the old currency. Hence no fear of deflation.

B. Indian economy will see change in the means of transaction from cash to the bank or digital only and purchasing power of money would increase leading to growth of economy. Only the rural areas will have difficulties in the initial stages but will soon recover once the central bank infuses fresh currency into the market and digital economy has a wider reach.

C. Apartments prices may see a small decline only in the initial stages of demonetisation more out of liquidity issues than anything else but will recover immediately once the changes in means of transaction is implemented from part cash to either 100% bank or digital. Demonetisation will only reduce the land prices to 15% but not the actual cost of construction or taxes. Taxes contribute more than 30% of the total cost. Land prices constitute only 30% of the cost of the apartments in a Tier II city like Mangaluru. The decline in prices of apartments will be minimal, say about 5%.

D. Real estate has been in a slow down for the last two years and prices of apartments have already come down by almost 10%. There is no room for further reduction as most Builders are selling at a very low margin or even at losses. All the stock exchange listed real estate companies have come down in value by 50% to 75% in the last two years with decline in profitability. This in itself is a testimonial of no further room for a decline.

E. The overheated premium pockets in cities like Mumbai, Gurgaon, Pune, Chennai and Bengaluru would have scope to correct by 10 to 15%. But even in tier I cities the suburban areas or outskirts have very little scope to correct. Tier II and tier III cities have hardly any scope for prices to fall further. Commercial properties may have a little larger correction.

F. The new projects launch has come down by 30 to 50% in the last one year and will further decline. This will reduce the future supply drastically.

G. However the land prices have not fallen. The decline in land prices in TIER I cities may be to the tune of 25% as large parcels of land is held as trading stock which may get offloaded in the market. Whereas the decline of land prices in tier II and tier III cities will be very minimal as most of the land is either ancestral land or family holdings. Further any reduction in land prices may have downward pressure on prices only for the new launches.

H. The black money component in the real estate has helped in reducing the cost to the buyer due to savings in taxes which was passed on the customers. The real estate market has perfect competition and is plagued by tremendous over supply of finished stock. All savings are passed on to the customers. Now with full bank payment there will be additional cost by way of taxes which will increase the cost and price rather than decrease.

I. The primary market, that is, sale by builders in most cases is almost in cheque whereas in the secondary market, that is, resale there is a big component of cash. Resale market may take a hit due to demonetisation which will boost the sale in the primary market.

J. GDP will see an upward growth in the medium to long term asthe Governmentwill have more money to spend on developmental projects.

K. RERA will help about bringing transparency and investors confidence back in the real estate sector. The flow of both domestic and foreign funds as well PE investors will boost the demand.

Write Comment
|

E-Mail
|
Facebook
|

Twitter
|

Print